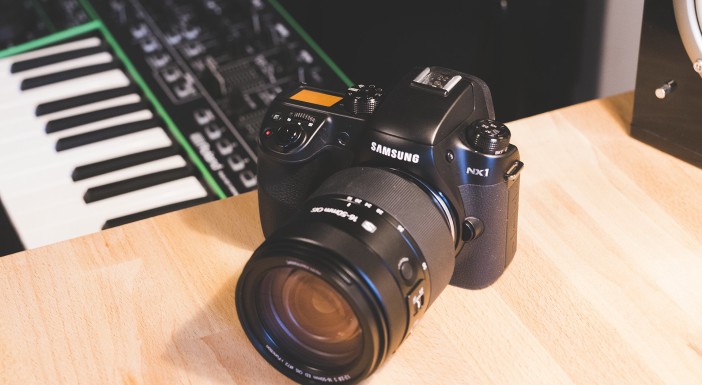 After recent statements by Samsung customer support and other rumours regarding the future of their cameras, the company reached out to me seeking to clarify the situation. I'm afraid for Samsung fans it isn't good news. You can read their official statement below…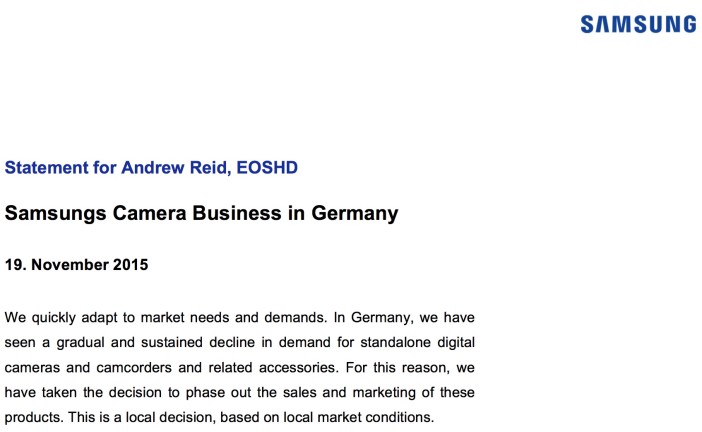 First of all I want to thank Samsung for making this public for the first time through an independent blog such as EOSHD. I've long been a supporter of their efforts in the imaging market, with the NX1 and it's 4K video mode being the undoubted pinnacle; It is a shame that such innovation is a casualty of poor sales especially in Germany and I wish Samsung's camera staff all the best for the future.
EOSHD Opinion
Although Samsung seem to be making decisions based on individual regions at this stage, the rumours of a more widespread problem continue to be a concern.
I think this problem (in one of the biggest camera markets in Europe) might turn out to be representative of a wider struggle on camera sales.
The news comes on the back of rumours of a more complete shutdown of camera development at the Samsung headquarters in South Korea. That however remains at this stage an entirely speculative development and one the company is unlikely to comment on for a while yet.
There remains the possibility Samsung are withdrawing ONLY in regional markets where sales have been intolerably poor. Regions where the NX system has done well, possibly in Asia, might live to see another day. It could be that stock is being moved to better performing regions and that in certain territories Samsung wants to make the best of the marketing spend already committed there. In my opinion this does not rule out a withdrawal from those markets in the future once existing marketing agency contracts are finished and stock depleted, etc.
Where did it go wrong?
In my opinion, one issue with the NX system is the mount. APS-C has fallen out of fashion as the camera market has pushed further forward into enthusiast territory. Cameras like the Sony A7 series, Nikon D750 and Canon 5D Mark III have continued to sell as the lower-end APS-C and compact camera market took the brunt of the smartphone revolution.
Third party manufacturers like Sigma, Tokina and Tamron never produced any lenses for the NX mount, while third party adapters to Canon EF providing electronic control of aperture were non-existent. This in turn lowered sales of NX1 and NX500 body-only sales to enthusiasts and pros, whilst the high prices of Samsung's own lenses made consumers and the smartphone wielding masses reluctant to buy into the system.
Then there's the branding. In Germany especially, Samsung is not a known 'premium' photographic brand in the country that gave us Leica and Zeiss plus many others. As the market has shifted from consumer to premium, they have suffered as a result of being associated with a lot of cheap compacts.
Samsung are in fact one of the worlds most innovative digital imaging companies, a massive conglomerate with a military division building tanks, yet the best the average consumer in Germany can think of when they hear Samsung is a cut-price toaster.
This is a shame because the NX1 and NX500 are best in class for video performance and features, in some ways for stills too. Perhaps Samsung should consider building a professional $3000 cinema camera based around the Super 35mm sensor in the NX1 which plays on their astounding technological strengths.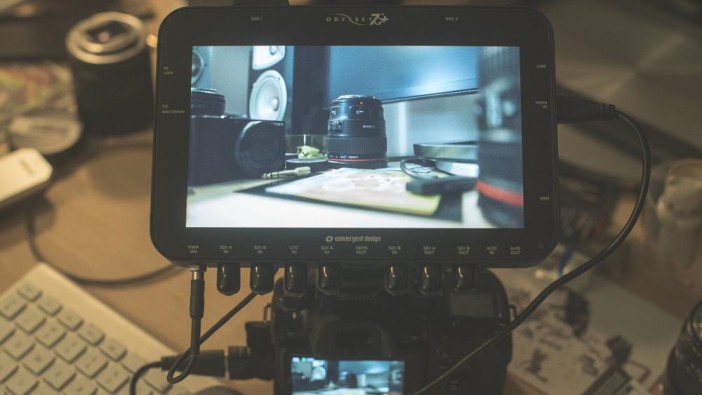 I've been out shooting this week with the Samsung NX1 updated to the recent V1.40 firmware and I invested in the 16-50mm F2.0-F2.8 OIS zoom when my local store in Berlin cleared out the last display unit. This lens is undoubtably superb and one of the best APS-C zooms ever made, if not even THE best ever made. The Sigma 18-35mm F1.8 lacks stabilisation and isn't as wide or as long. Samsung's "S" premium lens transforms the NX1 into a phenomenal run & gun 4K cinema camera and when combined with the digital image stabilisation of firmware V1.4 gives the best video stabilisation available on any interchangeable lens Super 35mm camera. It performs better than the Sony 5 axis in-body stabilisation and surpasses the Olympus E-M1's system thanks to zero keystone distortion on wide angle shots.
The 4K image of the NX1 with V1.40 now has significantly more dynamic range than at launch with the first firmware and a much smoother roll off to the highlights. Black levels can now be raised to clean up the shadows in low light and the luma range can be mapped to 16-235 in-camera to prevent clipping. Colour is superb and noise performance at ISO 800 far surpasses the GH4. The RGB 0-255 files of firmware V1.0 were heavily clipped on my Mac and required a remap from 0-255 to 16-235 using the Fast Colour Corrector tool in Adobe Premiere.
As for H.265, this is now gaining widespread support foremost amongst them EditReady on the Mac and RockyMountain Movie Converter on Windows. Transcoding to an editable ProRes or similar format from the tiny master files is now trivial, faster and much easier than at launch – yet the H.265 codec maintains a superb amount of fine detail with minimal compression mud, far superior (and much sharper) than the H.264 codec on my Sony A7R II, even with smaller file sizes.
I also have the NX1 working in Ultra HD with my Odyssey 7Q+ via HDMI.
So it is a superb camera, vastly underrated with very good handling. If you see a lonely unloved one on a shelf near you don't hesitate to give it a try.
The Samsung NX1 is still in-stock at B&H in the US
There's also a kit with the 16-50mm F2.0-F2.8 OIS or just the lens by itself.