It's a comparison, that luckily for Nikon, none of their customers are making.
Are Nikon falling behind on sensor technology? Too dependant on Sony?
First the D500 came out with 2x crop 4K. Nobody really wanted that. Clearly the sensor limitations played a role in that silly decision. Then the Nikon D5 also had a bumpy start didn't it? A 3 minute recording limit which was later lifted by a firmware update. I don't know a single person who bought the D5 for video as the 1D X Mark II was so clearly more attractive.
Now the D7500 is out in the shops and features the same 2x crop in 4K mode as the D500 because it shares the same sensor.
This is Nikon's flagship APS-C sensor and the best image quality they'll give you without taking the leap to full frame.
Take a look at the DXOMark results for this sensor – it has only just caught up with the Samsung NX500 for stills quality and is still about 8MP short on resolution. You'll also notice the D5 is at least 1 stop behind the 1D X Mark II for dynamic range and low light performance.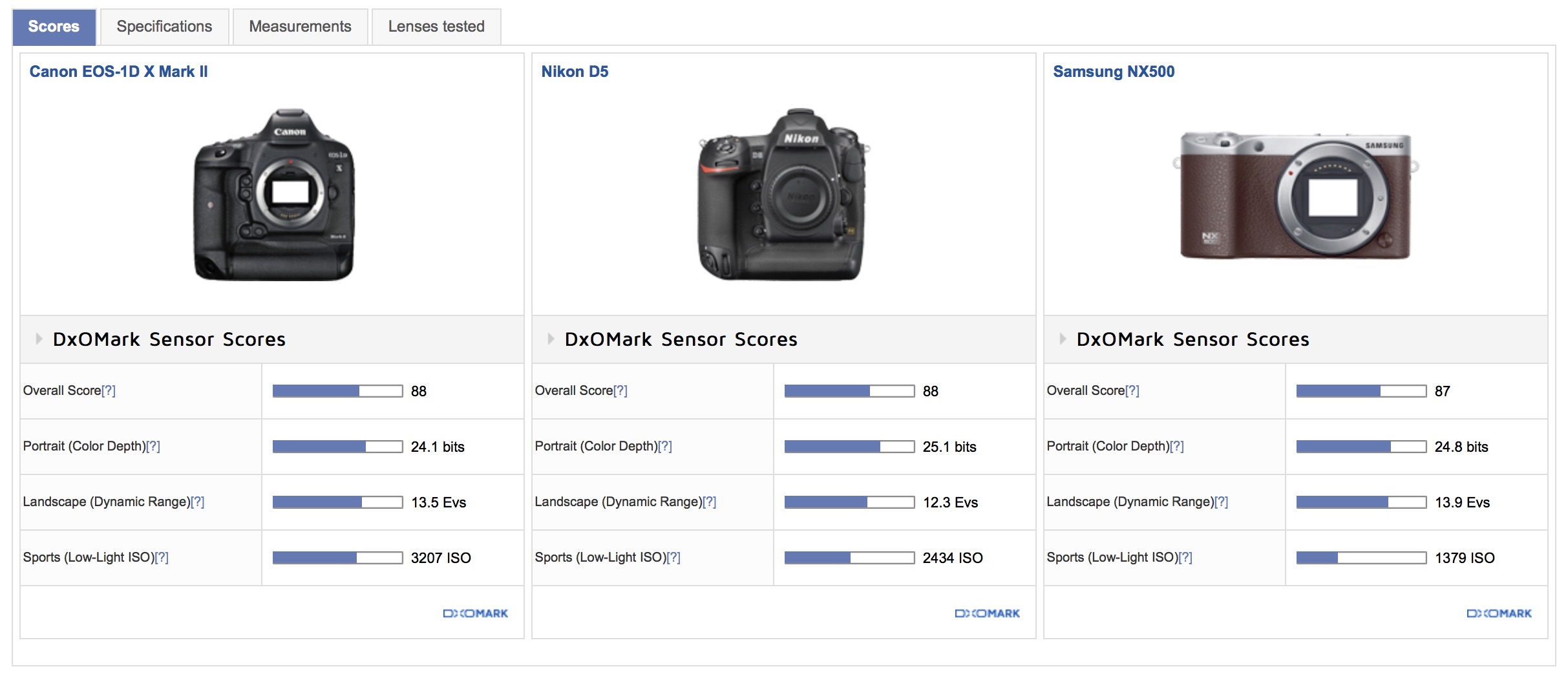 The Nikon D5 has a near-2 stop shortfall in dynamic range at low ISOs to the Samsung NX500.
I must assume the Japanese photography industry breathed a huge sigh of relief when Samsung called a halt on their technology.
The NX500 was a $699 consumer camera. The NX1 was of course even better.
There's no doubt that the D500 and D7500 are wonderful cameras ergonomically, albeit without some of the convenient features of mirrorless. What a shame they're so far from exciting on a technical level!
Since the Nikon D750, the company has practically vanished off my radar. No Dual Pixel AF. No prosumer mirrorless camera. No truly leading video implementation of 1080p let alone 4K.
Back in 2014 the D750 was very promising and came close to the A7S for video at the time, very clean codec, lovely flat profile which was so much easier to grade than S-LOG, no moire, in actual fact the 1080/60p on that camera looked nicer than the A7S even though the 24p was a little bit softer than the Sony.
I really hope Nikon get back on their feet again and take aim at Sony, because if they combine some of Sony's brave conceptual innovation and tech specs with their own much stronger strength in ergonomic design, optics quality and brand appeal they are immediately onto some huge sales.