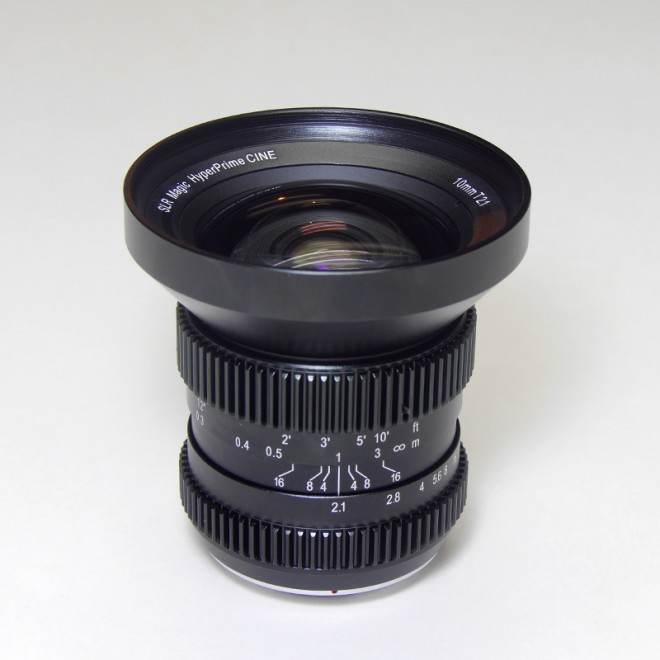 Following in the footsteps of their highly successful 12mm T1.6 wide angle lens for Micro Four Thirds mount, SLR Magic based in Hong Kong have developed a 10mm T2.1 lens, optimised for cinematic use. I'll be reviewing the new lens very soon on EOSHD, the sample unit having arrived today. This has the potential to be a great wide choice for the GH4 especially in 4K mode where every millimetre counts on that smaller recording area.
As for image quality, I have high expectations for the new lens. The existing SLR Magic 12mm T1.6 is a fantastic lens, very characterful, it will be interesting to see what character and performance the 10mm exhibits. Stay tuned to EOSHD to find out.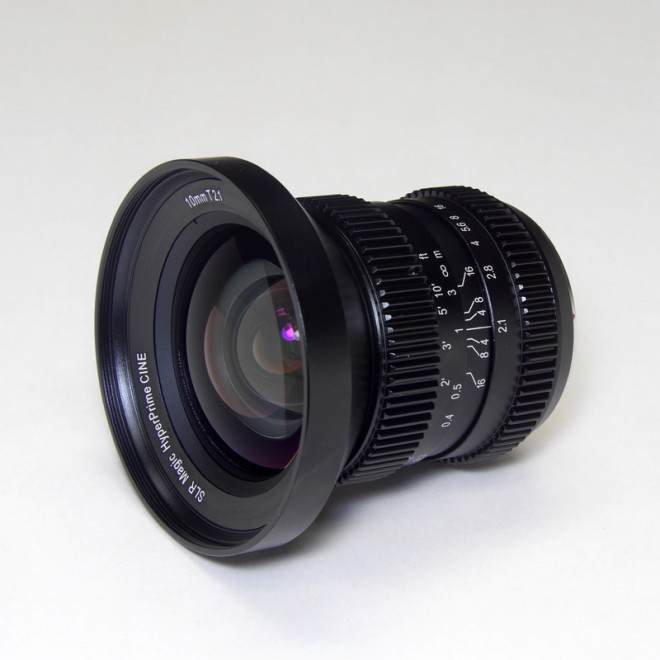 Mounted on a normal 2x crop Micro Four Thirds sensor this 10mm wide angle lens has the same field of view as a 20mm lens on a full frame camera. This lens is a full 1 stop faster than the Tokina 11-16mm F2.8 and comes with industry standard cine gearing for follow focus attachments. It's also physically more compact than a typical DSLR lens.
In 4K mode on the GH4 the lens has the same wide field of view as a 24mm on full frame. For GH4 owners shooting 4K, the 2mm wider FOV compared to the 12mm T1.6 is pretty significant – the difference between 28mm and 24mm in full frame terms.
The 10mm T2.1 has an amazingly close 0.2m minimum focus distance.
Seb Farges also has the new 10mm T2.1 and has been shooting some beautiful stuff as always with it in France.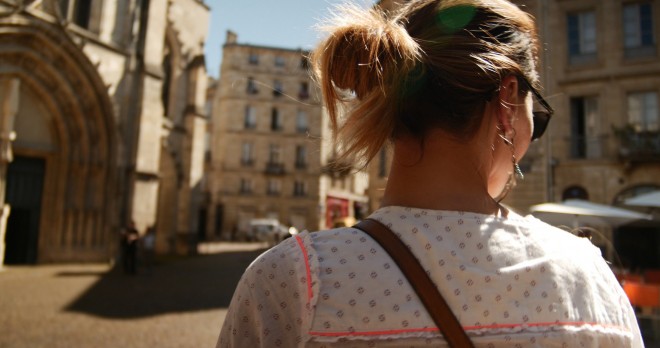 SLR Magic also have a 77mm ND 0.4 to ND 1.8 variable filter coming soon, which is compatible with the 10mm T2.1. Usually ND filters do not play well with lenses this wide. This one seems a perfect match. It has a 77mm rear filter thread and a 86mm front filter thread. It will be interesting to see how this ND filter rates against my current favourite, the Heliopan Vari-Gradu ND filter.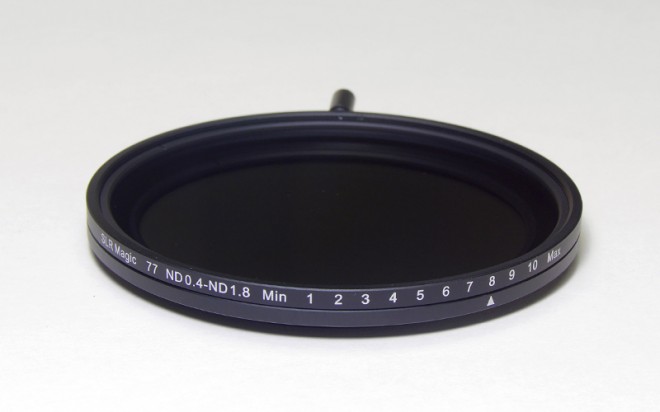 SLR Magic will be at Photokina which starts on the 16th September 2014. I'll be hanging around there a lot I feel, so do drop by and say Hi!
The 10mm T2.1 will be at the show, along with 12 other SLR Magic lenses for Micro Four Thirds.
The SLR Magic stand at Photokina is No. L-011, Hall 5.1, Cologne from 16th to 21st of September 2014, Germany.
Pricing and availability
SLR Magic HyperPrime CINE 10mm T2.1 – $799, end of October 2014
SLR Magic 77 ND 0.4-ND 1.8 filter – $179, end of October 2014
SLR Magic is currently looking for volunteers to test this lens at a special price. If interested send an email to support@slrmagic.com with the subject "SLR Magic 10mm T2.1 volunteer". Include sample videos/photos or link to photo/video reviews you have done in the past.
Technical specs
Full name: SLR Magic HyperPrime CINE 10mm T2.1
Optical design: 13 elements in 11 groups
Distance range: 0.20m to ∞, combined scale meter/feet
Aperture: Manually controlled diaphragm, 11 aperture blades , Lowest value 16
Bayonet: micro four thirds
Filter Mount: Internal thread for 77mm filter; filter mount does not rotate.
Surface Finish: Black anodized
Dimensions: Length to bayonet mount approx. 79.45mm (approx. 3.12in)
Largest diameter: approx. 80.00mm (approx. 3.14in)
Weight: approx. 420g (approx. 14.8oz)