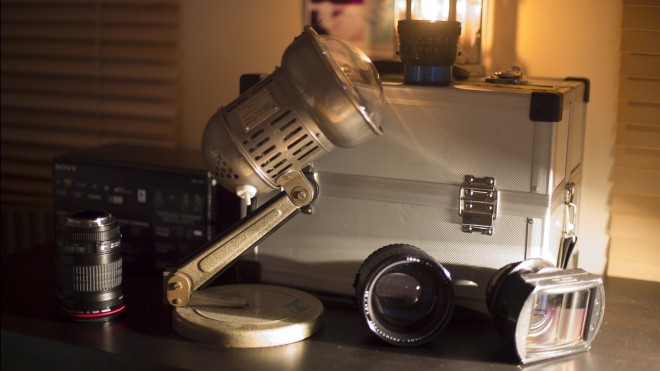 First the news. Magic Lantern have playback of raw files working with early stage code. Black and white and slow frame rate but works – already. Experimental audio recording has been added. Testers and early adopters will need to see if it in sync.
Future nightly builds of the Magic Lantern 5D Mark III Alpha firmware will see raw recording start / stop added to the physical movie record button as well as many other usability improvements.
KomputerBay cards are giving different write speeds from the same 1000x models. My 64GB card is fastest with a sustained write speed of 95MB/s, but my 128GB card is a dog, topping out at 73MB/s – not enough for reliable 1920×1080 raw let alone 1920×1280 for anamorphic. May have to return it to Amazon.
Much more testing needs to be done to find the best cards. The KomputerBay 64GB 1000x has been superb for me, so it is a surprise the 128GB didn't live up to expectations.
Buffer overflow and dropped frames are handled differently now. You can choose to have recording stop, or to have recording drop frames. Once the buffer is full, usually the camera continues to drop frames until you stop it, so I recommend the former option (stop altogether upon first dropped frame).
4GB file size limit
The 4GB file size limit of FAT32 prevents continuous takes over 40 seconds currently. I asked Alex of Magic Lantern about overcoming this and he says it is perfectly possible but not a current priority. There's a lot that comes before it – even basic stuff like assigning raw recording to a physical button. They've done a lot of the hard stuff and I believe seamless file spanning will come, please be patient as it is still early days.
The need for speed
There's plenty of room for improvement in compact flash card write speeds. Whilst read speeds are generally higher (sustained 130MB/s + on 1000x speed cards, with a theoretical limit of around 150MB/s), write speeds are always much lower than the stated 1000x 150MB/s spec. What resolutions could we see in raw with future improved CF cards or other storage solutions?
Here's a guide…
Anamorphic 3:2 @ 1920×1280 /24p = 98.3MB/s
30p @ 1080 = 103.6MB/s
48p HFR @ 1928 x 672 = 103.4MB/s
60p @ 1928 x 672 = 129.8MB/s
Blackmagic style 2.5K raw @ 2560 x 1320 /24p = 135.3MB/s
Full 3.5k Super 35 crop mode @ 3592 x 1320 / 24p = 189.9MB/s
At the moment all the above will record but after a few seconds the buffer becomes full if the card can't keep up. The buffer is 700MB/s and a much faster sort of RAM memory. Hopefully they will put SSD NAND chips in a CF card and bust the CF speed barrier altogether. I also hold out hope for a breakthrough in SD card technology as the camera can of course also uses those. The other option would be to write to an SSD via the USB port, if the master drive can be switched to that from the card slot. Unfortunately unlike the USB 3.0 equipped Nikon D800, Canon chose to cut costs and only included a USB 2.0 port on the 5D Mark III. Madness! USB 2.0 is only capable of 35MB/s. HDMI meanwhile offers data transfer rates of a whopping 1GB/s, but the HDMI controller processes the raw data first, adding stuff to it resulting in a garbled output. Maybe the Odyssey 7Q external recorder could be a future option if they figure out the HDMI port.
Blackmagic Cinema Camera vs 5D Mark III in low light
One of the biggies for me is low light, as this is an area where the only other current affordable raw camera, the BMCC falls down. Whilst it isn't exactly bad in low light, the 5D Mark III with its full frame sensor should be able to up the game significantly.
Just for the record I love the Blackmagic Cinema Camera and have no plans to replace it or cancel any pre-orders.
However the 5D Mark III blows it away in low light. This is ISO 1600 –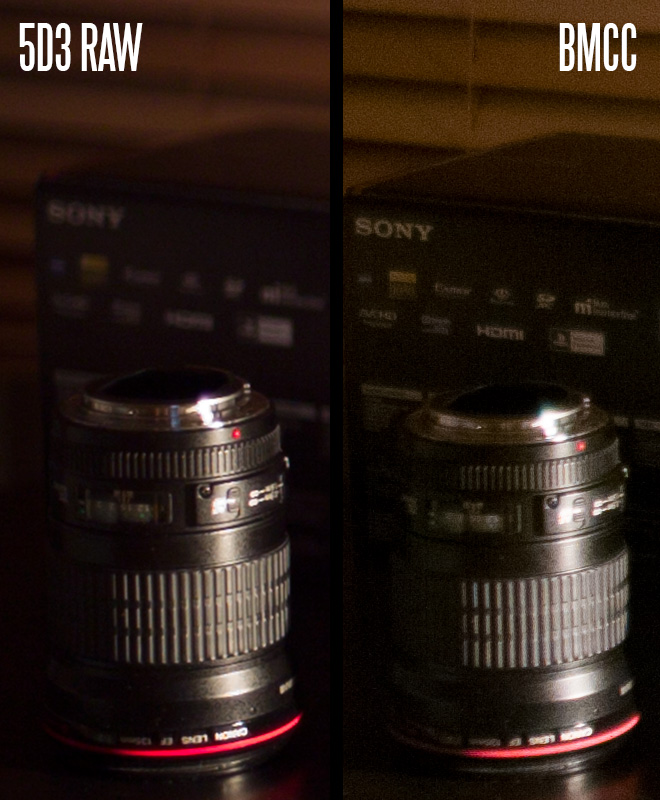 The 5D Mark III raw video at this level of ISO (1600) is pretty much free of noise. It looks like ISO 200 on some cameras!
The test is shot wide open at F1.4 so isn't a sharpness test. However something quite noticeable struck me whilst producing the above image – I upscaled the 1080p raw from the 5D Mark III to match the size of the Blackmagic's 2.5K raw and there's hardly any noticeable difference in detail levels.
What is more, the 5D Mark III produces a cleaner moire free image than the Blackmagic Cinema Camera.
Download the original DNGs here
Photoshop notes – here's how I graded for ISO 1600 on the 5D Mark III in raw: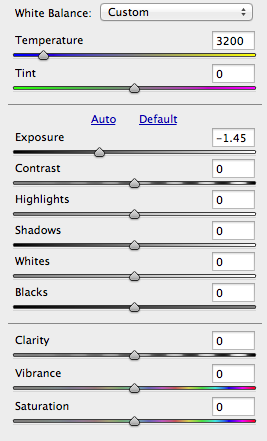 Do the same for the Blackmagic DNG but set exposure to 0 (centre on the slider). Note the Temperature and Tint sliders especially – the 5D Mark III has these wildly out in the raw metadata when you first open the image. I expect this to be a formality fix in Magic Lantern, given due course.
Here's the unscaled 1:1 crop from the DNGs…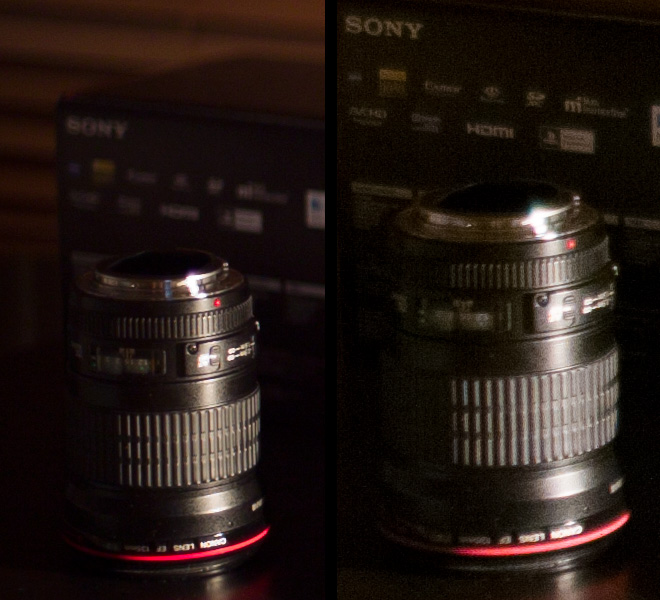 Push the exposure past ISO 1600 and onwards towards ISO 6400 and the difference is even more astounding…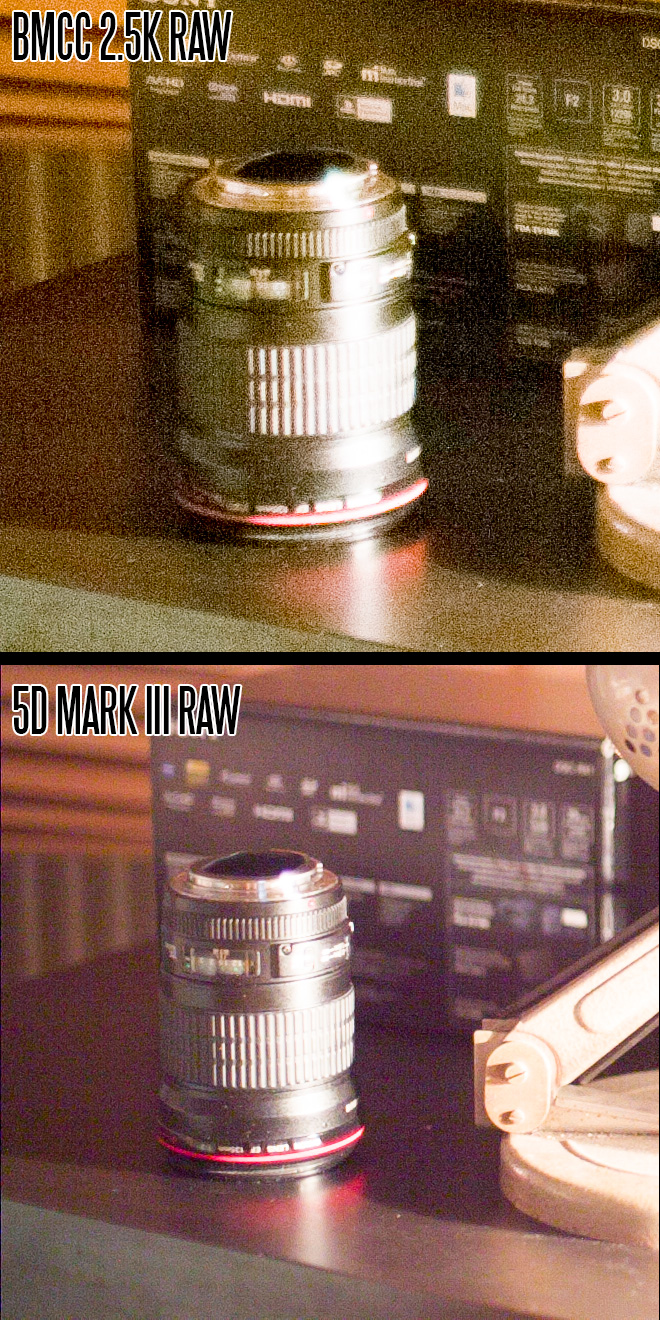 Image quality better than wildest dreams?
I truly believe the 5D Mark III is unique on the market with the Magic Lantern raw recording module.
It is giving an Alexa / Epic comparable image at 2K, whilst probably out performing both those cameras in terms of low light sensitivity and noise.
I cannot, frankly, believe my eyes. This is unbelievable stuff I'm seeing.
Opening the CR2 raw file from the 22MP stills mode, and downscaling it to 1080p reveals the same characteristics. So think of 5D Mark III raw video as a moving DSLR raw still photo, and you can begin to get an idea of how mind blowing the quality is.