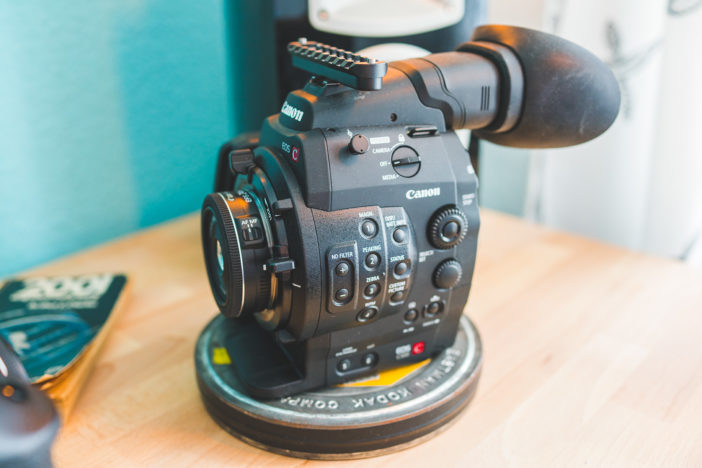 I am selling some used kit!
The Canon C500, Canon XC10, Fuji X Pro 2 and more are up for grabs along with a lot of lenses, including my CINE Iscorama V2.0 modified by Van Diemen in the UK.
Canon C500 – Offers in the region of £6500

The picture this gives is phenomenal. However I have decided reluctantly to sell it to raise some funds. The Canon C500 is a Hollywood Super 35mm cinema camera with 4K RAW output, one of the best high-end images on the market and rivals the Alexa. I am selling the EF mount body-only with original Canon battery and charger. Just pair with an Odyssey 7Q+ for the 4K images, 12bit 2K and 120fps!
Canon XC10 with 64GB CFast card – 1450 euros / £1250 SOLD!
Reluctantly I am also letting this go and will bundle a CFast 2.0 card for 4K shooting. The XC10 is a 10x zoom run & gun camera with superb 305Mbit/s XF codec in 4K. Best 1080p stabilisation and colour profiles I have ever used and a lovely image. I shot with it just recently in Italy and a full review is coming soon. Features Canon LOG and touch-screen auto-focus. Comes in original box with user guide and all original receipts (1800 euros) from this year, it is still under warranty.
CINE Iscorama MK II (pre-36 modified by Van Diemen) + Engraved 'EOSHD Ultrarama" – Offers in the region of £6500
I have had my pre-36 Iscorama (single coated) modified into a robust professional cinema lens by Van Diemen in the UK. The lens maintains its compact size and light weight. The focus travel has been dramatically improved and is now fully compatible with a follow focus. I don't want to sell it, but due to how valuable and rare this lens is I have been too afraid to shoot with it. Overkill for me. Perhaps someone can give it a good home in the film industry.
Fuji X Pro 2 – 1350 euros / £1150
Body only. Bought recently in 2016 – fully boxed with warranty. I am going to switch to the X-T2 instead due to 4K video but the X Pro 2 remains the better stills camera in my opinion and the 1080p is a thing of beauty. If you don't care about 4K and just want GREAT 2K and great colour the X-Pro 2 is the ultimate Fuji body.
Fuji X-T1 Chrome – 950 euros / £850
Body only. Chrome silver special edition! Rarer and much nicer build quality than the black version, the gloss metal finish is simply gorgeous. I am selling only as I need 4K on the new cam!
Panasonic G70 – 400 euros / £350
Body only. 4K shooting budget GH4 with just as good image quality. Micro Four Thirds mount. Barely used in mint condition.
Sony RX100 IV (4K and 1080 240fps) – 900 euros / £800
Shoots the highest quality 1080p slow-motion of any current camera under $3k. Superb compact, the best on the market.
Sony RX1 (Full frame) and Sony EVF add-on – 1100 euros / £950
A simply outstanding camera I have come back to time and again. Full frame 35mm F2.0 in your pocket with 24 megapixel full frame sensor! I am including the OLED EVF viewfinder as well which originally cost a bomb! A total bargain for the pair at 1100 euros.
Sony FS100 Super 35mm camcorder with Metabones Smart AF adapter – 1400 euros / £1200
Image still holds up today if you just need 1080p and not 4K. E-mount, Super 35mm, works with Speed Booster and great with Canon glass. I am including my Smart EF adapter.
Sony A7R – £800 / 900 euros
36MP full frame E-mount camera! Nikon D800 sensor, the 1080p is actually not too shabby at all! Very good condition and rarely used as I got an A7S shortly afterwards.
Samsung NX500 (4K / 28 megapixel APS-C) – £450 / 550 euros
The same 6K NX1 sensor in a more compact body.
Panasonic GM1 – £190 / 250 euros
Very high quality 1080p video on this tiny Micro Four Thirds body!!
Panasonic GX7 – £250 / 300 euros
Lovely ergonomics with tilt-able EVF and GH2-beating 1080p/60p. A bargain at this price.
Sony A6000 – £350 / 400 euros
Phase-detect AF on-sensor. Super 35mm 1080p and packed with features. 24MP APS-C stills with great dynamic range. Great full frame look when used with Speed Booster.
Fuji X-E1 – £190 / 300 euros
Fuji's classic stills body with built in EVF and lovely film simulation colour out of the box.
Lenses
Canon 70-200mm F2.8 IS II – 1350 euros / £1150
Canon 24mm F1.4L II – 650 euros / £590
Canon 24-70mm F4 IS – 490 euros / £450
Canon FD 50mm F1.2L – 450 euros / £400
Canon mount Tamron 24-70mm F2.8 VC (Image Stabilisation and constant F2.8 aperture) – 550 euros / £500
Zeiss 28mm F2.0 Distagon "Hollywood" Canon mount – 650 euros / £590
Zeiss 85mm F1.4 (Nikon mount with aperture control ring) – 650 euros / £590
Nikon 55mm F1.2 pre-AI – 290 euros / £250
Olympus 75mm F1.8 Micro Four Thirds – 590 euros / £550
Sony 16-105mm F4 G – Super 35mm E mount zoom – 490 euros / £450