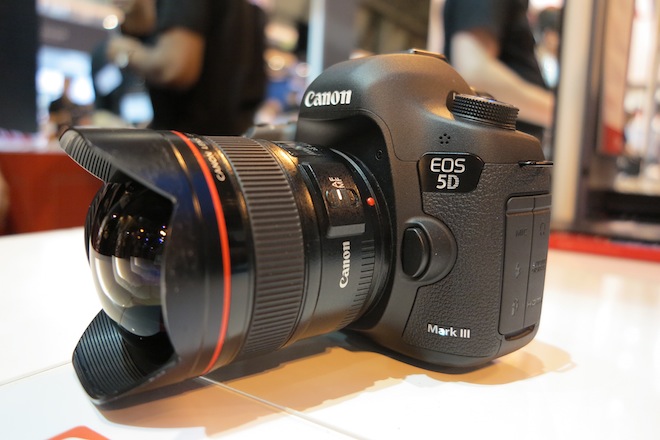 I was able to try out the 5D Mark III for myself today in the UK at the Focus On Imaging show. I also had a talk to one of Canon's technicians about sensor downscaling, HDMI output and more.
Is it truly the big improvement on the 5D Mark II for video everybody is hoping for?
I also got my hands on a Nikon D800 and Fuji X Pro, more on those after the break…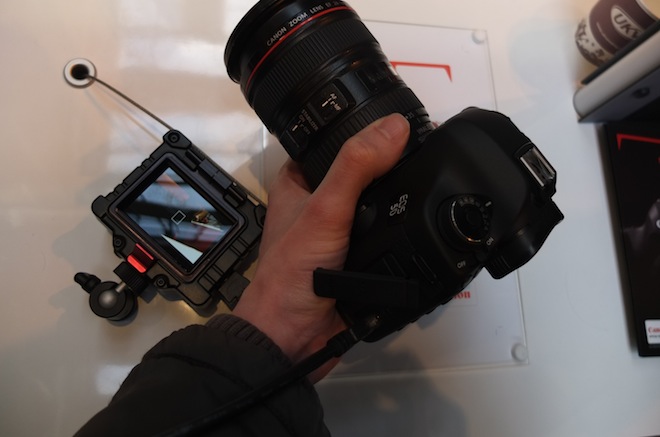 Above: the 5D Mark III with Zacuto EVF Flip attached via HDMI
HDMI
The first thing I did was to link up my Zacuto EVF. The output of the 5D Mark III is indeed only 720p and not full HD, and it isn't clean of overlays – nor can it be made so with the pre-release firmware. Bear that in mind – key word is pre-release and HDMI may improve with the final release, although such a fundamental change is very unlikely.
It is interesting to note that the 1D X which has Dual DIGIC 5+ is capable of full 1080p via HDMI in live view and whilst recording but the 5D Mark III only does 1080p in playback mode!
The good news however is that there's no drop in resolution when you hit record. Live view is 720p and it remains so whilst recording. There's no gamma switch like on the GH2 either. 720p is just fine for monitoring and the image looked fantastic.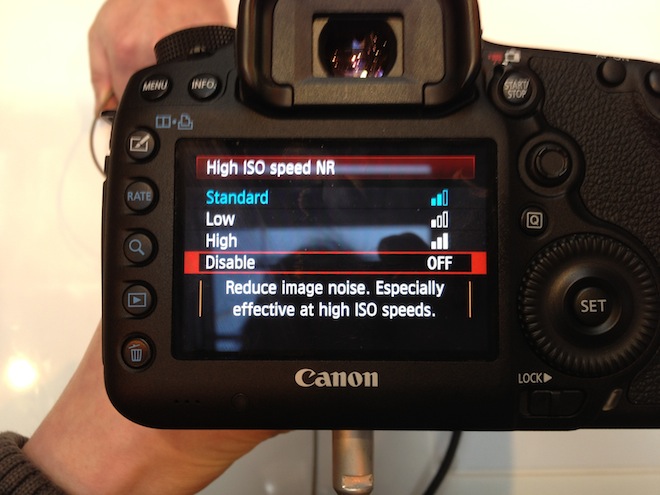 Rolling shutter and high ISO seemed dramatically improved. But Atomos Ninja owners might be disappointed with the fact that there will be no 10bit 4-2-2 uncompressed 1080p from the 5D Mark III.
Canon told me the sensor downscales onboard and outputs a uncompressed video feed directly to DIGIC 5+ which then processes and encodes it. He said the reason the HDMI output was limited to 720p was because the ALL-I 90Mbit encoder is very processor intensive, much more so than the old encoder on the 7D and 5D Mark II. Across the hall Nikon also had a stand at Focus On Imaging where the D800 was on display. In a presentation the Nikon guy made a very big deal about the D800's HDMI output being a lot better than the one in 'the red corner'! Well – that is in part due to the fact that the D800 turns off it's encoder entirely when outputting to HDMI!! That's cheating!
If the uncompressed 4:2:2 HDMI on the D800 turns out to solve the soft resolution and moire issues of the D800's video then that camera is going to really turn things on its head and a lot of people interested in video will be cancelling their 5D Mark III pre-orders for the cheaper D800!
Resolution
To be honest after today's hands-on I am a bit worried about the 5D Mark III's actual resolving power in 1080p as well.
Zoomed-in on playback mode with the Zacuto EVF at 1080p I saw nothing to suggest it was as good as the GH2 and there's still some aliasing in live view. The 1080p footage on YouTube is also rather soft and not all of that softness is down purely to web compression. There's also a side by side comparison from the Japanese guy who did the ISO 12,800 test which points to resolution being unimproved from the 5D Mark II, but to aliasing and moire being reduced (note: not fixed altogether, but reduced). Prehaps a smoking gun came later today when I compared the 720p version of a 5D Mark III music video on YouTube to the 1080p version. The resolution jumps but far less than you'd expect it too, whilst the jump in clarity of the bitmap titles in the video jump dramatically proving that it is not excessive YouTube compression that is causing any loss in resolution.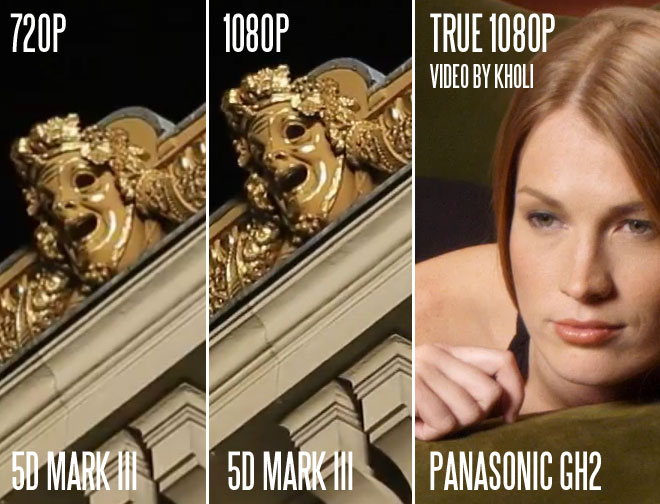 I really do hope the final 5D Mark III has better video resolution because at the moment it is nowhere near the GH2 or a moving still (at least from all the evidence so far). There's no reason why it shouldn't be. The GH2's hardware costs far less!
Usability in video mode
AGC can be disabled and manual levels for an external mic can be changed with the silent touch sensitive 'wheel' on the back. This acted less like a wheel however and more like a 4 way directional pad (D-pad) with touch enabled. It is nothing like the old iPad click-wheel unfortunately. The 5D Mark III does however have that treasured iPod technology, the headphone jack although I didn't test it. The articulated screen is not featured because it would reduce the water proofing.
I delved through all the menus several times and there's no sign of a crop mode for video like the Nikon D4 and D800 has. HDR is for stills only. You can turn off high ISO noise reduction. The focus assist button has moved to the left of the LCD, but you still have to press it twice to come out of it! There's no peaking like on the Sony NEX 7.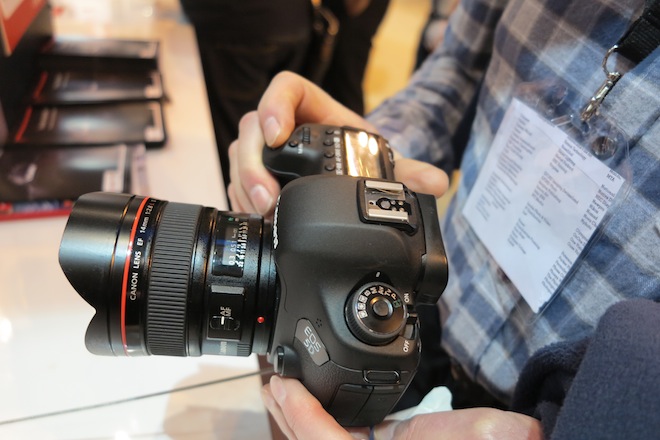 I have to say that even though I was looking the footage on a small screen ISO seemed mind-blowing on this camera, both in video and stills mode. The only time I saw a hint of noise was at ISO 12,800 at a high shutter speed pointed at a very dark underexposed area of the Canon stand, and I saw some fixed pattern noise.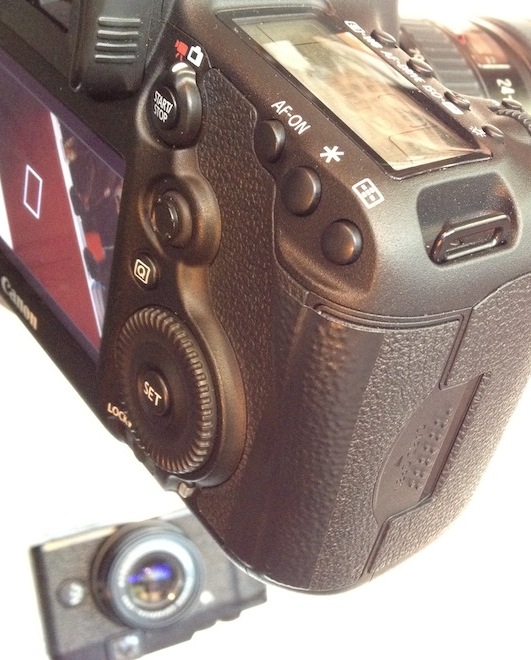 Canon had the card doors taped shut on all the 5D Mark III and 1D X bodies. The cameras are still running pre-production firmware even though they're set to hit shelves in 2 weeks, on March 22nd.
I think it is completely unacceptable to keep pre-order customers in the dark about what they have just dropped $3500 for. And I expect that if you don't pre-order, the camera will be out of stock for a month after release!
So Canon are basically happy to accept our money but won't tell us whether the video is true 1080p or not. So I appolgoise for all the guess work involved, and will say this… If you are not sure whether to get the 5D Mark III or D800 because you don't know for sure which will be the best for your video needs – do not go through with your pre-order unless Canon get their act together and get the production video samples in full 1080p direct from the card up in the next 2 weeks. If there is the slightest whiff that the D800's HDMI is better, or if the 5D Mark III is no better in terms of resolution than the D800, then I am cancelling my order and going for the D800 instead. Why pay extra for nothing?
Nikon D800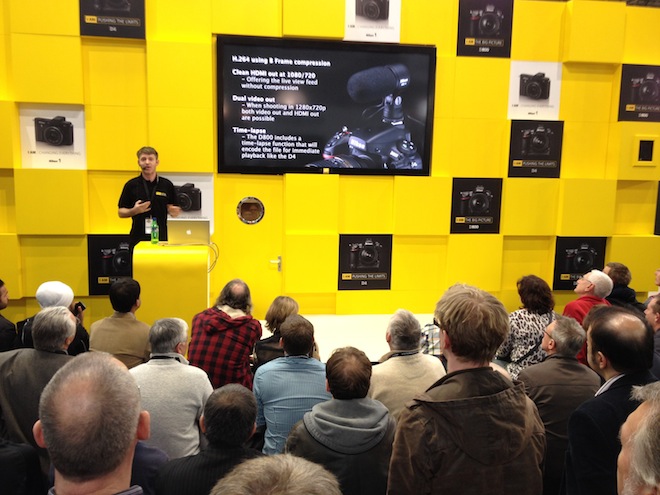 The video capabilities of the D800 took up a large part of the Nikon D800 presentation at Focus On Imaging, and the audience seemed as interested in it as they did in the stills, listening intently. It was only when the time-lapse capabilities of the camera were mooted when people started walking off!
I was critical of the Nikon D4's video capabilities, that is just too soft for me. Sorry but call me a resolution junky or just spoilt with my little GH2, but after you have got TRUE 1080p – as C300 owners will testify – it is hard to go back to muddy DSLR video 2009 style.
Event shooters rejoice – there's no 29 minute clip limit when recording via HDMI on the D800.
The camera is also a good deal cheaper than the 5D Mark III and features a DX crop mode for video as well as stills.
It felt beautiful in the hand and with far more functionality on the body than the sporty paired back 5D Mark III.
But from all the sample videos I've seen, the image is very soft and here is my problem. There's quite a bit of moire and aliasing too.
What could the HDMI output do differently? Well there's no compression but that does not solve resolution issues if they are due to poor downscaling onboard the sensor or image processor. But colour sampling is 4:2:2 via HDMI which makes me hopeful that resolution sampling is better as well.
Unlikely, but I want to find this out. And preferably before my Canon 5D Mark III pre-order ships!
Fuji X Pro 1
This is a super-X100. It is an absolutely mega stills camera. Larger than expected but lighter too. As light as the X100 nearly. High ISO is as impressive as on the 5D Mark III! The lenses, though expensive and with fly-by-wire manual focus are much snappier for AF than the X100's prime. In fact the whole camera is far faster in operation than the X100 and nicer to use. Build quality of course is superb, like a light-weight version of the Leica M8. The d-pad on the back is very tactile and much nicer than the small and fiddly wheel on the X100. Also, the screen is superb – RGBW! That is a first.
Fuji have clearly listened intently and done a great job on producing a heavily upgraded X100 with interchangeable lens mount. Many people's wet dream!
Now for the bad stuff. I detected no improvements to the hybrid viewfinder really, or the EVF. It seems the same as the X100 to my eye! Video was a major disappointment. It seemed heavily compressed and there are NO MANUAL CONTROLS! Fuji don't seem interested do they?
This is the purist's stills camera and will eat into Leica's sales, no doubt.
Video wise however, although it does 1080/24p and is fantastic at high ISOs with a mirrorless mount which is sure to be very adaptable due to a very short 17.5mm flange back distance, it is no GH2 killer!
If you are interested in stills this is probably the most exciting camera to come out this year – right up there with the 5D Mark III – and I will be reviewing it soon on EOSHD along with the Fuji 35mm F1.4 prime, because rest assured although my first love is filmmaking I am also serious about photography. I love taking stills and I love retro rangefinder handling.
The body cost £1399 in the UK and the X100 is now £699. Unfortunately the lenses are almost as much as the X100 alone!
Although it is double what the X100 costs for the body alone it is worth selling your X100 and 2nd DSLR body if you have one and just keeping the X Pro 1 with some nice adaptable Contax Zeiss and Canon FD lenses from eBay – or Leica M if you can afford them. The adapters are sure to come soon from various manufacturers so you don't really need to stump up for the pricey set of Fuji primes unless you really need AF. It really is a viable alternative for stills to the $3500 5D Mark III (although not full frame) and it is even better than the NEX 7 whilst only being a bit more money for the body only. My gut feeling is that Fuji have truly found their way, big time.