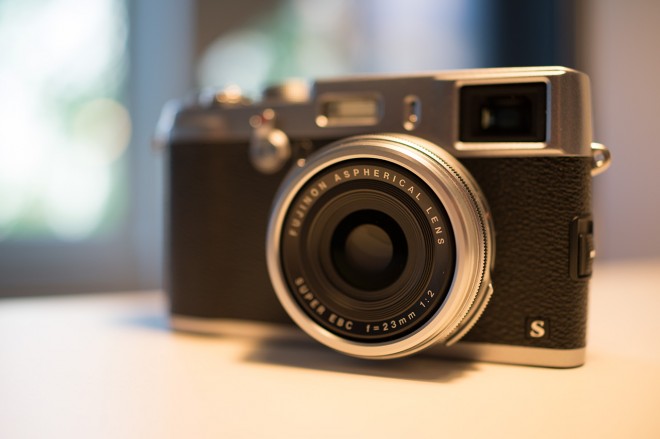 This article mainly deals with the X100S from a photographic perspective. Video is coming in the full review next week.
The old X100 was fatally flawed in my view. Manual focus with a massive lag between moving the focus ring and the clunky focus stepping itself. Very sluggish AF and a long minimum focus distance. We're not talking macro here but just basic portrait stuff. Entering macro mode for portraits or even not particular close close-ups was a hassle.
All this and more is fixed on the X100S, which is a major upgrade that totally belies the similar external appearance, including 1080/60p video.
Convergence has gone off the rails. Clearly there's still room for two cameras, one that does cinema brilliantly like the Blackmagic Pocket Cinema Camera and one for stills.
So you have a serious camera – the 5D Mark III or GH3 do a great job of filmmaking and photography. But there's huge value in a portable camera that goes with you for the ride and until now the iPhone was that camera. Not good enough.
I've been on a search for a proper smart-phone step up camera, not the kind the manufacturers would like to try and sells us – a smaller watered down $300 Rebel made of pink plastic.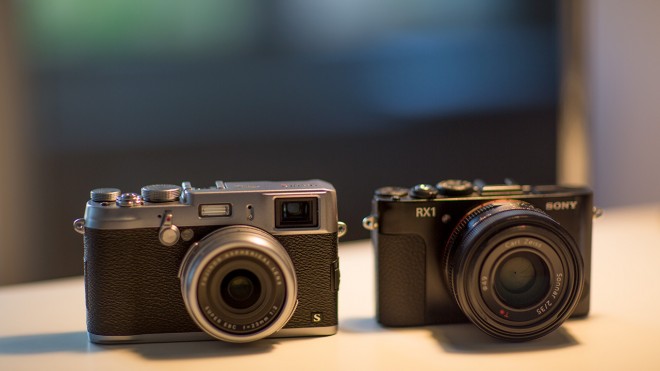 If photography, filmmaking and music all share something one thing in common, it's the emotional side – we're supposed to use this technology to make something emotionally charged. Similarly I want an emotionally engaging shooting experience with the camera.
The world is flooded with imagery from the corporate advertising world today, a giant industry built on corporate filmmaking and photography. Not a day goes by without my world being interrupted by an advert of some kind. At the beginning of my filmmaking career I had to make a decision. Would join this world? Would I make a living as a corporate film director and build from there all the way to full length feature films? Or would I dive straight into my creative projects and somehow fund them through a platform like EOSHD?
The emotion most corporate work tries to communicate is 'grandeur' and 'awe'. Not for me really… I want to feel deeper and darker things… empathy with the subject, anger, vulnerability, happiness and despair. None of these really feature in a complex way with corporate ad work.
ABOVE: Tattoo girl, Berlin. Shot on X100S in Velvia film mode.
Just as increasingly the camera became a mere tool to get a job done, camera manufacturers have become so tied up with marketing their products they have forgotten about the range of feeling involved with picture making.
Sony especially forget that the experience of shooting with a camera shouldn't just be impressive and functional on a technical level, but emotionally engaging as well. Fuji (and maybe Olympus) have grasped this better than anyone.
With the X100S's new and improved hybrid viewfinder you get to frame reality optically and see it transformed into digital before your very eyes like a magic trick. It's very satisfying.
The optics of the hybrid viewfinder gives you an intimate through-the-keyhole Leica-style view on the world as if people in the frame are actors in a movie. The new EVF (a big improvement on the old X100) gives you the end result like capturing a butterfly in a net… a very detailed and colourful digital depiction right in your eye. The EVF was a bit of a dull looking low resolution let down on the old X100, here it is all guns blazing.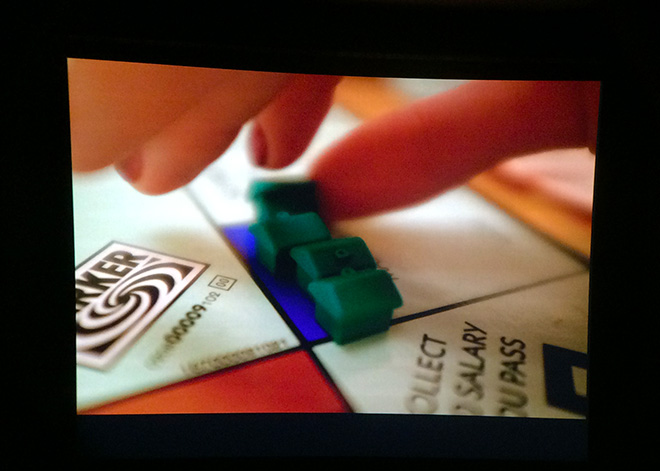 ABOVE: The X100S hybrid viewfinder is a newly improved version, great optics and a much higher resolution EVF
There's a continual element of surprise shooting this way; a much closer and instantaneous link between the reality of the optics and the illusion of digital capture. Isn't that what photography is about – mking reality look better than reality?
That is emotionally satisfying in a way a standard EVF or live-view display can't be.
Now take the film modes. Velvia, Provia, Astia and a host of monochrome ones. These are the most authentic and satisfying film modes in any camera on the market and the first to make me actually use JPEGs alongside raw – because they're emotionally astute. With each one you get a particular hue of drama. The vivid tones of Velvia in particular gives you incredible tonality, high contrast and inky blacks without giving you the dynamic range of a smartphone.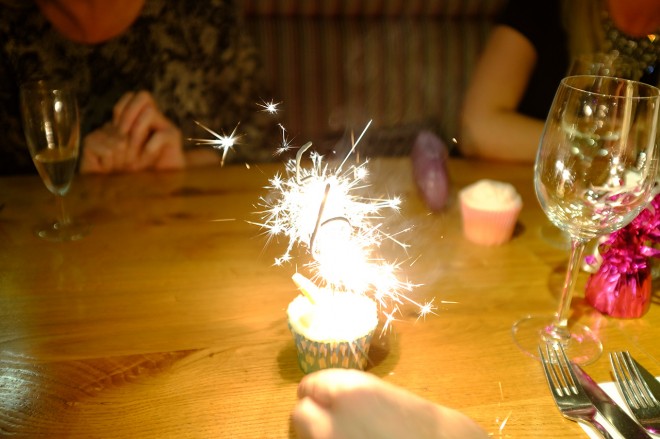 ABOVE: Velvia film-mode on the X100S gives a warm and contrasty look to images with no grading required
Then there is the way the camera looks and feels. For me form is just as important as function. Apple know this, and Fuji have discovered its effect on sales with the X series. The smart retro looks of the X100S are unashamedly ego boosting like driving around town in a Rolls Royce. Vain though this may seem it does make for a more enjoyable shooting experience somehow. It's altruistic too as it puts your subject more at ease, like putting your best foot forward at all times!
For another it is nice to hold, feels well made and slides into a jacket pocket without anything jutting out from it or jabbing you in the chest. The lens is really flush to the body.
When you put all the intangibles together you have an emotional bond with the X100S and that's the secret to Fuji's sales success with the X series, that the spec sheet doesn't itself imply. I'd love to see Canon and Sony especially take note of this emotional side to product design and give us something more satisfying and charming to use – both in terms of form and function.
Compare the Panasonic GX7, the Lumix has a modernist look which is actually a pretty nice design, but I still prefer the X100S when it comes to style.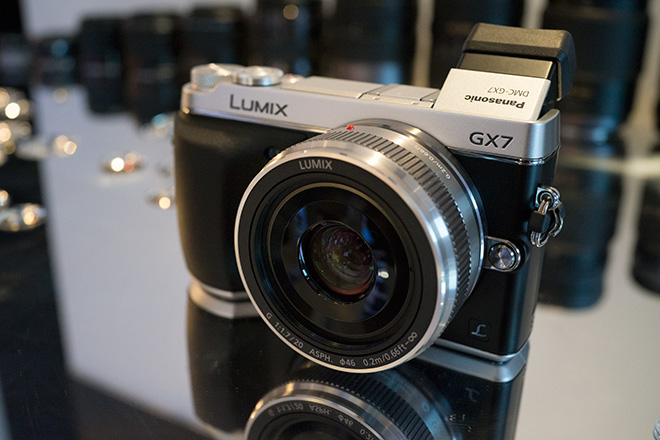 Strengths over the Sony RX1
The RX1 is a technical masterpiece and I love it. Yet compared to the X100S it has the same un-involving shooting experience a $100 compact has. The RX1 also requires you to stop down slightly in sunlight as the shutter maxes out at 1/2000 and there's no built in ND filter. Though the sensor and lens are second to none for outright performance it is almost too revealing when it comes to skin, faces and portraits. The benefit of the X100S is that it has a softer lens for portraiture especially at closer focus distances and a built in ND. The Velvia film mode does a great job of skin tones, whereas the RX1 really requires you to shoot raw and manually adjust the red channel so skin isn't as blotchy.
In good light focus is a bit quicker on the RX1 and in some cases a lot quicker. In low light both are poor compared to phase detect AF on a DSLR. On-sensor phase detect in the X100S still has some way to go. (More on this in my full review)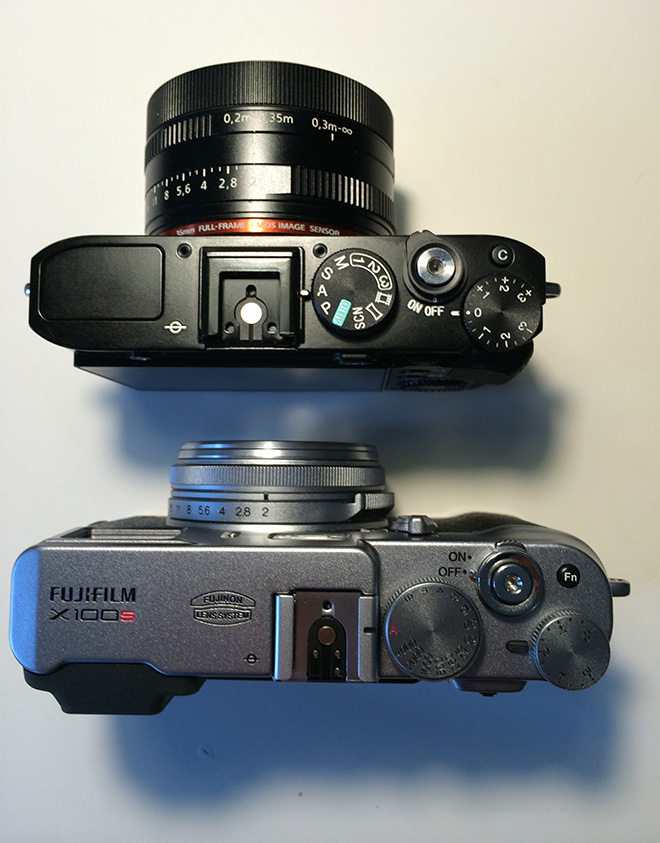 Vs compact system camera
The other thing on the X100's side when it comes to sales is that compact system cameras are really DSLR replacements not smart-phone replacements – when you attach a lens, you may as well be carrying a DSLR rather than something pocketable. You may not be able to put the X100S in your jeans pocket but it does go in an inner jacket pocket and not a particularly big one. In fact I never buy a jacket without seeing if my camera fits in it first!!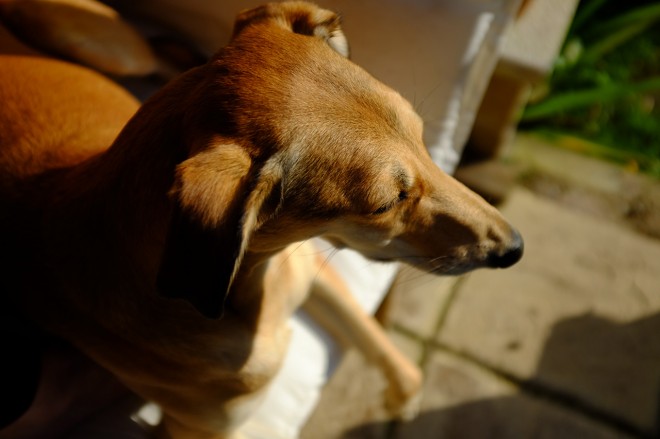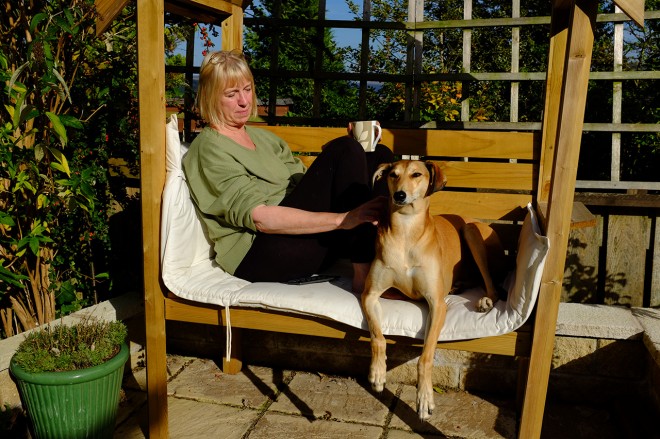 ABOVE: Spike II, shot on the X100S
As a result the X100S, like the Sony RX1 is a high performance photography tool that goes with you almost all the time, dispatching with the iPhone as a snapshot camera.
Sure you can put a pancake lens on a small Micro Four Thirds body and I considered the new Panasonic GX7 with 20mm F1.7 pancake over the Fuji X100S, but there's just something about the X100S. Having tried the GX7, I felt the underlying technology was excellent but the application of it somewhat lacking in personality.
I already have a similar camera to the GX7 and that is the OM-D E-M5 – interchangeable lenses when I need them.
Meanwhile the camera market has polarised into smart-phones and DSLR, with the middle ground a harder sell. That's a shame but it's understandable why this has happened.
Smartphones have a clear purpose. High end DSLRs have a clear purpose. Aside from the unique video side of the GH2 and GH3 I am not sure what the clear purpose of the middle-market cameras is. The size of Micro Four Thirds is an advantage, but this aspect isn't as purposeful or important as telephony or paid work.
S = superior
On the X100 you couldn't whip the focus ring to position and take the shot. You had to rotate the ring about 90 times to get it where you wanted. AF meanwhile was slower than a pensioner at a track day and simply gave up at closer focus distances.
The EVF was of low resolution on the old model, though nothing unusually bad for the year it came out. Still fundamentally flawed though as the resolution of the live-view experience was so pixelated you often couldn't see what was in focus and what wasn't. You needed a manual focus assist, of which, there were none. Nadda!
In a stroke Fuji have taken the X100S from bottom of the pile to the top when it comes to manual focus.
The focus ring is now very responsive
The digital split image works beautifully and is unique to this camera
You now have instant punch-in focus assist on the rocker lever
Focus peaking is here, and it's responsive
The digital split image focus assist is the best on any digital camera on the market. When there's not enough detail to see by eye in the viewfinder just line up the Leica-M inspired sliced & shaded box in the centre of the frame and you've got a sharp shot.
The feel of the manual focus ring is now, shall we say, not broken! It is now every bit as responsive and quick to use as Micro Four Thirds glass like the Olympus 45mm F1.8.
There's even colour focus peaking in there for good measure. This works well but the choice of white is a mixed bag. It's less distracting and less detrimental to the image than neon red or green, but too ineffective when you have a lot of bright areas and highlights around the focus area of intent. You can't change the colour of the focus peaking, which is a bit of an oversight given how simple it would have been to implement this in the firmware. When peaking isn't activated, you still have some in the form of aliasing from the live-view feed. Not ideal for stills. Disastrous for video.
New sensor
The old 12MP sensor (not X-Trans but still pretty nice) was good in low light but resolution unimpressive, made worse by noise reduction being applied to raw files.
The X100S on the surface looks like at typical incremental update but it isn't. Featuring the same 16MP X-Trans sensor of the X Pro 1 it has low light performance approaching full-frame. Like I said with the X Pro 1, this sensor is the best APS-C CMOS available. Maybe the D5200's Toshiba gives it a run for its money, but the difference is marginal.
Dynamic range is comparable to full frame on the X100S and it certainly gives the Sony RX1's full frame sensor a run for it's money at a considerably smaller price. The Zeiss lens is better on the RX1 but image quality is right up there between the two and the X100's sensor also  does a great job in low light.
The EVF is now bang up to date and with none of the edge smearing you get with the add-on Sony OLED viewfinder on the RX1 and the built in TruFinder on the NEX 7. Higher resolution, much brighter with better contrast than the old display – the EVF has a genuine wow factor when it flashes up the image after using the viewfinder in optical / hybrid mode.
Unfortunately Fuji's live-view only works at 30p and 60p meaning scenes with certain electric light sources in PAL regions of the world give you a violently flickering EVF, which is very distracting. There's no flicker reduction mode as found on Panasonic cameras. The video mode which I'll come to in part two has no 25p or 50p meaning videos suffer from the same fate on the recorded 60p images. This is simply unacceptable.
A last resort against smart-phones
For casual everyday photography the X100S is fantastic. With photography now as good as it is on the iPhone 5S, most people will be satisfied enough with smart-phones not to bother with a compact. Rather than push interchangeable lenses and better specced compacts at smart-phone users, manufacturers should be giving them something different and in the X100S, Fuji have succeeded. A retro engaging shooting experience with a nice lens and large sensor.
With this camera there's a clear difference to a smart-phone, not just due to image quality but because of the hybrid viewfinder and all round shooting experience – and this is something you just don't get with the high end compacts and Sony RX series of cameras.