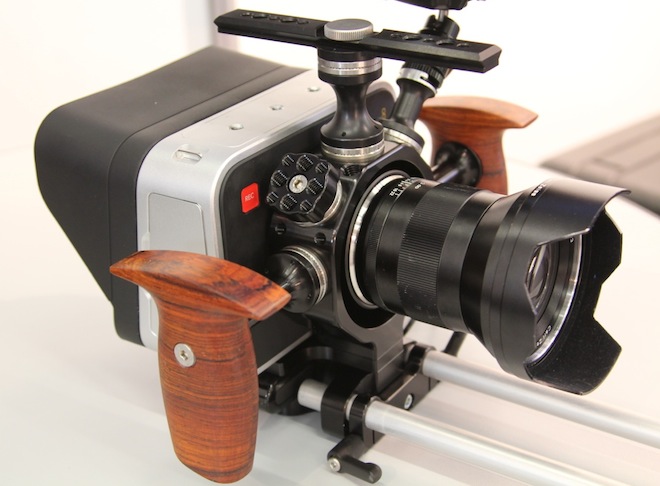 NOW AVAILABLE – Check out the cage at ReWo here
Here's an ingenious cage solution for the Blackmagic Cinema Camera by my neighbours in Berlin – ReWo.
Rather than a bulky cage which wraps around the entire camera, ReWo have chosen to form their cage around the mount tube. Yes finally that strange EF tube has a use! The cage provides mounting points for ReWo's wood handles via Arri rosettes, top handle, mounting points for accessories via 1/4″ and 3/8″ threads and a 15mm rods block.
As with the GH2 cage ReWo have used the same aircraft grade anodised aluminium here and it is CNC machined in Berlin.
When I get back from Croatia and my camera arrives (hopefully late October) will be keen to try this out!!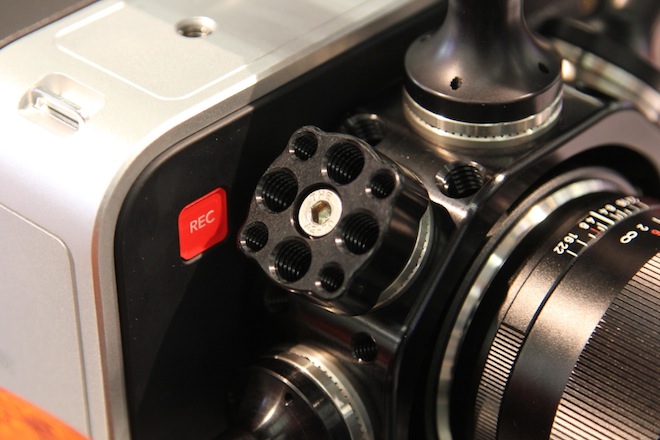 Here's what Philip from ReWo told me about the cage:
We've already built a first batch of the "Ring" rig and we are ready to sell it now…Even if the camera is still not available! We're now able to build 100 of them in less than 2 weeks. Best quality we've ever built, I love it and I have had an Arri, Moviecam and other high precision stuff in my hands a 100 times! Still better build quality than the GH2 cage.
There's an optional interchangeable mount for the BMD MTF version (see sketch below). This mount allows the use of all the great old PL, BNCR and maybe Aaton mount glass for the old super 16mm lenses. We can't leave this old, great glass on the shelves. Remember that some of the most creative Oscar winning cinematography was shot with these lenses and Super 16mm (City of God, The Hurt Locker and more). A lot of these lenses even many wide angles will cover the Blackmagic CC sensor!
Our rig supports a cheap $60 19v battery from Xpal (XP8000). This is the cheapest battery solution for the BMD Cinema Camera out there, and it keeps the camera small and lightweight not like a big external V-mount battery. But you can even build a rig with a V-mount battery through long 15mm rods instead of the small battery.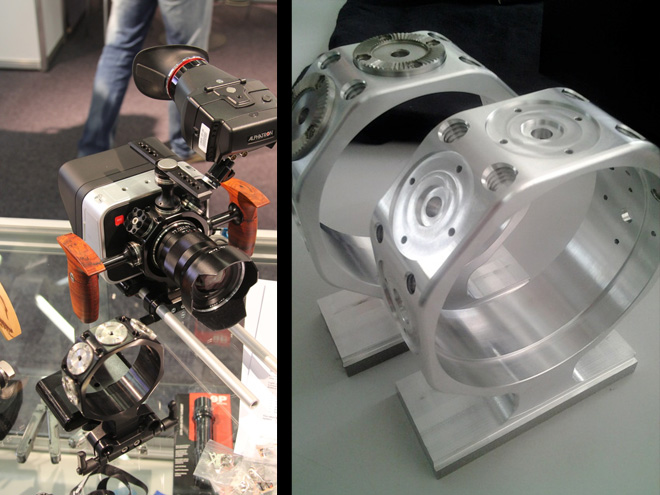 As you can see, the cage is incredibly compact. No unnecessary bulk at all and I believe that battery solution goes under the camera in a very discrete position.
The Blackmagic camera is already tough with metal construction around the camera body so it doesn't need the protection of a huge cage, just the mounting points provided by the ReWo ring.
The ReWo solution for the Micro Four Thirds version of the camera is to offer an interchangeable mount. Here's a sketch: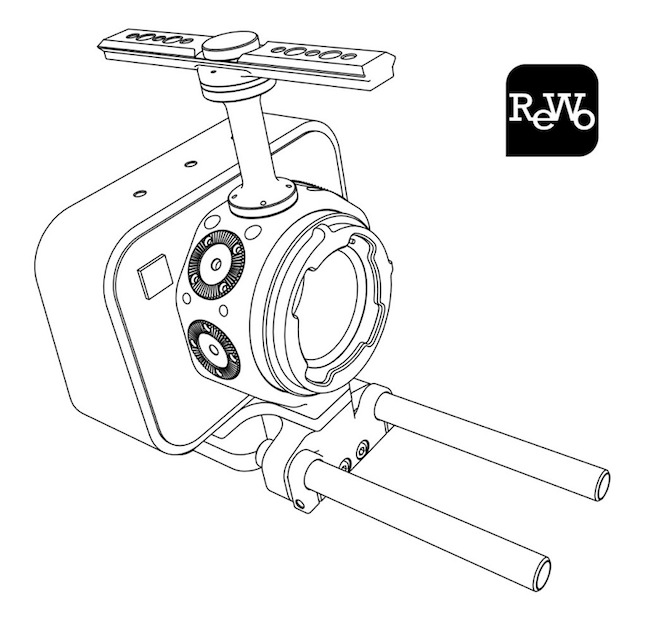 So this is a cinema lens adapter as well as a cage. Nice stuff!
It is amazing what kind of quality, materials and design expertise has gone into both this cage and the camera compared to what we are used to from the plastic fantastic DSLR manufacturers. Superb in both creativity and execution, made in Germany. €750 + tax for the cage and $3000 for the camera. We filmmakers are being given really nice stuff at low prices.
Hopefully now Grant Petty has officially explained the camera delays (dirty sensor glass due to a third party supplier shipping it in the wrong kind of packaging) I think an end could be in sight to the shipping problems. With support from manufacturers like ReWo the unusual form factor of the camera has been given a real boost. That is the advantage of having an unfussy modular design, you can add to it.