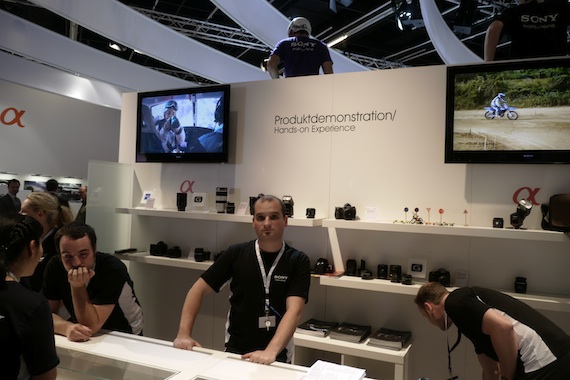 The internet is showing signs of a dramatic lack of interest in Sony DSLRs. According to data from Flickr and Google compiled exclusively by EOSHD.com, Sony's DSLRs are becoming less popular by the hour.
Key web stats all point to a collapse in consumer confidence when it comes to Sony DSLRs.
Exhibit A
There can be no denying that there has been a huge growth in photo sharing online over the last few years. Flickr has camera trackers which gauge activity on their community from each model using EXIF data. So first let's look at how Sony's competitors are doing.
If you look at Canon, they have models in the top 5 Canon cameras on Flickr which are clearly run-away successes. That the list includes compacts as well, DSLRs dominate the top 5 – and it's even more surprising to see the expensive Canon 5D Mark II right up there and gaining all the time. Clearly, 5D Mark II users do not outnumber IXUS users in the marketplace but it seems 5D Mark II photographers are very active on Flickr and inspired to share their photos more often. Much more so than those who own a Sony DSLR!
Even the Leica M9 is enjoying a surge in usage driven by strong sales, despite it's hefty price tag. The percentage of Flickr members using an M9 is shooting up the percentage charts to the point where it is almost the most popular Leica camera of the digital age.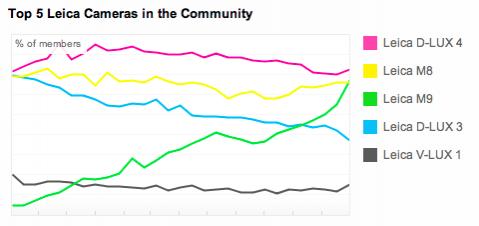 Nikon's share of members is somewhat confusing since the D90 is a runaway success on Flickr, being one of the most common cameras used by it's members. This dwarfs usage of the lower-end models, which enthusiasts and Flickr members have seemingly shunned for the D90 or a competitor's camera.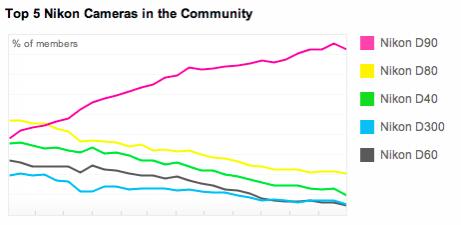 But Flickr is not just an enthusiasts site, out of touch with Sony's huge consumer target audience. Let's look at Panasonic's stats, which are dominated by consumer compacts…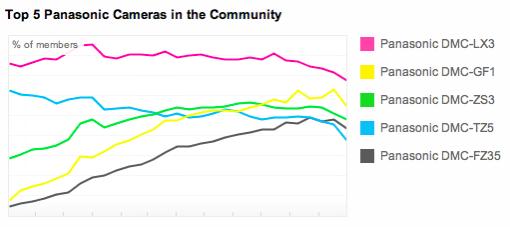 Panasonic have seen a surge, due mostly to the popularity amongst Flickr members of the LX3 and GF1. These are popular cameras, I see them around almost every tourist's neck in the world! Their compacts are also popular, and Panasonic have seen growth across the board until very recently, but they now have new models – the G2 and GH2 in particular plus new compacts like the LX5 to power on their growth. The GF2 cannot be too far away.
Now let's see where Sony are…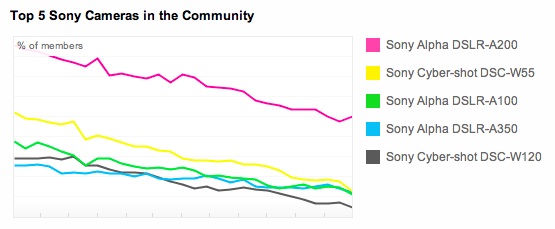 In a growing business, Sony's top 5 best selling cameras have ALL managed to produce a downward line on the graph! Either Sony's target audience are shunning Flickr in droves, or they're selling fewer and fewer cameras. Clearly Sony are loosing sales to the GF1, and the Olympus mirrorless cameras, and hammoraging sales at the high end to the Canon 5D Mark II and even Leica M9.
Sony's lack of new full-frame model is hurting it at the high end, the NEX hurt it by coming to the market 12 months later than Panasonic and Olympus, whilst their entire Alpha line is being shunned because it's turned rubbish. What's striking here is that every single Sony DSLR in the top 5 of Sony's offerings is becoming less used by the day and new offerings like the NEX series haven't even registered yet.
Google Insights also indicates that interest in Sony DSLRs is in decline relative to the growth of competitors. In 2008 Canon (red line) and Sony (blue) were neck and neck for Google searches for DSLRs. Interest then rapidly grew in Canon driven heavily by class leading products like the 5D Mark II (from late 2008) and the sheer popularity of their Rebel line whilst interest in Sony went pretty much nowhere despite a constant barrage of new Alpha models.

Poor Sony. Their camera division has had flashes of brilliance only recently. Earlier this year their HX5 compact was fantastic. Back-side illuminated sensor (Sony had it before anyone else), Sweep Panorama and a great versatile G lens. Plus it had 1080p video (though interlaced, was 25p on the PAL model's sensor). Sony showed signs of great innovation in DSLR land too with the NEX 5 – stylish and thin yet with a great sensor and quality lenses – and the A55 with it's innovative transparent mirror and built in EVF.
However I believe Sony blundered heavily on several essential elements of the game.
• Marketing
• Video
• Control
Sony's recent marketing of DSLRs has been a little on the quiet side and not innovative enough. Have you seen a TV ad for a NEX or the A55? I may of, but it can't of been very memorable because I can't even bring it to mind. Sony had a noisy skateboard ramp in the middle of their Photokina stand which was totally out of place against the relaxing atmosphere of other booths. Whoever is doing their marketing right now has the tone completely wrong. Their VG10 sample video in Bali too, was embarrassingly awful in tone and felt dated. Pretty scenery, but lame execution. No Chase Jarvis or Philip Bloom shooting it – this had the look of something hacked together by an ad agency.
Then there was the video side – totally failing to capture the attention and affection of 'budding filmmakers' everywhere. No 24p or manual control, and to top it all off – an interlaced finishing format combined with an overheating sensor on the A55! It's been one PR nightmare after another for Sony's long overdue DSLR video mode.
And finally on the control side, specifically the Playstation style user experience on the NEX cameras and the lack of manual control in video mode. Simply awful.
I used to be a Sony DSLR owner. The last one I used was the Alpha A350. I loved that camera. One of the first DSLRs with a workable live view system and articulated screen. Very good image quality, 14MP and in-body image stabilisation. Hefty build quality (certainly better than the newer entry and mid-range Alphas!) and some nice Konica-Minolta DNA. I preferred it over the Canon Rebels at the time. It produced the better shots and had the better feature-set, even if the sensor got a little too noisy at high ISOs.
But since 2008 it's all gone down hill.
Bad news for Sony. Let's hope they can turn it around soon and get us excited once again about their innovation. All they need is to bring back full-frame, increase build quality on the Alphas, improve their video firmware and improve their UIs.