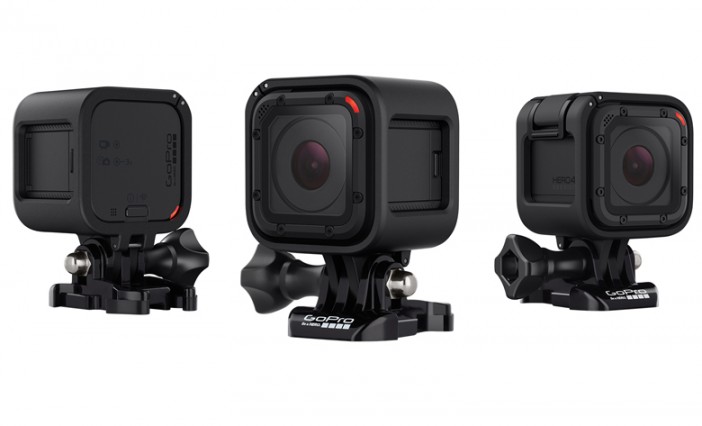 In a surprise move GoPro have released a new even smaller camera which removes the display panel and newer 4K capable sensor from the top of the line version, halving the size and weight of the device.
If the standard GoPro cameras were just too heavy and bulky for you, now you have a solution! The new camera is an absolutely tiny cube which would be great as part of an array camera or 3D rig. The lenses can be stacked or paired up practically side by side.
The new camera does not have a display of any sort not even the black and white info LCD from the standard cameras. Therefore the camera's power button takes on a few more functions. A single press powers on the camera and begins video recording. A long press powers on and starts 8MP time-lapse stills recording.
There's also a new approach to audio recording with better wind noise cancellation from the stereo mic.
The waterproof case is built into the camera this time and isn't a removable shell.
Video at 1080/60p, 720/100p and 1440/30p (2.5k)
Waterproof to 33' (10m), no separate housing required
Easy one-button control: short press of shutter powers camera on and begins capturing video, long shutter button press powers camera on and begins capturing time-lapse photos
Captures 8MP Single, Burst, and Time Lapse photos
Compatible with GoPro mounts and accessories
Dual Mic system captures enhanced audio during high wind and water-based activities
Built-in WiFi and Bluetooth® enable easy connectivity to GoPro App and Smart Remote
Auto image rotation corrects image orientation during recording
Includes standard and low-profile frame mounts for increased mounting versatility
New Ball Joint Buckle mount is included