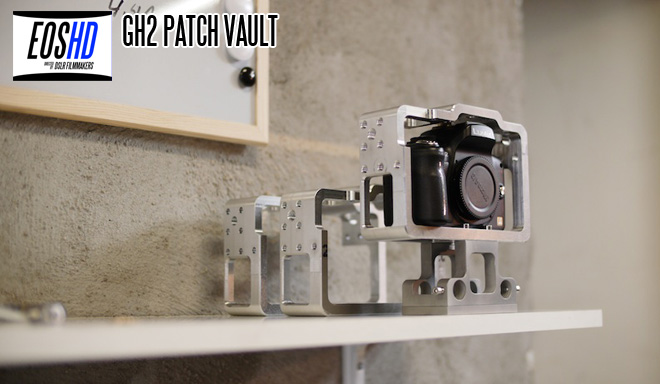 Download the patches from the GH2 Patch Vault here
I've now finished testing and have refreshed the EOSHD GH2 Patch Vault with my latest patches. These are now simplified into just two – a high performance AVC Intra 88 Mbit EOSHD Unified patch and a 44 Mbit EOSHD Vanilla patch. I've also added an updated installation guide which is designed to be as simple and as to-the-point as possible.
Just before Christmas Panasonic released version v1.1 firmware including 1080/25p and improved high ISO noise reduction for the GH2.
Since then GH2 users have been waiting patiently for Vitaliy Kiselev to hack the new firmware, and that he has now done.
With the new firmware I've taken the opportunity to also update my popular patches and release a new patch for the tiny GF2, which is also now hackable.
You can find these at the GH2 Patch Vault in the main menu of the blog or here!
Happy hacking!
Applying the hack is easy and is a matter of 10 steps. For this I've created an easy to use instruction guide for the hack which you can find from the link on the GH2 Patch Vault page.
For all the thousands of people that have hacked their GH2 there have been no reports of bricked cameras from using the hack. The only problem can occur if updating the firmware (genuine or hacked) with an A/C cord or faulty third party battery. Always use a genuine battery when applying the hacked firmware update and EOSHD patches.
For processing the 1080/25p output of the camera, although some editing applications will recognise the footage as 1080i, it is actually 1080p. If you have any problems, use Clipwrap 2 to unwrap the AVCHD wrapper and create normal H.264 files for editing in your app of choice.
And finally…
If you are wondering what the image is above, it is an early prototype of the ReWo GH2 cage as reviewed (and part designed!) by EOSHD here.
Here are some great images of it being used professionally on set, with the small lightweight GH2 as part of a car rig.
Time to get shooting!