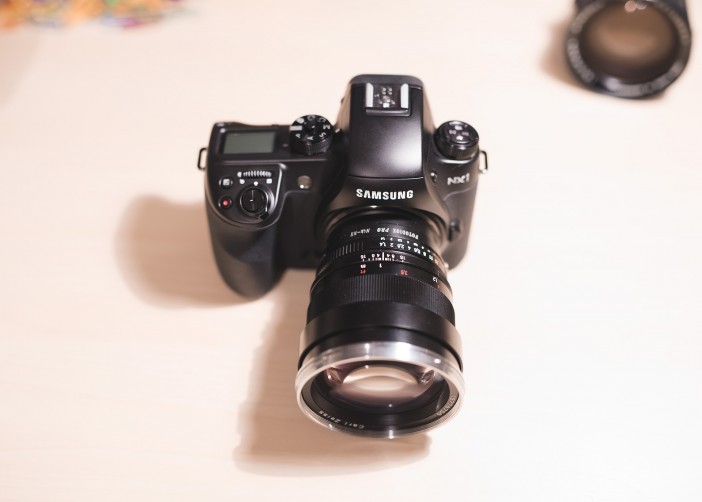 [pullquote]Comment on the forum[/pullquote]
Samsung are set to release a filmmaker-orientated firmware update for the NX1 with a raft of professional features and improvements.
Here's a summary.
Two gamma modes – C Gamma and D Gamma. The D preset is a "log color setting" according to Samsung, for increased dynamic range and wider tonal range.
Master black level control. This is similar to the master pedestal setting on the GH4 allowing the user to bring up detail in the shadows and avoid the crushing of blacks.
Luma level control, to prevent clipping. Again similar to the GH4, the NX1 can now record in the full range 0-255 or broadcast safe standards of luma mapped to 16-235 and 16-255 for greater compatibility.
Cinematic autofocus control. This allows for the speed of AF racking to be tweaked depending on the user's artistic preference. In addition a new AF Responsiveness control tweaks the speed of AF adjustments whilst tracking moving objects.
23.98 and 24p are now available in UHD 4K mode (not just 25p and 30p) and in 1080p. Previously 24p was only available in DCI 4K (4096 x 2160) mode.
The maximum bitrate of 1080p has been bumped up from HQ to Pro. This should be particularly good for improving the quality of 1080/120fps (0.25x slow-mo mode) which is rather blocky currently.
Manual ISO and audio level adjustments can now be made whilst recording.
Display markers in video mode, such as 2.35:1 or 4:3 as well as grid lines and centre point marker.
Free run timecode over HDMI, to Atomos devices. (Only for HDMI, not supported by internal H.265 files).
AFL (auto focus lock) enabled for video shooting and AF-ON button can now toggle between AF and MF during movie recording.
Improvements to 4K still frame grab functionality in playback mode.
The firmware update also brings other more minor improvements, such as more programmable buttons, usability improvements, new wireless features and more. You can see the full list over at Imaging Resource here.

Particularly interesting is that Samsung will make an SDK available with the firmware update for developers to make their own apps and remote control software for the NX1, which runs from an open source operating system. The SDK will initially only be available for Windows.
This is an absolutely great firmware update and brings the NX1 much closer to the GH4, the current market leader in terms of the sheer number of pro-video features on this kind of camera. The NX1 has the advantage of a better sensor and better overall image quality though. Overall, a stunning job by Samsung.
I'll be testing out the new V1.2 firmware on my NX1 when it is publicly released in mid-January.