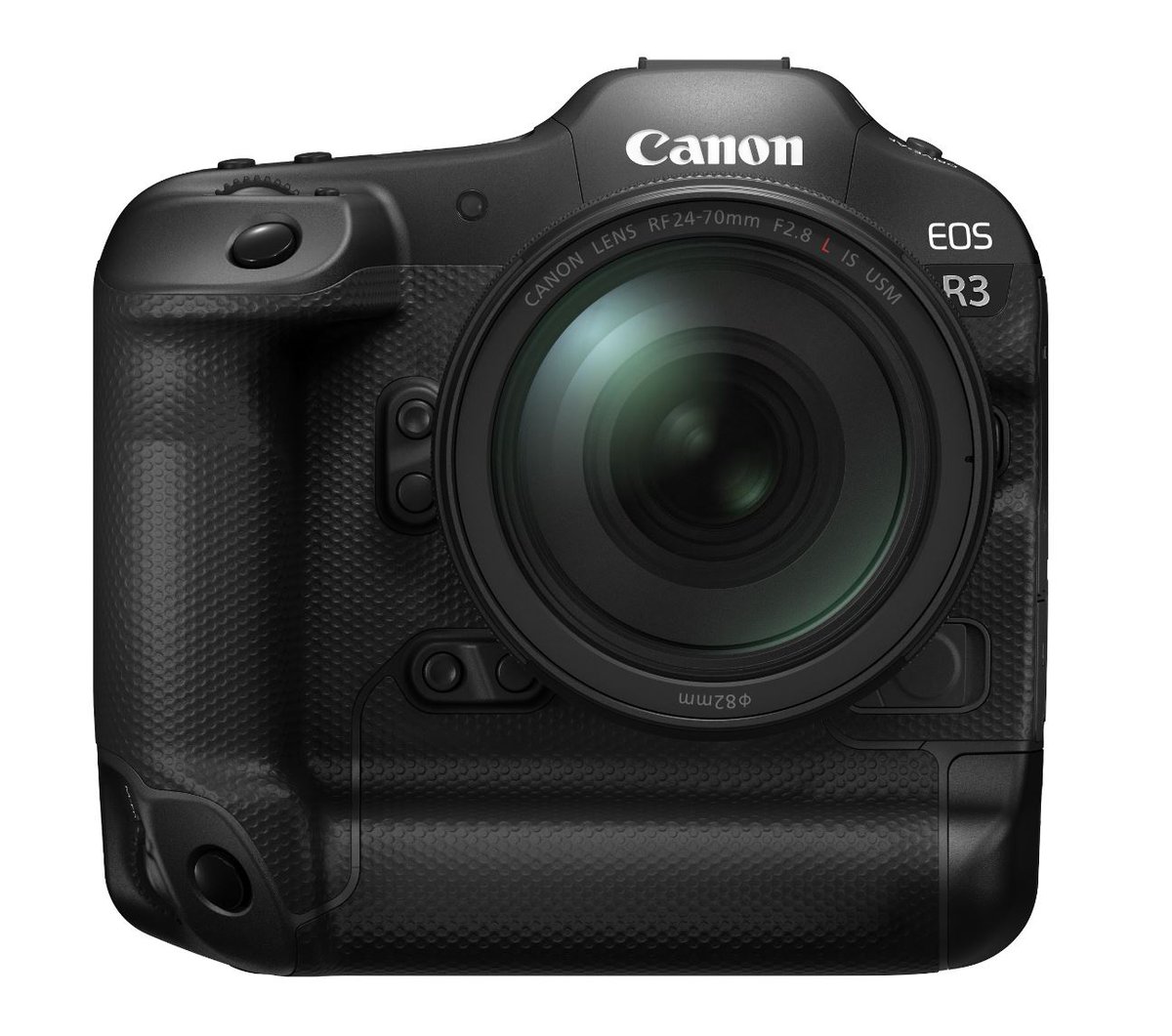 Canon are expected to announce the mysteriously numbered EOS R3. It resembles the Nikon Z9 and is expected to be one of two professional flagship cameras this year, the other being an even higher-up the range EOS R1.It isn't yet known whether Canon will go for a lower-megapixel 4K / higher ISO sensor for the R3 and whether Canon will go the direction of high-resolution / 8K for the EOS R1 to compete with the Sony A1. My expectation is that since everyone is now taking a cue from Sony in full frame mirrorless market, they will use Canon 1D X Mark III innards for the R3 and develop something new for the R1 to compete with the A1.
Only the R3 is rumoured for now and the R1 remains an even more hypothetical camera!
As you can see from the Nokishita leaked image above, the camera has a 1D X Mark III style top plate and integrated vertical grip – very similar sized side-loading battery to the 1D X Mark III. Expect to get long shooting times.
A DRIVE / AF button can be seen on the shoulder.
キヤノンが「EOS R3」について何かしらの発表(開発発表?)を間もなくするらしい。#噂 pic.twitter.com/zc5ve2S1z8

— 軒下デジカメ情報局 (@nokishita_c) April 13, 2021
Ergonomics look VERY similar to the 1D X Mark III. If it ain't broke…
I expect Canon will price this around the $6500 mark and have an even more expensive camera above it at some point.
Clearly this is designed to get professional sports and news shooters to switch from their old DSLRs and buy into Canon's RF lenses where the big profit is to be made.
If R3 is all about speed and AF, then an R1 can be about beating Sony in a megapixel race and outright specs war. Both very high resolution AND high speed are a reality now – but for more money.
The R3 could be a nice balance I think. I fully expect it to get the same video features as the 1D X Mark III as well, including internal RAW recording and 10bit 4K. For sports shooters they do urgently need to do something about the dreadful rolling shutter in 4K and a silent e-shutter mode on an RF mount camera would have to solve this issue too.
The EOS R5 processor and sensor would not make it through a long sports shoot, so I definitely don't expect it to be based around that.