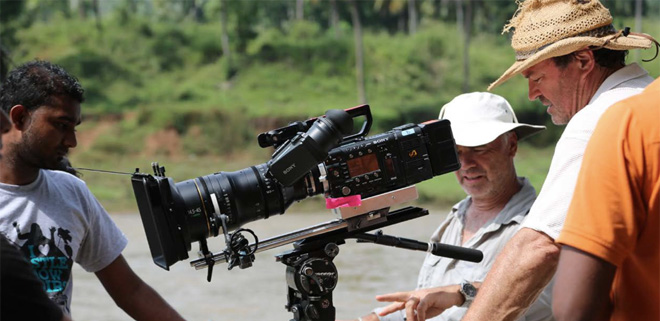 Jon Fauer ASC has put together a 96 page report on the Sony F5 and F55.
Along with what we now know here is my analysis of the Sony F5, F55 and that other competitor – the Canon C500.
The Arri Alexa and various options from Red are the most widely used high end production cameras. They are about to get some serious competition. FDTimes and SlashCAM have been on fire with Sony F5 / F55 insights today. First the pricing information we've been waiting for – at least for Europe. (You can see it in German at SlashCAM here).
PMW-F5 15,340 Euro
PMW-F55 27,804 Euro
AXS-R5 S35mm F-series External RAW Recorder 5,206 Euro
AXS-CR1 Access Card Reader 549 Euro
AXS-512S24 Access Card 512GB for AXS-R5 External Recorder 1,535 Euro
SCL-PK6/F CineAlta PL Lens Pack (6 lenses) 19,895 Euro
SCL-PK3/F CineAlta PL Lens Pack (3 lenses) 11,118 Euro
There's a series of LCD viewfinders (one of them an OLED panel) and batteries, for sake of brevity you can see that pricing info on the full SlashCAM article.
The official US prices are now available. The F5 is $19k and the F55 is $34k. February release date and you can see the full item by item pricing on the EOSHD forum here.
The European street price is around €12,995 at a reputable dealer in Belgium for the Sony F5. Directly converted to GBP that is around £10,500 + VAT.
It seems Sony have matched the Canon Cinema EOS range for pricing. Surprise!
However this is actually very significant because on paper the Sony cameras are undeniably the more advanced technology – by far.
I am not just saying this as an opinion, based on me being let down so sourly in terms of Canon's DSLR video offerings. It is a fact.
Whilst I personally would not shoot a high end project on a C300 (I feel the Alexa and Blackmagic Cinema Camera are more cinematic with 12bit and raw) I can see why it has been so popular. The Cinema EOS cameras produce lovely images in the right hands and are ergonomically very well sorted. They are convenient, broadcast approved / ready and well designed. Let's not forget that the huge Canon EF lens range certainly encourage sales too. They have everything 'in the box', more or less straight out of it in fact. This suits a huge range of professional videographers and some cinematographers. This is totally not the case with the $25,000 Canon C500…
Canon C500 vs Sony F55
As highlighted by Nino Leitner in his recent real-world shoot "ALEX" and review the camera lacks the ability to record 4K or raw internally. This leaves one to ponder – what precisely are you getting in terms of camera hardware for your extra $10,000 over the C300? You need to buy an external recorder to make it any fundamentally different.
Whilst the internal codec at €25k on the Sony F55 is 4K XAVC 10bit 4-2-2, it is only 1080p 8bit MPEG at 50Mbit on the C500. This is exactly the same as the image processing hardware you get on the C300!
Canon does not have their own external recorder, you must by a third party one which adds between $5k and $10k to the price and attaches via 3G HD-SDI cables. Not an ideal solution to say the least. Acceptable as a hack to get ProRes out of a $6500 C100 maybe but not on a $25,000 camera.
The Sony F55 does 16bit 4K raw up to 60fps it it's onboard recorder, the R5, it is fully modular so there's no cable or 3G HD-SDI to worry about – it is integrated with the camera. May as well be internal. No need for a Gemini or Codex and the recording hardware is included for that €25k street price. The C500 has another issue in that the fan to cool the sensor and internal circuitry to transport all that data to the 3G HD-SDI is audible during most quiet dialogue scenes.
I've talked to various filmmakers and directors about the Alexa (it is just totally dominant in Germany especially in TV) and just about the only real criticism is that it has a CMOS rolling shutter. Sony have taken aim at the Alexa here let alone the C500 because the F55 has a global shutter readout. The Canon C500 still uses a rolling shutter like on the C300 and DSLRs.
Here's a full list of advantages that the Sony F55 has over the Canon C500…
Sony F55 is cheaper 4K solution. 4K XAVC encoder hardware is included at €25k (street price likely lower)
The C500 restricts you to either PL or EF mount. The FZ mount on the F55 is interchangeable between PL and a positive locking E-Mount, with adapters to EF and countless more
4K / raw recorder is via cabled connection to C500 (not ergonomic, a hassle and a stability risk) but integrated on the F55
C500 has rolling shutter like a DSLR, the F55 has a global shutter
The F55 has the same colour filter array as the very high end CineAlta F65 whilst the C500 features a similar if not identical sensor to the $6500 Canon C100
The C500 has known fan noise issues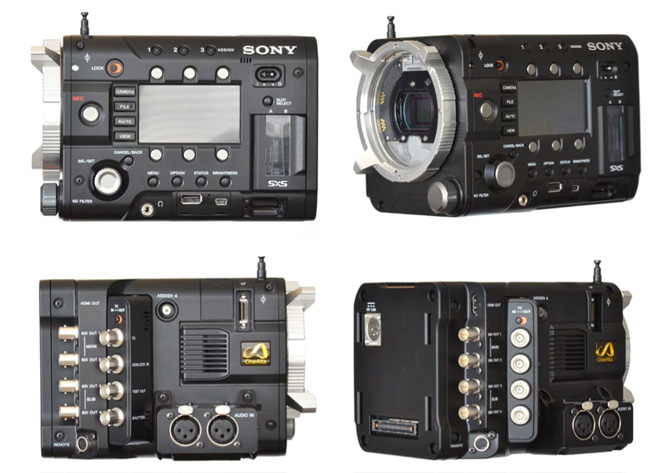 Above: The bare bones Sony F55. 4K and 2K raw is built in. You can also add the off board recorder from the F5 to the F55 to enable 240fps in 2K 16bit raw
Sony figure it out… Or do they?
Until now Sony had been far from perfect, and cameras like the CineAlta F35 did not really take off in a big way outside of Hollywood. At rental it was often on the shelf as everyone was using the Alexa. You can pick up a F35 on eBay for just €12,000. A camera which the Panavision Genesis was based on, on which Superman Returns was shot. Absolutely cutting edge just 6 years ago and in the region of $200,000. Now it is $12,000 and unwanted.
The camera that replaces it, the F65 is not going to fly off shop shelves either and nor is it designed to. It is again more for a Hollywood thing, in my opinion.
After the F35 we had the F3 but it wasn't 'cinema' enough for me. Far too much traditional camcorder DNA and not enough cinema blood in it. Jon reveals in his report that Sony started working on the next generation F5 just 2 years ago after the F65 was finished and when the F3 went onto the market. 2 years is quite a short shelf life for a €11,000 pro camera.
Sony themselves appear bullish about the chances of success with the F5 and F55:
"I think that 2013 will be the year of F5 and F55, but I don't expect our competitors to lie down and allow us to enjoy two years plus of profitable sales and growing market share."
Indeed they won't but the new Sony cameras are extremely future proof on paper and it will all come down to how they handle, how good the workflow is and what the image is like – not so much the spec sheet by itself. As we have seen countless times before in all areas of industry, the best numbers alone don't always make for the most popular product.
Will cinematographers and TV crews who are 100% satisfied with the Arri Alexa suddenly risk dropping all that and stepping into a complete unknown with Sony? Predominantly the broadcast industry doesn't yet see the need for a raw workflow or 4K. ProRes on the Alexa is just fine. Is Sony's support good enough? Will rental houses and corporate videographers choose the easy option of Canon C300 especially where HD production and the web is concerned? Will the still-too-plastic build of the F5 be a concern for the push and shove of the rental scene relative to the very robust Alexa and Red?
I'd say yes on all points.
These are the main challenges Sony needs to overcome.
Slow mo
The F55 does a huge 180fps in 1080p internally, with a clean image. In 4K it is a respectable 60fps internally but when add the optional offboard recorder, you get 240fps 16bit raw at 2K with no crop or loss in image quality. This is the same 5000 euro recorder that bolts onto the F5 to enable 4K so for F55 users it is very affordable. The 4K high frame rates on the F55 are enough for the new 48p HFR standard pioneered by Red and The Hobbit, but the Sony falls short of the forthcoming Red Dragon sensor upgrade for slow mo.
If HFR and 3D production go mainstream after the inevitable box-office success of The Hobbit and there's not a massive backlash against the look by audiences, Sony's ability to do 4K up to 60fps will be a huge advantage over the Alexa and Canon C500.
It is worth remarking also that slow-mo is becoming increasingly popular in the industry, especially sports and TV. The Alexa and C500 are not the right cameras for super slow-mo. A planned firmware update is required for 240fps 2K raw on the F55 and some other niceties but Sony won't charge for it like they did S-Log on the F3. It is going to be free. When it comes to sports and fast action the global shutter certainly helps too.
Native ISO
The F55 with it's global shutter may seem at first glance to come at a noise penalty. It is rated at ISO 1250 whilst the F5 is rated ISO 2000 similar to the Red Dragon sensor. Indeed the reduced sensitivity of the F55 follows other implementations of global shutter to date (mostly on scientific CMOS sensors and CCD chips). Dynamic range decreases and noise increases, but Sony claim 14 stops dynamic range for both the F55 and F5 in raw. A stop more than the very impressive Blackmagic Cinema Camera but a stop less than film and the Red Dragon upgrade.
From Jon's report, tellingly:
"The base ISO of the F55 camera is recommended by Sony as 1250. We went up to 6400. Generally we tried to stay at about 3200 for low light. There was a little grain increase or a signal to noise in- crease when you gain it. But it is very quiet. What I believe we're seeing is 4K "grain" or 4K noise. It is much finer than HD signal to noise."
The colour filter array on the F55 is identical to the F65 but on the F5 it uses the same bayer CFA as the F3. The colour gamut on that camera is wider than film. Because of global shutter I'm expecting it to be less on the F55 but still better than any 8bit camera because of raw.
4K HDMI
It is interesting to note that the F55 does 4K via HDMI not just HD-SDI. This is good news for DSLR shooters as it raises the possibility of a sensor tap via HDMI for external 4K recording. I believe this is 100% necessary for 4K to ever become part of the DSLR video spec sheet, because there's no way anybody will be adding a fan and raw codec to a photographic camera with a small battery in the near future. The 4K solution (if indeed there even is one) is undoubtably going to begin with external recorders when it comes to DSLRs.
Compressed 4K
A useful feature for many will be Sony's new XAVC codec. This is capable of up to 60p and 4K, at a huge 600Mbit bitrate in H.264 MPEG4. This is great for people who want the resolution and cropping facility of 4K but not the expense and hardware requirements of a raw codec. Unfortunately the codec only works with Sony's expensive own SxS Pro+ media, for which there are dual slots on the cameras. I'd have liked to have seen support for third party SSDs – but even amidst a bright new dawn, old habits die hard!
Might Sony's XAVC be a sales masterstroke? To get 4K on the C500 and Red Epic you need to record in raw format. Like the ProRes option on the Alexa, XAVC is more convenient. Hard working pros will like the compressed 4K workflow as it saves time and money.
Sony's expertise as an electronics company enabled them to build custom hardware for the XAVC encoding and decoding. Since Canon are a predominantly a photographic company they need to buy their encoder chips and most internal hardware from third party suppliers such as Fujitsu and Toshiba. Indeed I am told (though I have no way of checking for sure) that the sensor in the C300 and C500 is one of the few hardware parts that are 100% made by Canon in-house and that the rest of the C500 is off the shelf.
Raw workflow
Unlike the Blackmagic Cinema Camera, the F5 and F55 use the slower but more common USB 3.0 connection instead of Thunderbolt. This however is more than enough for current SSD read and write speeds, so that the card itself becomes the limitation not the connection. Sony RAW comes with some bundled software – only a viewer I know about, not sure about Vegas or anything else. Nothing as advanced as DaVinci Resolve  – that goes without saying. I'm not clear exactly when Sony Raw will be supported in NLEs and Resolve but it is very early days yet and I am 100% sure it will come.
In the report Jon shows us the workflow of Colourworks at Sony Pictures. This is a proprietary in-house workflow using Sony Picture's own software (developed for the F65) so I am not familiar with it myself. It is early days for the F55 and F5 but I think the common internal ProRes options of the Alexa and BMCC, as well as Blackmagic Design's expertise as a post production specialist really is an advantage for Arri and BMD over Sony at the moment.
"We received a USB3 RAID array from Stargate containing 4K F55 RAW files and some 4K XAVC files.
We loaded all of that data onto our high-performance SAN, where we could then catalog and collect the metadata with our proprietary tools we have developed for F65, and now F55.
We produced ProRes dailies from all of the source F55 RAW and XAVC files using our Baselight BLT-XL dailies system.
Color was applied to balance out the shots that needed it. Sound syncing was also done in Baselight. Edit in Final Cut Pro [as ProRes]."
Closing analysis
Sony could not have done a better job on the specs sheet for the price point. It will also be fascinating to see if there is an FS series trick-down of the F5 beyond the FS700 at the $6k price point, because with the F35 and F3 we had the FS100. That camera is due an upgrade.
The thing is…
Specs aren't that important any more. Hardware is not the game changer it once was.
TV production, video professionals are largely satisfied by 'good enough' cameras. On the rental market and in TV they have Arri Alexas by the bucket load and it is a known quantity. They don't need 4K… yet. They certainly don't embrace raw as much as they do the native editing format of Final Cut Pro, ProRes which has become something of a staple of the film industry despite Apple reversing, bizarrely, away from committing to their pro tools division. It seems Sony are virtually alone with Red in trying to advance 4K, and in turn – our filmmaking. I feel sorry for Sony. Their TV sales have plummeted and Sony badly need 4K to be a success. 3D has not sold TVs and in my opinion if they don't get the 4K TVs out soon they may risk financial collapse.
Canon's Cinema EOS range is the Toyota of all of this. The 'just right' for Goldilocks. The workhorse camera of 2012. The range isn't interesting from a technology stand-point for me. It isn't special in terms of pricing. At normal light levels or on set you get a better image in raw on the Blackmagic Cinema Camera, so I cannot justify spending $12,000 extra… for less image. The range exists at total detriment to the very interesting path Canon was forging with DSLR video. As a result they lost me as a customer. I have used the C300 and I honestly don't understand what the fuss is about. Sure the ergonomics are fine and it does the job, but it's boring. The specs are lightweight at the price level especially by comparison to the aggression shown by Sony and Blackmagic. However the C300 and C100 for the time being will remain popular because they cater perfectly for a large number of pros. They 'just work'. There's no real quirks in handling or workflow. The HD image is good enough. The price point is not that sensitive, just about right for the target market. Indeed in an industry where so many productions rent the camera, the cost of ownership or investing a lump sum in one doesn't even apply. But I repeat – the C300 in my view just isn't future proof and the C500 is flawed and woefully under specced for $25,000+.
Whilst I understand why the C300 has been flying off shelves, both for rental and retail, the C500 I just don't see as being as successful.
Why choose the C500 over the Sony F55 or Alexa for TV or pro work at all? Indeed a ready to shoot Epic or Scarlet if you're happy to shoot raw?
If you are freelance and investing $25-30k in a camera system, the F55 is an investment in the future because of internal 4K and slow-mo.  You are not locked into EF or PL so it is a safer investment in terms of lenses. You can even use your EF glass on the universal mount. If you decided you need PL, easy – just swap the mount. It is superior in the sense it hasn't got a huge external box hanging off the end by a HD-SDI cable. It is superior in that the fan doesn't compete with the actors. It is superior in that it has zero rolling shutter and after all that – it even costs less and does 240fps 2k 16bit raw for slow mo!!! You'd have to be seriously uninterested in basic logic to choose the C500 over the F55.
And yet…
The best product doesn't always win does it?