Why is there always a 'gotcha' with this company? Just when you think Canon are turning the corner…
I decided to order the Canon 1D X Mark III this week, and there are good reasons to use one.
However I can confirm these findings are correct at Slashcam, the rolling shutter in full frame 4K 24p is horrific.
A sensor readout time per frame of 32ms in 4K/24p and 5.5K RAW 24p – on a camera aimed at pro videographers.
This puts the rolling shutter in the same league as the Sony A6500 and A6400. That is to say, worst on the market.
What is really confusing here is that the camera has half as much rolling shutter distortion in 4K/60p, showing that the sensor has a turbo mode which allows a faster frame scan to achieve the higher frame rate.
Why can't the faster rolling shutter be active in 24p as well?
And there is another "gotcha".
In full frame 4K/60p and 5.5K RAW / 60p, one of the biggest features of the 1D X Mark III – the autofocus – packs up and goes home for reasons only known to Canon.
Canon advertise this as a superb autofocus camera.
Canon also sell the 1D X Mark III as having serious cinema chops, 5.5K RAW 60p and so on.
So why doesn't it work?
Instead you get to choose as follows:
Do you want to fix the worst rolling shutter you've ever seen? Then switch to 60p. The trade off are much larger file sizes, more difficult to edit files and no autofocus.
Do you want to have Dual Pixel autofocus? Then switch to 24p, 25p… or for the uncultured, 30p!! 🙂
But then you have the worst rolling shutter you've ever seen. So what if you want autofocus AND acceptable rolling shutter performance? Then I'm afraid you have to lose full frame!
Yes, in 1.5x crop mode the camera CAN do 4K/60p with autofocus (but no RAW mode). The rolling shutter in full frame 4K 60p is 16ms according to Slashcam, which is about the same as a GH4. Much more acceptable but still not ideal for 2020.
All in all, this mess leaves me to assess the camera very differently as an actual owner, compared to what I was expecting at the point of sale.
The 1D X Mark III does do a lot of things right too
I love the way Canon's pro body feels in the hand compared to mirrorless cameras, the directness of the controls, the responsiveness and of course the stills side. Much less cramped for those with larger hands, the only real drawback of this sort of body is the weight but it's nothing compared to a cinema camera.
Of course it would be nice to have the mirrorless camera RF mount and EVF, plus an articulated screen – for these, we have to wait for the EOS R5 and that higher resolution sensor that may or may not be better for 4K than the 1D X Mark III!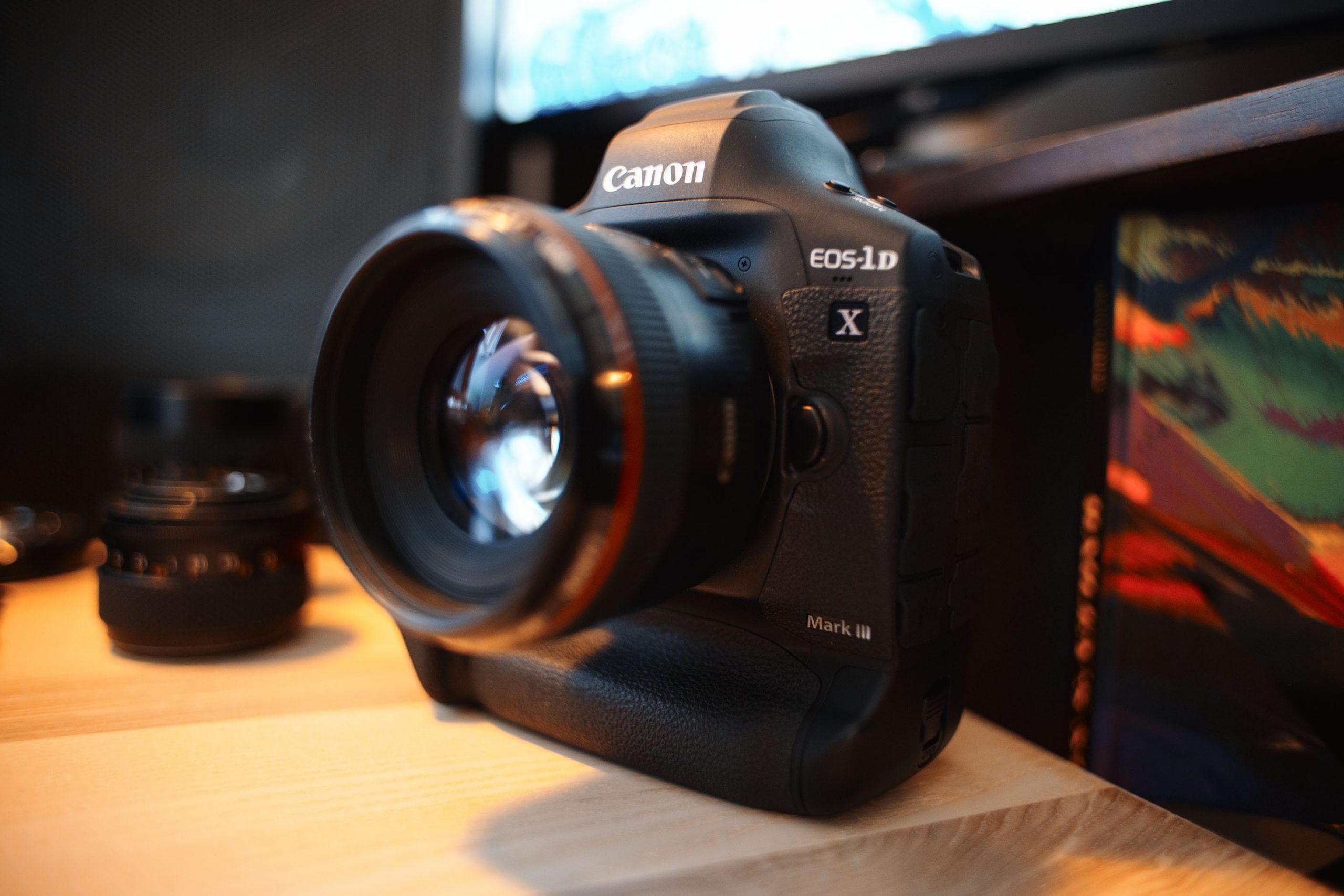 Besides, by implementing 5.5K RAW video on the 1D X Mark III, Canon has made a direct appeal to serious filmmakers. The thinking is probably along the lines of this…
Enabling Dual Pixel AF in the most power hungry mode probably taxes the battery too much or generates too much data and heat. So to be safe, they disabled it.
It might be a peak-power demand issue and a DSLR battery might not be up to the task. Also, Canon's feedback from the professional end of the filmmaking market is that most of them use manual focus. So they felt it was an ok tradeoff.
I'm afraid I disagree. If you are advertising something as being the best for autofocus, you don't go and disable it in any mode whatsoever.
If you are advertising something as powerful as 5.5K RAW video, you don't then have the rolling shutter of a £700 mirrorless camera at all the most important frame rates.
All this stuff is hidden to the user at point of sale and even in most reviews I've read.
So the 1D X Mark III must be seen as a full frame 4K/60p camera with manual focus that happens to have a 5.5K RAW mode with a lot of trade offs and huge file sizes, plus very expensive media.
In the end, it might be better to go one stop faster with your lens on a Fuji X-T4 or get the full frame look with a Speed Booster, and shoot with your manual focus lenses on that instead for 10bit 4K/60p H.265 at a fraction of the price.
The 1D X Mark III can be seen as a 1.5x crop 4K camera too with 10bit codec and excellent autofocus, but that's probably not why you buy it at over £6k! Why not just get the Fuji X-T4 for that purpose, which has an EVF and IBIS thrown in for good measure?
The rolling shutter on the 1D X Mark III is really surprising to me, and probably a sign of what's to come with the 8K on the EOS R5. I expect it to be unusable.
The other problem I having initially with my 1D X Mark III is in post.
Resolve 16.2 performance is usually exceptional, but with this camera it is all over the place.
Initially the 5.5K RAW files played back at 7fps with Metal hardware acceleration on a Vega 64 in Mac OS.
Switching to OpenCL got me realtime playback at 24fps but the 5.5K RAW 60fps is even more taxing and there are long pauses before it begins playback of a clip for the first time.
With the more practical 10bit H.265 Canon LOG files in DCI 4K, there are also playback issues. I believe this is because GPU and Intel hardware acceleration of 10bit H.265 is limited to 4:2:0. The 1D X Mark III records HVEC in 4:2:2.
I also noticed a bug with the 1D X Mark III switching from stills to video mode with Digital Image Stabilisation set to Enabled. When you switch from live-view photography to video mode, DIS goes wobbly and doesn't return to normal until you turn the camera off and on again.
With some of my older fly by wire Canon EF lenses, when AF is disabled in video mode, so is manual focus.
So quite a lot of problems for a £6500 camera.
Let's take a moment to reflect with a good old pros and cons list…
Pros
No other mirrorless or DSLR camera does full frame 5.5K RAW 60p – It isn't very practical, but it is beautiful.
Dual Pixel AF does at least work in 5.5K RAW at the cinema frame rate of 24p (and 25/30p), as well as in 4K/60p 10bit Canon LOG if you go into S35 1.5x crop mode
The DCI 4K 10bit 422 H.265 codec is very nice in Canon LOG. You probably don't need to shoot RAW.
It's the highest spec DSLR ever created by some margin. Makes Nikon D6 look incredibly dated.
As a stills camera it takes some beating – the photos, HEIC 10bit stills, Canon colour science and automatic white balance are fantastic
Cons
Terrible rolling shutter in 4K/30/25/24p and 5.5K RAW at same frame rates
To reduce rolling shutter, you need to lose autofocus or force 1.5x crop
5.5K RAW 60p or 4K 60p modes (and 50p) have no autofocus
5.5K RAW file sizes are ridiculous compared to RED and Blackmagic
Of course, I'll be adding to this list as I get to know the camera better.
In summary: To workaround (yes – workaround – for our £6500!) that disastrous 32ms rolling shutter we have to either shoot in 1.5x crop mode 4K/60p if we want autofocus or put a manual focus lens on there and shoot full frame 4K/60p full frame, conforming to 24p in post.
If this is a tradeoff you are willing to consider, the 1D X Mark III should still be on your list.