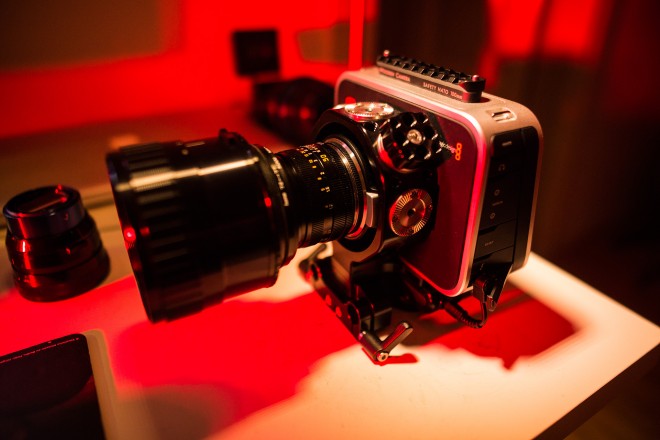 Above: my EF mount camera with Iscorama 54 and ReWo BMCC cage
UPDATE. Cameras are now in stock in the US at the new prices of $1995 –
At Hot Rod Cameras
Full Blackmagic range – both EF and mFT cameras now in stock
At Adorama
Blackmagic Cinema Camera with EF Mount
Blackmagic Cinema Camera with Micro Four Thirds Mount
At B&H Photo Video
Blackmagic Cinema Camera with EF Mount
Blackmagic Cinema Camera with Micro Four Thirds Mount
Blackmagic CEO Grant Petty has today mapped out the company's camera roadmap.
The Blackmagic Cinema Camera has a new aggressive price point. A drop of $1000 to the price of a Canon 6D – $1995.
Next firmware V1.5 will add new features
The first sensors for the 4K Production Camera only arrived this week
The price drop is, shall we say, brave.
It risks infuriating the installed user base, especially those who have waited months for a camera only to receive one a short time before a price drop of $1000.
It depreciates all the BMCCs out there on the used market too but this isn't as bad if you're selling your EF mount camera to make way for a mFT (Micro Four Thirds mount) one as the new camera is also cheaper to buy by a similar amount.
Complicating that is the prospect that an active mount BMCC mFT camera may arrive at a later date, indeed this part of Grant's email has lead to some speculation on that –
"There are some new features in the software for the Pocket Cinema Camera. You can now focus by pushing the focus button when using an active MFT lens…There will be an update for the 2.5K Blackmagic Cinema Camera soon that will also add these features, plus new de-bayer processing that will improve the cameras sharpness when shooting non RAW files."
Of course AF requires an active mFT mount and the only camera to have this is the Pocket Camera, so for the 2.5K Blackmagic Cinema Camera to get that firmware update it would need an active mFT mount as well. The current mount on the BMCC mFT is passive. It is possible Grant means this update will only apply to the EF mount camera which has an active mount and is able to drive the lens, so it is by no means clear that a mFT active mount BMCC is coming despite a lot of misleading noise on forums. This is something they need to swiftly clarify.
The price drop of the BMCC mFT creates a dilemma for Pocket Cinema Camera owners – for only an extra $1000 they can get 2.5K raw, a larger sensor area, HD-SDI, balanced audio input, larger screen, the same lens compatibility and the prospect of compressed raw along with other new firmware features which might not be possible on the smaller model.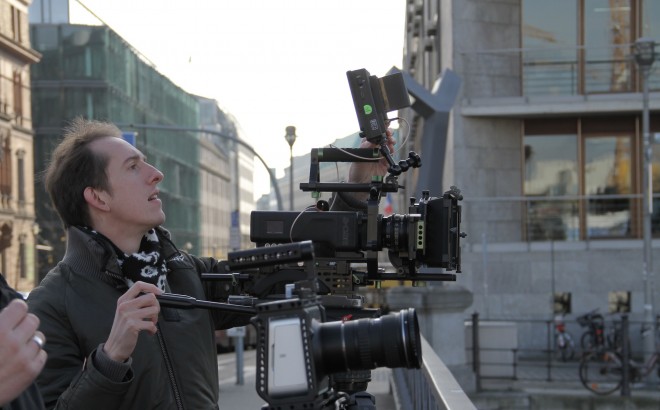 Above: myself testing the Ikonoskop and BMCC with Slashcam, and a comparison with the Epic.
An updated mFT mount would make a lot of sense for me – I'd love it. However it has the side-effect of making existing heavily pre-ordered and sold mFT BMCC obsolete, which can't please existing users at all.
On the official forum the reaction of existing owners of shipped cameras has largely been mixed to the price drop.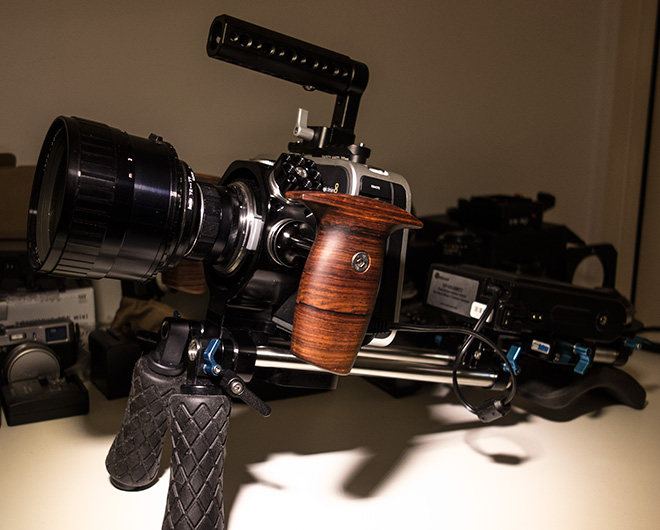 New firmware features
Blackmagic's new firmware version 1.5 will add one-touch AF to the Pocket and EF cameras. The BMCC will get a new debayer for sharper results in ProRes mode, though I'd still prefer to see the full 2.5K resolution utilised in ProRes.
4K sensors only arrived this week
Says Grant on the Production Camera:
"The Blackmagic Production Camera 4K is not yet shipping as we need some more time. Our first batch of sensors was delivered only this week, so we have not been able to complete the software for the camera. We expect to start shipping in about 3 to 4 weeks once the final software work and testing is completed."
Grant on the price cuts:
"We have worked very hard over the last year to be able to build the Blackmagic Cinema Camera at a lower cost so we can reduce the price and allow access to digital filming to a wide range of cinematographers and photographers. We have done it and from today the Blackmagic Cinema Camera EF and MFT models will be reduced in price to US$1,995. This is very exciting and is one of the proudest moments of my life to be able to do this! All orders placed that have not yet been filled, can be reduced to the new lower price."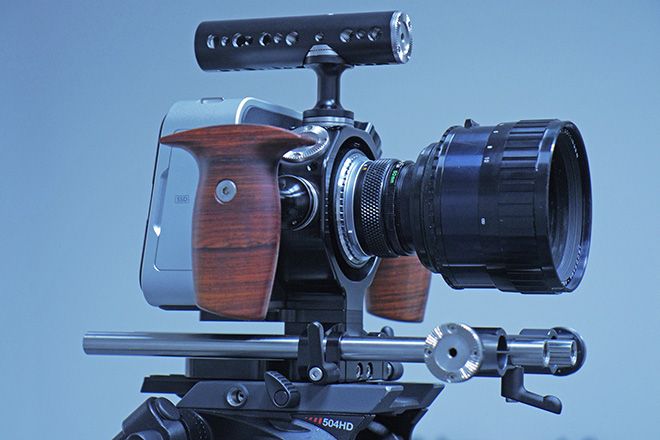 My advice
I plan to buy the BMCC mFT mount camera but I am holding off on the passive mount version until more information is available on the active mount update. The EF mount $1995 BMCC is now in stock at most large dealers and that represents a bargain if you don't need the more adaptable mFT mount.
Remember that for $1995 you're getting a full version of DaVinci Resolve, which is an absolutely leading piece of grading software and as of version 9.1.5 fully compatible with Canon DSLR raw video DNG sequences.
For existing customers who are still waiting, their pain will be relieved by the price drop applying to existing pre-orders.
For early adopters, it seems their pain never ends 🙂