The M1 is displaying astonishing competence in early benchmarks. Here is the key info:
Faster than MacBook Pro 16 with i9 CPU in both multicore and single core Geekbench scores
Faster than base-spec Mac Pro 2019 (8 core Intel Xeon W 3.5Ghz) in single core benchmark and almost level in multicore score
This applies equally to MacBook Air with fanless minimum spec M1 configuration as it does the new MacBook Pro 13″ and Mac Mini with M1 CPU
Apple's silicon even maintains a single-core lead on the MacBook Pro 16″ through Rosetta 2 with non-native apps!
There is a performance penalty of around 22% using the Rosetta 2 translation layer for x86-only apps.
These results are outstanding and it's only going to get worse for Intel.
The initial M1 is an ultra low power ultra-thin entry level laptop CPU, and it is beating the desktop class Xeon!
What is the high-end Apple silicon going to do?
Apple hasn't just achieved a fanless 3.2Ghz 8 core processor, but integrated graphics on par with a mid-range discrete graphics solution from Nvidia and AMD. In early benchmarks it's level with the Nvidia GTX 1650 Ti Max-Q and AMD Radeon RX 580…. that's not too far off the AMD Radeon Pro 5500M in the latest MacBook Pro 16″ either. Remember… this is integrated graphics!!
It may be worth waiting to find out what comes next from the high-end Apple silicon line. The next MacBook Pro 16″ is surely going to be a must-have.
In the meantime take a look at these scores for the M1 powered MacBook Air, Mac Mini and MacBook Pro 13″ (from GeekBench):
Single core (all results the base spec 8GB RAM, 8 Core CPU):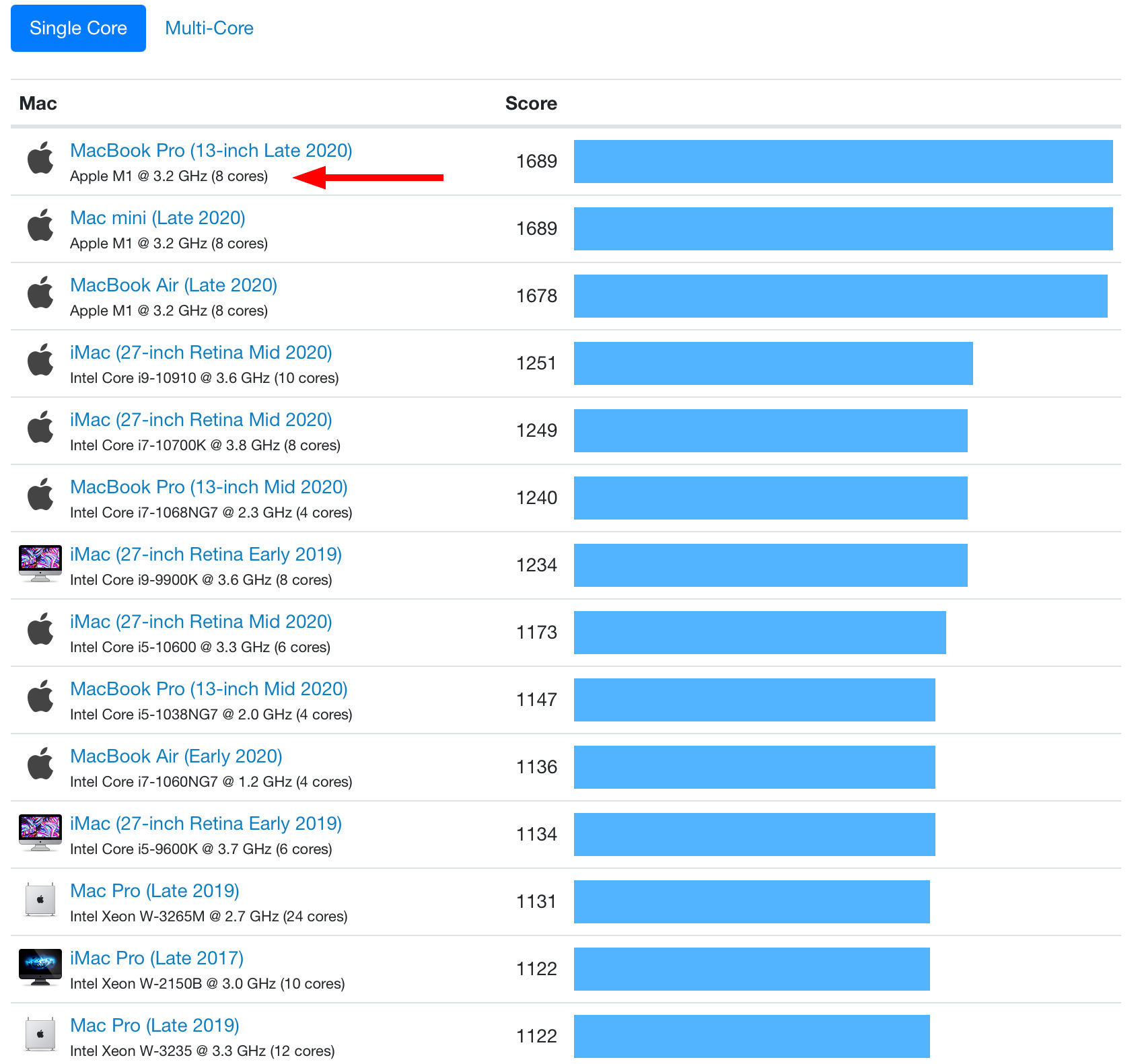 Multicore benchmark: