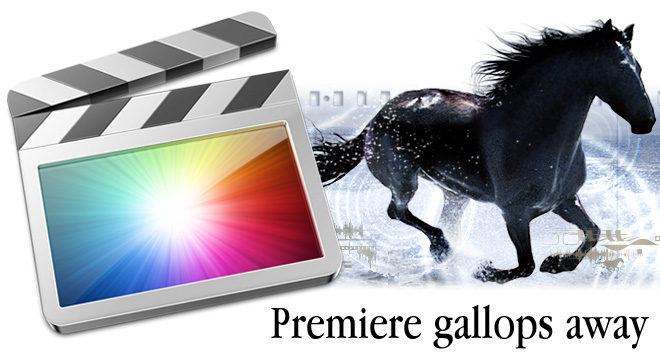 Above: the old Premiere logo. Adobe's prancing horse to Apple's donkey.
Final Cut Pro X has been sitting on my machine alongside Premiere Pro CS5.5 and Final Cut Pro 7 since its release a few months ago, and after the initial week of getting to know it I haven't used it once.
It's a dead duck.
Apple have not really done much to stop the rot since. For me it is no so much the missing pro features as the iMovie style user interface, 'events' and lack of 3rd party plugins that has put me off using it. At first I was very much open to the innovation and reinvention Apple seemed to be offering with FCPX but frankly I now see it for what it is. Very dumbed down. Performance wise I still can't edit 1080/60p from my Sony cameras in FCPX as well as I can in Premiere, that is to say I cannot even import the footage without rewrapping the AVCHD clips in Quicktime – and even then editing 1080/60p is buggy.
AVCHD is the most common consumer video recording format in the world as is even on compact cameras, yet Macs cannot play or preview footage in the default Quicktime X or QT7 player without the user installing a little known pro-division Panasonic AVC plugin (via Philip Bloom). The lack of support of such a commonly used format in 2011 is baffling, since the free open source VLC Player has handled it for over a year now.
Well that's my personal griviences with FCPX and Quicktime out of the way and I am sure you have yours.
Adobe have revealed year-on-year Premiere Pro sales are up 45%. That's despite the fact Premiere Pro CS5.5 costs more than 3x that of FCPX.
The extremely expensive full Production Suite has also seen a sizeable 22% increase in sales due to people switching from Final Cut Studio.
Even if FCPX sales are up due to the lower pricing and mass market target audience, abandoning a flagship product and the filmmaking industry strikes me as penny wise, pound foolish. Apple are better than just a profit-heavy consumer electronics giant. The vision Steve Jobs had for Apple was never as a down-market gadget manufacturer, it was to change the world.
With FCP 7's ageing 32bit architecture looking crippled next to Premiere Pro's render-less, transcoding-less workflow – it would take a brave production studio to risk losing productivity and money on slower workflows for an entire year – on the off chance(!!) – that Apple may finally release a pro version of FCPX.
Because let's face it, FCPX is iMovie+ by design and no amount of updates via the App Store will completely fix that.
Source: Loop