[vimeo]http://vimeo.com/64917111[/vimeo]
Is it any better? Rather than spoil the surprise please do go ahead and watch the short test video. You can download the original file at Vimeo here.
The test setup was –
Blackmagic HyperDeck Shuttle II external recorder
Small HD DP6 monitor
HDMI mode set to 24p
Internal recording is 1080/24p IPB mode not ALL I. This is because I feel IPB has the better image quality.
Workflow in post was the usual one I do for the 5D Mark III.
Added sharpen filter at 20 in Premiere CS6 and lifted shadows on the street shots (there's also an ungraded HDMI shot in there).
Lens was Contax Zeiss 50mm F1.4.
A nice bonus is that the focus magnification on the camera also outputs via the clean HDMI feed giving you a 3:2 (or maybe 4:3) 1080p crop mode. Detail in this mode is very good and it seems like roughly a 16mm crop of the full frame sensor. The aspect ratio makes it interesting for anamorphic lens users.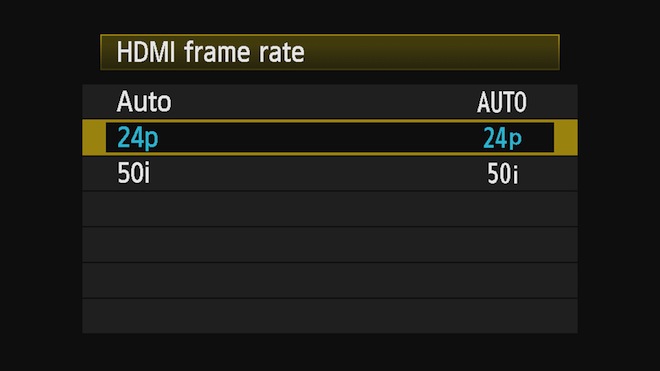 The HDMI output frame rates are 60i, 50i and 24p. There's no 25p! The 50i is interlaced. That isn't great news for PAL shooters. The actual frame rate in 24p mode is 23.976fps.
The HDMI output seems to have more of a green cast in the blacks than the internal recording.
The camera can record to the card whilst also recording via HDMI. When the Mirroring option is enabled in the menus, the camera will not display any icons or menus via HDMI and the LCD will remain on whilst an external recorder is attached.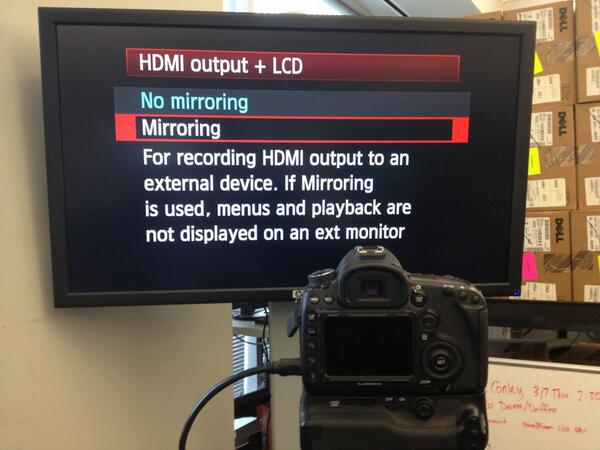 Thanks Rod on the EOSHD Forum for this image
On the Zacuto EVF via the Blackmagic HyperDeck Shuttle, only a 1:1 mapping of the upper corner of the image was displayed and none of the presets or scaling options got me the full image. I swapped to the Small HD DP6 only to find that in 24p mode it has a tearing of motion in the upper part of the frame, and only works when the HDMI is set to Auto or 50i. But I need it to be set to 24p for the recorder! I need to do further research here to find out if it is a HyperDeck Shuttle output or monitor issue.
On whether it is really 4:2:2 colour sampled as Canon claim I have my doubts. I don't see any difference to the internal recording to suggest 4:2:2 and I doubt the sensor is sampling 4:2:2 from high resolution in video mode like a C300.
For now think of it is as 4:2:0 wrapped in 4:2:2 ProRes, try keying it and see if it meets your expectations (it is still only 8bit of course).