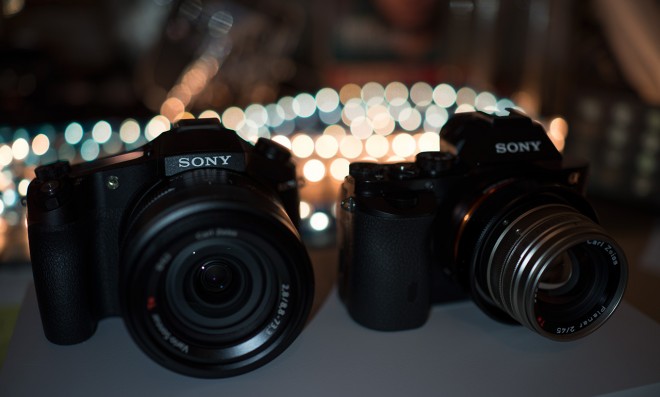 More than any camera that came before it even from Sony themselves, the A7R marks the end of the DSLR era and a transition to a future. Next to this camera the Canon 5D Mark III looks, feels and performs like the dinosaur it is.
However it's the Sony RX10 that is arguably the most capable from a video perspective.
The Sony RX10 is the most complete package we've had for a long time in terms of video on a stills camera.
The camera it's most comparable with is the GH3 paired with the top end Lumix 12-35mm F2.8 but it offers more…
This lens is a more ambitious design by Zeiss a 8.8-73mm F2.8! I am in awe of it quite frankly. It's a much larger piece of glass than the 12-35mm though.
The RX10 also has a raft of features you'd usually only find on Sony's professional video camera range. A built in ND filter at the narrowest part of the optical design with no degradation of image quality and an aperture ring which can be toggled between clicking for stills and click-less for video.
The lens truly is exceptional at first glance – tack sharp with pretty much zero distortion. On the relatively large 1″ sensor for video (larger than Super 16mm), the lens range works out at an impressive 24-200mm in terms of full frame field of view. Probably a physical impossibility on full frame as it would simply be too large and heavy!
The sensor does a 5K readout in video mode which maintains a lot more dynamic range and colour fidelity before it gets compressed to 1080p.
The RX100 already did very capable 1080p, this has a newer image processor. Indeed at first glance the quality has leapt up from the RX100.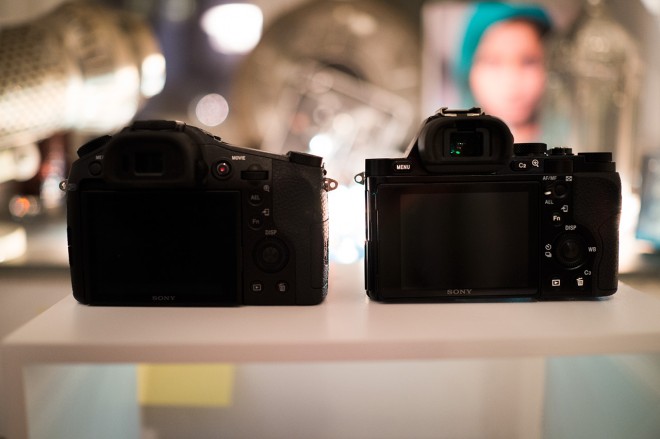 From a video perspective here's the RX10 in a nutshell –
2.7x crop sensor, making possible a 24-200mm F2.8 constant aperture Zeiss lens
2oMP stills
Built in ND filter
Peaking
XLR audio (optional)
Articulated screen
Uncompressed HDMI output (4:2:2 8bit they claim)
Optical image stabilisation
Pretty impressive yes?
Perhaps the most surprising aspect of the RX10 is the build quality. You can't call it a bridge camera in that respect. Metal lens housing and very tight fit & finish, reminds me of a high end Nikon.
The full HD image at first glance is very sharp. Nicely detailed with only the barest hint of weirdness going on. I'm going to put the camera through it's paces but the initial impression is of it being a brilliant shot grabber, run & gun camera for documentary makers and well worth the 1200 EUR street price. It is more than simply a bridge camera. Much more.
The only downside is the AVCHD codec – universally hated by filmmakers. You can bypass the compression and convoluted PRIVATE directory structure by recording in ProRes via the HDMI output with an external recorder. It will be interesting to see what difference this gives you on the RX10 with that new kind of sensor readout. On other cameras with a decent internal codec the damage is mostly done before the compression is added so it isn't really necessary to use an external recorder. But Sony's AVCHD implementation on their stills cameras is a bit rubbish so the RX10 may indeed benefit from an Atomos Ninja.
Audio is pretty good on this camera too, with the option to add an XLR breakout box. Wisely Sony have added both a headphone socket and mic port to both the A7R and RX10.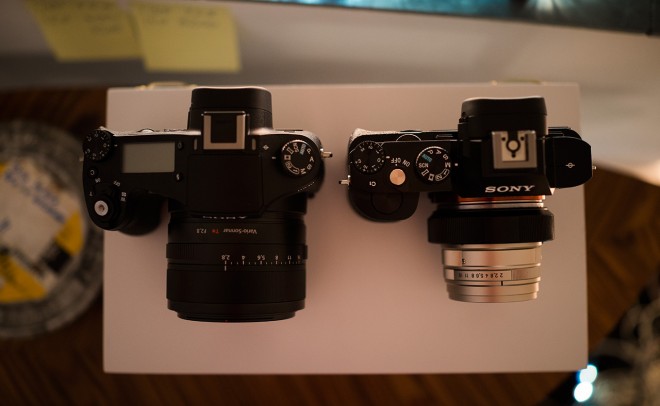 Sony A7R – a revolution in stills if not video
Video quality on the A7R with the internal codec is ho-hum at first glance.
The output really benefits from being run through Film Convert afterwards. Only then does it not look like pale imitation of Blackmagic or Magic Lantern raw video!
Detail in 1080p OK but the codec is pretty mushy. There's some false detail, aliasing and moire but not as bad as the Canon 6D or the Sony NEX 7. Again it will be interesting to see in my full shoot with the camera what the HDMI output is like. It's uncompressed and should help a bit as on the Nikon D800 which shares practically the same sensor.
Sony's engineers say 4K video on the Alpha range is a target but had to be postponed – at the current time it was too big a power draw and generated too much heat. They have however managed to climb to 1080/60p from 30p on the D800. Impressive from such a high resolution 36MP sensor.
I think the D800 and A7R video quality looks pretty similar but the 1080/60p is certainly a bonus on the A7R. The camera is also region switchable between PAL and NTSC, an improvement on previous Sony cameras which were locked down.
What is great, is lensing on this camera. The images have a unique feel because of full frame and the glass you can put on it. The SLR Magic 50mm T0.95 HyperPrime covers full frame. Canon FD lenses for the first time on a digital full frame sensor! The possibilities are endless. Unfortunately the Metabones active EF mount adapters vignette on the A7R. They have plastic housing inside the mount which gets in the way, so they're currently only suitable for use in APS-C mode. I have a lot of Canon EF lenses that require electronic aperture control so I hope they bring out new adapters especially for the A7R with this functionality. You can of course go back to an old non-active EF mount to E-mount adapter but you will be stuck shooting at the aperture last set when you used the lens on a Canon body.
Yes you can record video in APS-C mode on this camera to avoid the adapter vignette and this has no resolution hit at 1080p – but it kind of defies the point doesn't it?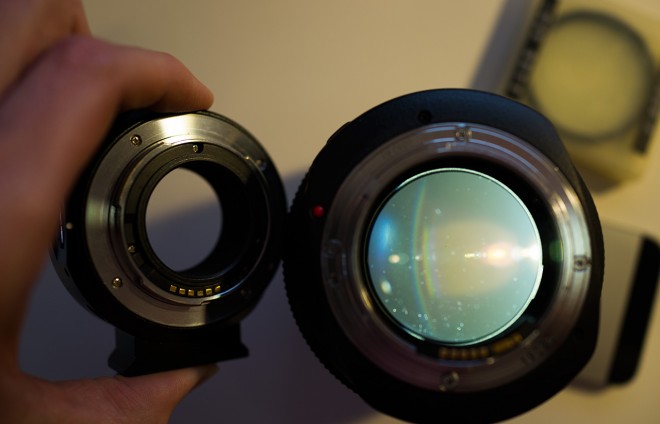 Above – the F1.2 aperture Canon 85mm L lens won't work via the very useful Metabones active EF to E-mount adapter on the full frame A7R – the adapter's inner plastic housing obstructs the edges of the sensor.
This is a MUCH better handling camera than Sony's previous ones, like the NEX 7. It actually feels like a camera! The grip is excellent, build is chunky and convincing, it's attractive to look at, well made, utterly superb EVF and the screen articulates which is pretty much unheard of on a high end full frame camera outside Sony.
I just wish video was that little bit better – I think Sony could have pushed harder here – and they will need to if they want to sell some 4K displays and E-mount lenses.
As a stills camera I'd have no hesitation in using it on just about any kind of project. The only drawback is a lack of fast AF with Canon EF lenses, although AF is very speedy on Sony's own FE and E mount lenses with the A7R. Faster than on the A7 that's for sure.
Stay tuned to EOSHD for the full A7R and RX10 reviews.