[vimeo]http://vimeo.com/53914149[/vimeo]
I love slow mo and it is great to be able to do it now on the Nikon 1 series at 400fps, albeit limited to a low-fi look (the 1200fps on that camera is extremely low resolution!). Now the technique has gone 65mm – yes medium format sized. The Phantom 65 Gold is a 14bit raw 4K cinema camera. It can shoot 200fps in 4K mode, 396fps in 2K anamorphic (2.35:1 – 2048 x 872) and up to 718fps at lower resolutions.
The beautiful piece below was shot on the Phantom Flex (Full specs at Love High Speed). In short, this camera shoots at an insane 2560fps in 1080p with a Super 35mm sensor (and 9000fps at low resolution).
[vimeo]http://vimeo.com/40123818[/vimeo]
In this shoot the camera was covered in plastic bags to prevent any of the pigment flying through the air from getting inside the camera. Variable, the guys behind the shoot say:
"We created a custom glass lens filter which we were able to quickly swap out if needed. We also used a dust cover and lots of garbage bags to protect the camera. Let's just say there were a few close calls."
The Phantom 65 Gold meanwhile is also by Vision Research, the same company behind the legendary Phantom Flex high speed digital cinema camera.
The 65 is much more of a mystery.
There's no sample footage out there on Vimeo that I can see but perhaps not surprising given the $200,000 purchase price. The camera is available to rent with a $3000 day rate [here at Abelcine]. Strangely the camera has been removed from Vision Research's website.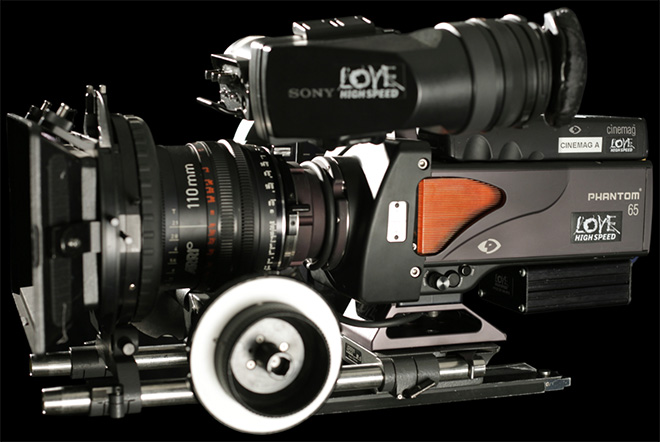 The Phantom 65 at Love High Speed
The Phantom 65 takes Mamiya 645 medium format glass, Super PL & Hasselblad lenses.
The filmmaker and visual effects pioneer Doug Trumbull was the first to shoot with the Phantom 65, a test music video called Golden Eyes – here's some footage from Abelcine on that:
[vimeo]http://vimeo.com/22295858[/vimeo]
Doug was responsible for the special photographic effects on 2001: A Space Odyssey and Blade Runner, which you may have heard of, as well as Spielberg's Close Encounters of the Third Kind and more recently worked with Terrence Malick on The Tree of Life.
It will be interesting to see what could be coming next from Vision Research at NAB, since the 65 doesn't yet seem to be widely used.