Image credit: Raitank (Japanese blog)
A ProRes RAW cinema camera from DJI? I'd buy one.
As any drone pilot will tell you, some of the most innovative 4K RAW cameras in the past 3 years have come from DJI. Their 5.2K RAW Super 35mm sensor in the X7 being one example. This unfortunately remains a drone-only option (Inspire 2) and the image processing is in the drone itself, meaning the X7 cannot yet be attached to anything else such as a Ronin-S gimbal or small OSMO-style pistol grip.
DJI's next step could involve a whole new kind of device. The drones are established now. DJI could now take a huge step into the cinema camera market to compete with the Blackmagic Pocket Cinema Camera 4K.
Fundamental technology – Ronin S and OSMO RAW
Where DJI could make a difference in the cinema and mirrorless camera world is with the gimbal technology. The DJI Ronin S has been an incredibly popular product for the company and it takes a host of mirrorless and DSLR cameras, even the heaviest like a Canon 1D C.
Enticing though it is to put a Pocket 4K or EOS R (especially the EOS R with that autofocus) on a Ronin S, it remains quite a heavy setup compared to something truly "pick-up and go" like the enjoyable OSMO series of pistol grip gimbals. These are essentially just a battery grip for a very light drone camera & gimbal.
At first the WiFi video link on these was not the most reliable but you can now buy a £10 DJI wired video adapter for Android phones. That physically connects the phone like an HDMI monitor to the camera-head and works far better. (Due to iOS restrictions it only works with Android phones).
In terms of image quality, the pinnacle of the OSMO series so far has been the OSMO RAW with X5R camera, Micro Four Thirds mount. It shoots 4K RAW from the Panasonic GH4's sensor and they have come down to just £1300 used.
OSMO RAW X5R wasn't ready for prime-time
Before you all go and cancel your Pocket 4K pre-orders, I better tell you that the OSMO RAW with X5R camera was a rather buggy product, with incredibly short 10-20 minute battery run-times and ENORMOUS file sizes in 4K RAW. Just 30 minutes to an expensive proprietary 512GB SSD costing upward of £700. The other disadvantage is that you cannot directly read the SSD and transfer the DNG folders into Resolve from it like you can with other RAW Cinema DNG cameras. I've heard varying reports of DJI Cinelight taking between 3 and 12 hours to ingest just 12 minutes of OSMO RAW footage (storing it as Cinema DNG), which is obviously unacceptable for most shoots. On top of that the fan noise has been described as a "shit vacuum cleaner". You could probably hoover your car seat with it.
The X5R sensor has a rolling shutter of 25ms and it isn't great past ISO 800, whereas the newer X5S drone camera from DJI has the latest GH5 20MP sensor with less rolling shutter (14ms) and better low light performance. You cannot simply slot the X5S onto an OSMO though, because DJI moved all the image processing off the camera into the airframe of the Inspire 2. Apparently, ProRes RAW is coming to the X5S but it's unclear when that's going to be released and there's no sign of a new OSMO grip for the X5S on the horizon.
Along with fan noise to startle horses and the limited number of lenses that are small and light enough to mount on the X5R, it means that at the moment most people are better off with a Ronin S even at 3kg with the camera & lens, you're getting FAR more features and a HUGE choice of cameras. So the OSMO RAW never really took off and that means the price has taken quite a battering on the used market – down from around £3500 to just £1300 including the 15mm F1.7 lens in the UK (although it's not clear whether that includes the £700 512GB SSD you need for RAW recording).
The OSMO RAW also records 4K H.264 proxies to SD card but only at 60Mbit which is quite a bit too low to be used in a final cut. Still the £1300 deals make it somewhat more interesting to experiment with that RAW.
Unlike with a mirrorless camera on an Ronin S gimbal, there's quite a limited number of lenses you can attach to the OSMO RAW without unbalancing it but DJI have a close relationship with Panasonic and the 15mm F1.7 lens is the same optically as the £500 Lumix. That is to say, very good. A fly-by-wire follow focus accessory is available which drives the silent AF motors in the lens for manual focus – but don't expect anything much in the way of AF tracking like an EOS R on a Ronin S would give you.
So what next?
The concept of the OSMO RAW is fantastic in my opinion, as a run & gun gimbal with the image quality of a cinema camera – but I think DJI have taken their attention off it. Were it too good, it'd probably cannibalise Ronin S and cost too much, and I doubt the sales of the previous OSMO RAW were anything to write home about. The thing is – I want one. I really think there's a future in this, if done right. Imagine never having to balance a gimbal and having a sub-1kg pistol grip including the weight of the RAW camera in the palm of your hand. With DJI implementing ProRes RAW and the X5S using a GH5 sensor for 5.2K RAW – that kind of OSMO RAW camera becomes MUCH more attractive to use. The basic RAW codec was the main thing which put me off the X5R in terms of how practical it was on a shoot. The Super 35mm X7 which already has ProRes RAW only works with the Inspire 2 so that's simply not an option as a regular camera yet.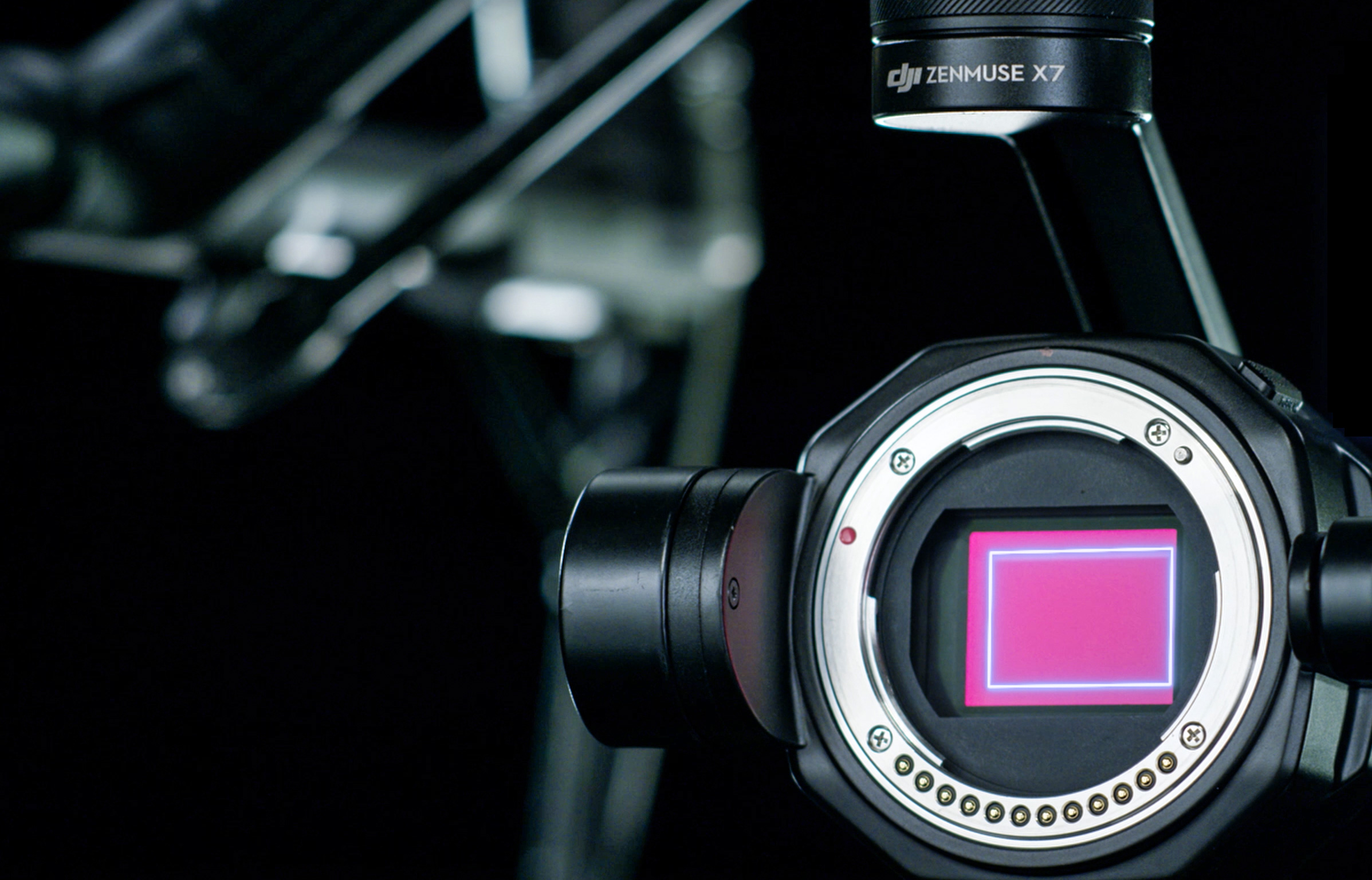 So DJI could give us a mirrorless camera with ProRes RAW and the GH5S Micro Four Thirds sensor small enough to go on a much smaller gimbal. Let's say, half the size and weight of the Ronin S and a virtual toy compared to a Ronin M. You could simply pick it up, turn it on, shoot 5.2K ProRes RAW to XQD card and edit straight off the card. No lengthy transcoding or file size issues. Hopefully no fan noise either. Great in low light (thanks to the GH5S sensor) and best of all you could disconnect the small mirrorless camera and use it as a regular one. What about monitoring? Rather than relying on a fiddly smartphone, the camera could just work over HDMI to a "Smart" Crystal Sky monitor attached to the pistol grip. DJI using smartphones for the app and monitoring duties works OK but I'd like the choice of a more integrated solution, that stays on the gimbal and the drone remote. Yes, this would increase the cost of ownership. Yes, I would still buy it, were the cost increase reasonable. We're only taking about the most basic mid-range Android smartphone in terms of processing power built into a "Smart Crystal Sky Monitor".
Indeed, when not used on the tiny gimbal, this hypothetical DJI mirrorless camera could attach to the screen and be a mini-XC10-like camera free to do what you want with.
DO IT DJI!