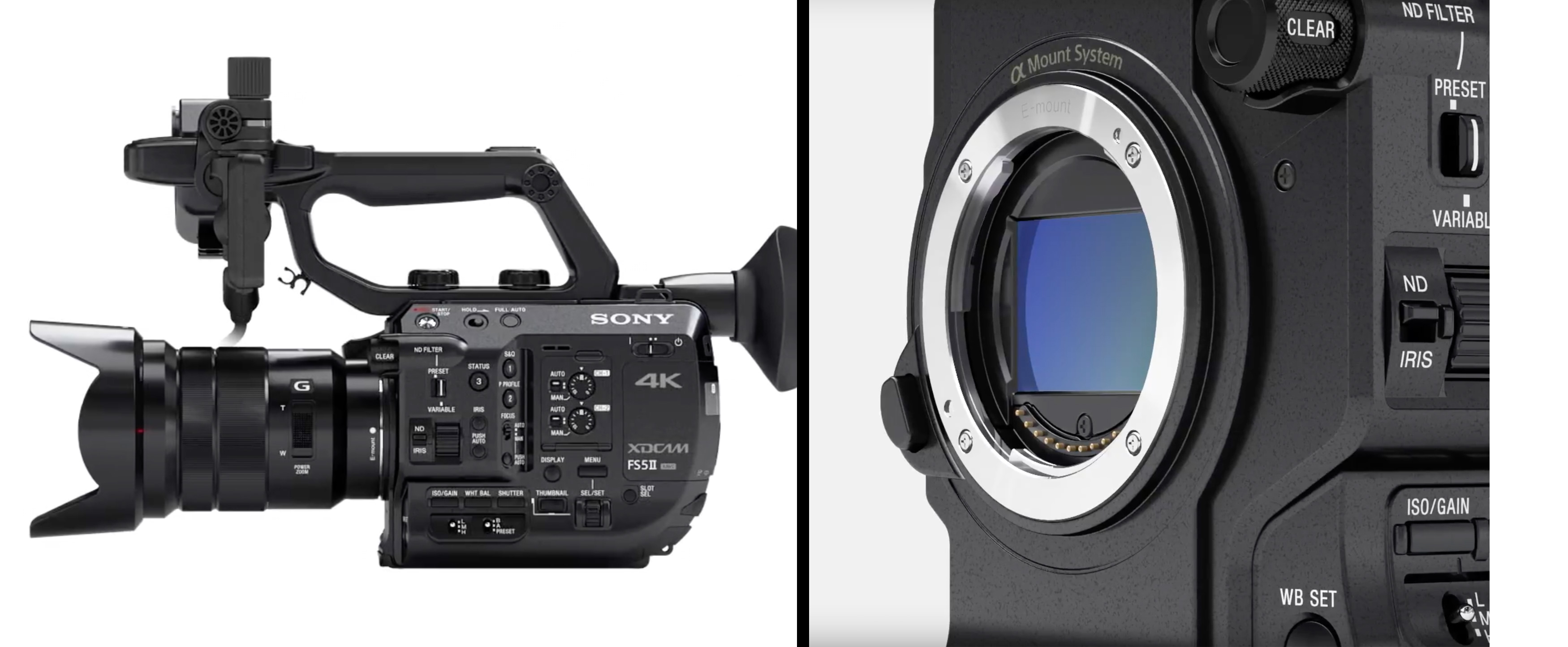 Sony have just announced the FS5 II ahead of NAB 2018.
This brings with it a few improvements, including revamped colour profiles tuned similarly to the high-end VENICE digital cinema camera.
As well as HDR and Rec.2020 4K modes, it's also capable of DCI 4K (4096 x 2160) RAW to an external recorder, at up to an astonishing 120fps, although this frame rate is limited to 4 seconds of slow-motion capture. 4K 60p meanwhile is continuous externally, and internally the camera records 4K up to 30p.
The internal codec is again XAVC-S 8bit 4:2:0 in 4K at 100Mbit and 60Mbit, which is a rather disappointing vs the Panasonic GH5 and even Fuji X-H1.
The camera stays with the same small body design as the predecessor, with only very minor tweaks to the ergonomics. Personally, I find the even smaller mirrorless cameras more enjoyable to shoot with.
FS5 II sample footage by Sony
Skintones look better in this video, but one wonders why a company with Sony's draw can't put out more interestingly shot test pieces than this.
The variable ND filter remains, but there's no internal 5 axis stabilisation.
The EVF is also again an afterthought. Just a tiny 0.39″ panel of only 1.44m dot. The GH5's EVF is almost double the size and over twice the resolution!
Once again I feel camcorders are falling behind the consumer stuff.
There's no sign of the recently announced ProRes RAW in the camera, nor internal 4096 x 2160 and raw… It needs an external recorder to do the headline specs.
The price is expected to be around a very competitive body-only $4700 and you can view the full specs at Sony's website here
Sadly there was no Sony A7S III announced at NAB 2018 with the other Sony cameras. It also begs the question, if there is not an internal 10bit codec on their $5k camera, will the A7S III get it at all?
Hopefully however, the VENICE colour science may trickle down to Sony's stills camera video picture profiles, even if they remain 8bit for now.
Until then, there is the A7R III, A7 III and EOSHD Pro Color!