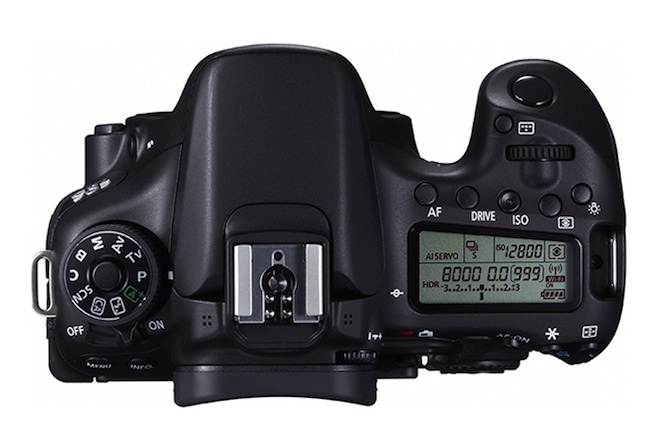 Finally after 4 years a genuinely new sensor on a Canon APS-C camera!
The 60D was one of the best value cameras in the Canon range and the 70D is a nice step forward albeit at a higher launch price this time ($1199).
It has a brand new sensor promising improved video quality and reliable AF tracking but the lack of compact flash card slot will hold it back when it comes to any raw video potential.
When the Canon 7D took the 50D's high-end position, the 60D was left to pick up the pieces as a kind of 600D-and-a-half.
I've recently been using a 50D for raw video and it really does feel like a mini 5D Mark II. The Canon 70D remains more of a 'Super Rebel' than a mini-5D but inherits the 5D Mark III's video mode with 90Mbits/s ALL-I codec, timecode and the same image processor – DIGIC 5+.
Old AF phased-out
Until now Canon's live-view AF system has been the worst on the market so this improvement is something Canon urgently needed to do.
Dual-pixel phase detect AF technology looks very promising. On the face of it Canon have put a 20MP sensor in there which might not seem like a big change but it is. They have moved to a completely new process and pixel design for this sensor and it's a departure from the old CMOS manufacturing methods they were using.
The new CMOS has a huge actual megapixel count of 40MP. Canon have doubled up each photodiode, with each pair acting as a left and right photosite to supply information to the AF engine about light wave phase.
That allows the AF engine to decisively move the lens in one direction towards the desired focus point. No hunting around.
What is really clever about this is that it doesn't take away space on the sensor from the actual light gathering parts. Rather than a phase detect chip nestled on the sensor taking space from photodiodes, the photodiodes themselves act as phase-detect AF sensors.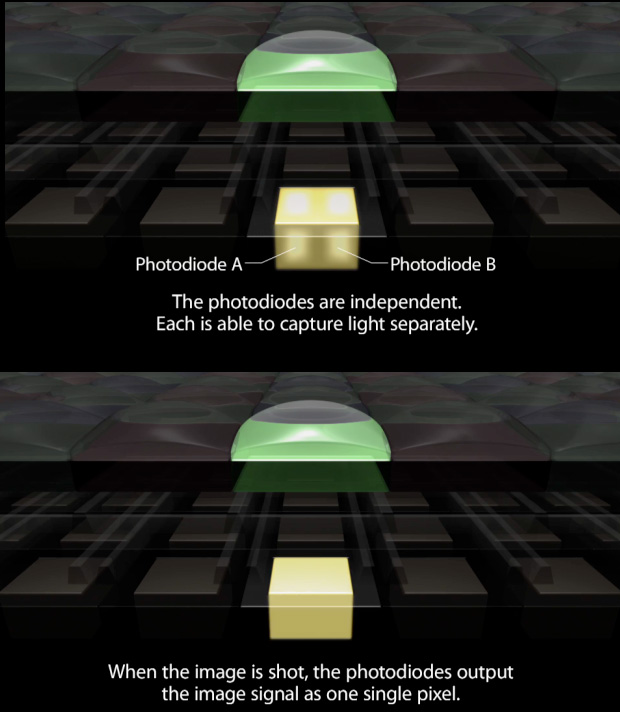 The image is unaffected by the AF ability of the photodiodes – both the left and right photodiodes combine their light signal and act as one photosite in a normal RGGB Bayer array.
The new system removes any need for contrast detect AF in live-view or any off-sensor phase detect AF system like on a normal DSLR or Sony's Alpha SLT system. It's also superior to Fuji's phase detect AF on the CMOS. That system blanks out left and right areas, reducing light gathering ability.
http://vimeo.com/69522674
From the examples I've seen the new AF system is very organic looking in video mode. Hunting and flitting has been eliminated – no more flickering of the image at the end of an electronic focus rack. The racks are smooth and it isn't all about raw speed – Canon have put some effort into making the focus look less electronic, so that helps a lot creatively.
Next I expect this technology is going to go into a more serious EOS M model and the 7D Mark II later in the year or next year.
It does however seem like an expensive CMOS design to crack live-view AF relative to Panasonic and Olympus's very fast contrast detect AF based systems, and from the early information I've seen it isn't as fast. I can see the new AF technology being great for focus racks and tracking but standard phase detect AF through the optical viewfinder will likely still be much faster.
The 70D is shaping up to be a good documentary filmmaking tool and I'm told the new AF system works with around 100 out of 150 lenses in Canon's EF and EFS line-up. That's a wider selection than the Micro Four Thirds lenses with AF available from Panasonic and Olympus combined. However it is worth remembering that the non-STM lenses in Canon's range aren't silently focussing so if you are using a mic close to the camera, you risk the noise being picked up.
Raw video prospects
Of course Magic Lantern on the 5D Mark III is currently the image quality king when it comes to DSLR video and it has dramatically moved the goal posts for everyone. The situation was so desperate before that with every new camera release I was checking to see if a manufacturer had made a tiny step like reducing moire or squeezed out 1 stop extra dynamic range and a bit more detail. 5D Mark III is dynamite to all that pussy footing around and so I'm not that excited about the 70D in terms of the image – once again early video samples are cliched tripe and available in mush-o-vision only via YouTube. I'm expecting it to look similar to the competition such as the D7100 and 5D Mark III in video mode – pretty soft but at least no moire. If that is the case and the new sensor samples in a similar way to the 5D Mark III it bodes well for a Magic Lantern port in the future, with raw video enabled on the 70D. However I'm getting reports it uses the same SD card slot spec as the 6D meaning write speeds for raw video would be crippled at around 40MB/s, half of what is required for 1080p.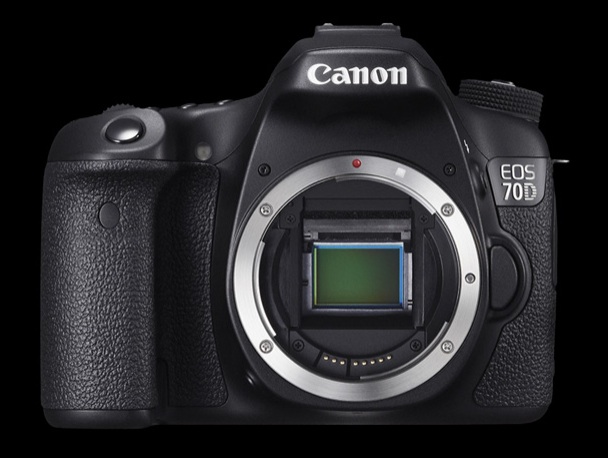 Buying advice
If you want the absolute best image quality now – get the 5D Mark III. It is worth every penny of extra investment.
If usable AF in video mode and the need for an APS-C sized sensor to suit your extensive EFS lens collection matters more than image quality get the 70D.
If you want the new AF system but also the possibility of raw video wait for the 7D Mark II. It's likely to have a UDMA 7 compact flash slot.
Key specs
20.2 Megapixel CMOS sensor with ISO 100-12,800 sensitivity, expandable to ISO 25,600.
7fps full resolution continuous shooting rate.
Swift and accurate focus in Live View and Full HD movies with Dual Pixel CMOS AF.
19-point wide area, all cross-type AF points.
DIGIC 5+ image processor – 14-bit processing for high quality images.
Large 7.7cm (3.0") capacitive touch panel Vari-angle Clear View II LCD 1040k dot, 3:2 ratio.
Intelligent viewfinder with 98% frame coverage.
Full HD movies with external mic port, stereo microphone, timecode, selectable frame rates, and a range of compression options.
Built-in WiFi capability for instant sharing and remote control.
In-camera HDR mode, Multiple exposure function.
iFCL metering system with 63-zone Dual-Layer sensor.
Electronic level, exposure compensation +/- 5 stops.
Integrated Speedlite Transmitter.
Conclusion
It's good when Canon does trickle out new technology and whilst those moments don't come quite quickly enough for my liking the new AF might be interesting for filmmakers. It could also be a giant folly if it doesn't work perfectly – because such a dramatic change in sensor design to accommodate left / right photodiodes doesn't come lightly.
Then there's the nagging conservatism of the 70D which in many respects doesn't allow it to do much new aside from the new AF system. It borrows a lot from the 5D Mark III but rumoured features such as fast 30fps burst rates, USB 3.0 and 1080/60p failed to materialise.
The 70D isn't a revolutionary camera but does it really need to be? Canon are still capable of making innovative sensors and that matters a lot. Their core technology – sensors and optics are winning them the race, even if the product concepts themselves aren't changing very much with the times.
Lenses NOT fully compatible with the new AF system
EF14mm f/2.8L USM
EF24mm f/1.4L USM
EF100mm f/2.8 Macro
EF400mm f/2.8L USM
EF500mm f/4.5L USM
EF600mm f/4L USM
EF1200mm f/5.6L USM
EF16-35mm f/2.8L USM
EF17-35mm f/2.8L USM
EF20-35mm f/2.8L
EF24-85mm f/3.5-4.5 USM
EF28-70mm f/2.8L USM
EF28-70mm f/3.5-4.5
EF28-70mm f/3.5-4.5 II
EF28-80mm f/2.8-4L USM
EF28-80mm f/3.5-5.6
EF28-80mm f/3.5-5.6 USM
EF28-80mm f/3.5-5.6 II
EF28-80mm f/3.5-5.6 II USM
EF28-80mm f/3.5-5.6 III USM
EF28-80mm f/3.5-5.6 IV USM
EF28-80mm f/3.5-5.6 V USM
EF28-105mm f/3.5-4.5 USM
EF28-105mm f/3.5-4.5 II USM
EF28-105mm f/4-5.6
EF28-105mm f/4-5.6 USM
EF35-70mm f/3.5-4.5
EF35-70mm f/3.5-4.5A
EF35-80mm f/4-5.6
EF35-80mm f/4-5.6 PZ
EF35-80mm f/4-5.6 USM
EF35-80mm f/4-5.6 II
EF35-80mm f/4-5.6 III
EF35-105mm f/3.5-4.5
EF35-105mm f/4.5-5.6
EF35-105mm f/4.5-5.6 USM
EF35-135mm f/3.5-4.5
EF35-135mm f/4-5.6 USM
EF70-210mm f/3.5-4.5 USM
EF70-210mm f/4
EF75-300mm f/4-5.6
EF80-200mm f/2.8L
EF80-200mm f/4.5-5.6
EF80-200mm f/4.5-5.6 USM
EF80-200mm f/4.5-5.6 II
EF90-300mm f/4.5-5.6
EF90-300mm f/4.5-5.6 USM
EF100-200mm f/4.5A
EF100-300mm f/4.5-5.6 USM
EF100-300mm f/5.6
EF100-300mm f/5.6L