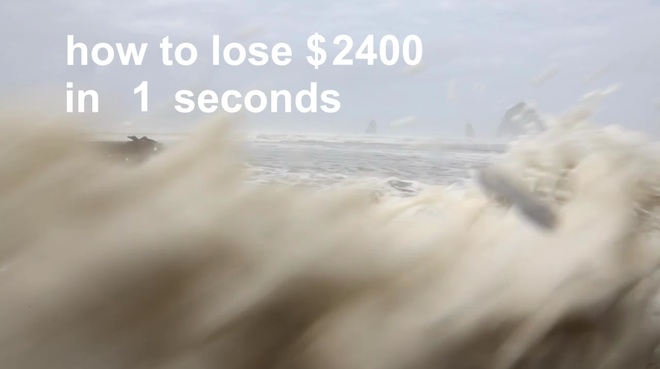 Does $2400 buy coverage on nearly every DSLR related website? And do ads need to be honest?
As anyone who follows me on Twitter recently will know, I've been really unhappy with some camera blog standards. There's the gimmick blogs typified by Gizmodo and Petapixel, where you can't have too many Canon 600D shaped cakes and pinhole cameras made out of cereal boxes.
As well as poor content and too much advertising, on many sites advertising is now being disguised as editorial. And it's this I want to warn you about because it is not always easy to spot.
Personally I want to know when something is an ad, and when it is genuine.
Standards are getting lower and people don't seem to care. Now as I flip through my RSS reader from one advert disguised as editorial after another, today I came across a video at CanonRumors.com.
Now the video itself is genuine and didn't start as an ad when it was uploaded to Vimeo yesterday. But as it became a viral due to so much feeble blog coverage something strange happened – the coverage was hijacked by a misleading back-story
I don't mind if stories are hijacked to promote a company like an ad, as long people are told that is the case. In this case, it was all dressed up very differently with a fake motivation.
In the video just 24 seconds long a poor Canon 5D Mark II is washed away by a wave. Not exactly Hitchcock, but within 2 hours of being blogged by CanonRumours and around the web, the video had amassed an enormous 300,000 views. Nice going.
(As an aside, what annoys me about those numbers is if so many blogs continue to hold aloft such feeble trash, genuinely worthwhile material gets sidelined. There are tons of things more worthy of attention than this. This guy probably worked his arse off for years and put out great stuff on Vimeo which had no attention, then suddenly his camera gets washed away and he is 300,000 eyes up in 2 hours.)
As the hit counter on Vimeo crept up suddenly some back-story popped up out of nowhere and within 30 minutes CanonRumors had an updated article with a link to B&H PhotoVideo in it.
B&H claimed that they sent the poor guy a brand new 5D Mark II to replace the one he apparently lost. Why would a business do that? Purely unselfish reasons? Or to get their link on a mega-viral story?
B&H is presented as a altruistic hero in the coverage with the implication is that their motivation is pure and unselfish. Well if that is the ad, I am sorry but it isn't a truthful one and they have lost me as a customer. They only gave this guy a camera to hijack a viral and because it suits their bottom line. End of story.
But the dissapointing thing for me is lots of people don't see this. They buy the kool-aid. B&H's reputation gets enhanced, it is a marketing trick and they drive a huge amount of traffic through massive coverage. This viral will probably go on until it has been on almost every big DSLR related website on the net, where it will stay. The story becomes a legend, the myth propagates.
I am extremely unhappy at this, because it is basically dishonest and I don't believe for a second that a filmmaker who gets his 5D Mark II washed away would have B&H see the video and angelically send a free replacement at their loss, if it wasn't for getting their name in the viral coverage. If a business went round giving away cameras to every poor soul who had dropped, lost or dunked one they would go bankrupt.
As ever on EOSHD – this is just my opinion. Feel free to make your own mind up after studying the facts! But whatever you do – don't buy the bull… Especially if you are a blogger. I am sick of reading it.
Further reading: an example of the blog coverage of the viral can be found here