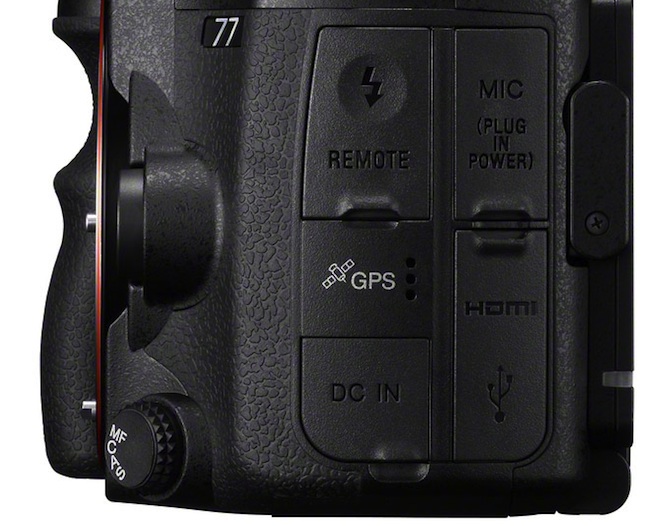 In a chat with a very helpful Sony gent in the UK I asked whether the HDMI output stays on during recording on the A77.
His answer is rather surprising:
The A77 does not output full HD 1080p during live view. Only when record is activated does the full resolution get output.
Now there is always a chance this Sony chap might be wrong. The camera was hooked up to a Sony Bravia during the talk and there was a lot of shooting info cluttering the screen but the feed didn't seem to change resolution when record was hit – instead a black box appeared for a few second saying that recording was starting – but  the video feed then didn't become full screen and all the display info was still visible including AF points. I am sure the shooting info can be disabled somehow for a clean HDMI feed to external recorders and monitors but we have no evidence of that yet.
It's not clear why this is or whether HDMI is uncompressed or 4-2-2 8bit, 10bit, etc.
If resolution does actually change between live view and record mode some monitors and EVFs might blank out when record is hit like with the Canon 600D so this may be an issue with the A77.
He also claims that moire, aliasing and rolling shutter have been solved and should not be a problem.
The other current issue is the lack of audio control. Sony want people to choose the VG20 for monitoring via HDMI and manual audio control it seems, though the situation is much better than before – at least now we have the essential basics and I still recommend the new Sony cameras for aspiring filmmakers.
Firmware update anyone?
Update: Sony also say the overheating issues of the A55 in video mode have been diminished and were caused by the movement of SteadyShot inside. With the A77 SteadyShot is electronic rather than sensor shift.
Good to see Sony taking the time to talk openly like this and thanks to Paul for answering out questions.