Friday, 22 July, 2011 19:36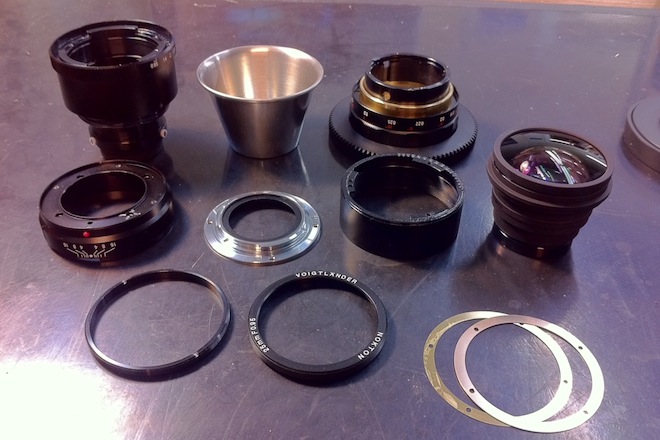 Matthew Duclos reports that he's modified a Nokton 25mm F0.95 for film industry use. It has several standard features of a cine lens.
Seamless follow focus gear
80mm front ring
De-clicked aperture ring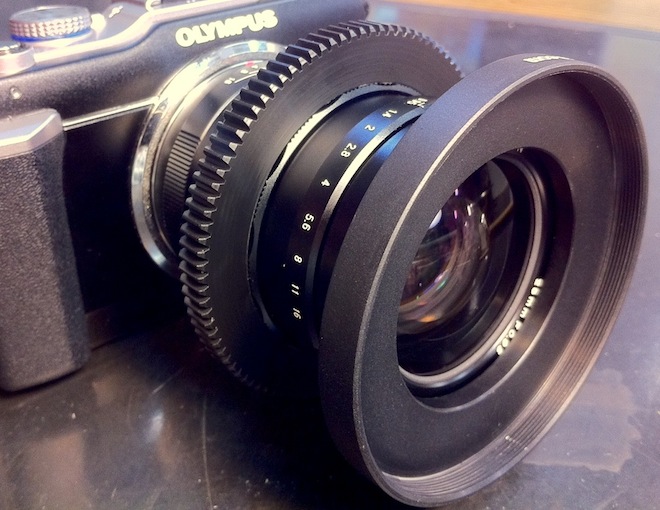 Duclos is the LA based technician known for modifying the great Tokina 11-16mm lens for PL mount and cinema use. He says the build quality and materials of the Nokton are very good.
A few components into the lens and I could immediately tell that this lens was designed and built with professionals in mind.  All of the internal and external components are billet aluminum, except for the focus helical which is machined from brass. Very common in manual focus lenses including professional cinema lenses. Everything is lubricated with nice, viscous grease and tolerances are held fairly tight. The mechanical design isn't anything special, but it doesn't need to be. Focus is smooth and consistent as is the aperture, after de-clicking. The focus marks are accurate and flange depth from the factory was very close, a little bit long, letting the lens focus a tad past infinity at the end if travel.
Matthew also compares the Lumix 20mm F1.7 pancake and actually finds that lens sharper than the Nokton at F1.7, although obviously it cannot compare for shallow depth of field and ultimate low light performance. I much prefer the aesthetic of the Nokton.
Canon FD 50mm F1.2L first look
The Nokton is a good option for the GH2 but what about for Canon owners? I am currently looking at getting a FD 50mm F1.2L converted to EF mount for approximately £100 in the UK. Even with the conversion, the lens will be half the price of the modern L version 50mm F1.2 and actually (some claim) optically superior. The 50mm F1.2L is one of the best if not the best fast 50′s in the known universe. The stuff that brands (and red rings) are built on.
In my initial tests of the lens this week it not only does what you'd expect (out perform the FD 50mm F1.4) but it is almost tack sharp wide open at F1.2 as well. It is designed for 35mm photographic full frame so the eventual aim is to use this on the 5D Mark 3 when that camera is finally finally finally with us. Although by that time, I may well be retired.
Buy the FD 50mm F1.2L on eBay
Illya Friedman claims that when Canon first switched from the old FD mount to EF they lost a lot of pros to Nikon. That sounds like a surefire testimony to the quality of FD glass if ever I heard one. It will also be good to get the FD 24mm F1.4L converted to EF mount too. That lens would be beautiful on full frame.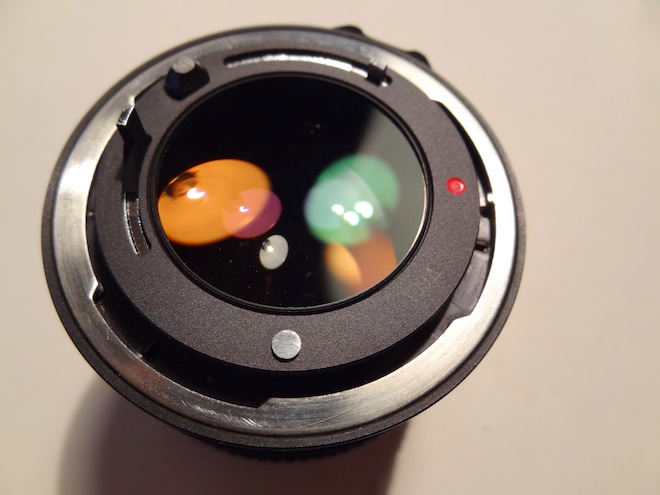 Here's a quick look at the Canon FD 50mm F1.2L and crop of how it stacks up versus the El Cheapo FD 50mm at F1.4.
Click to enlarge.