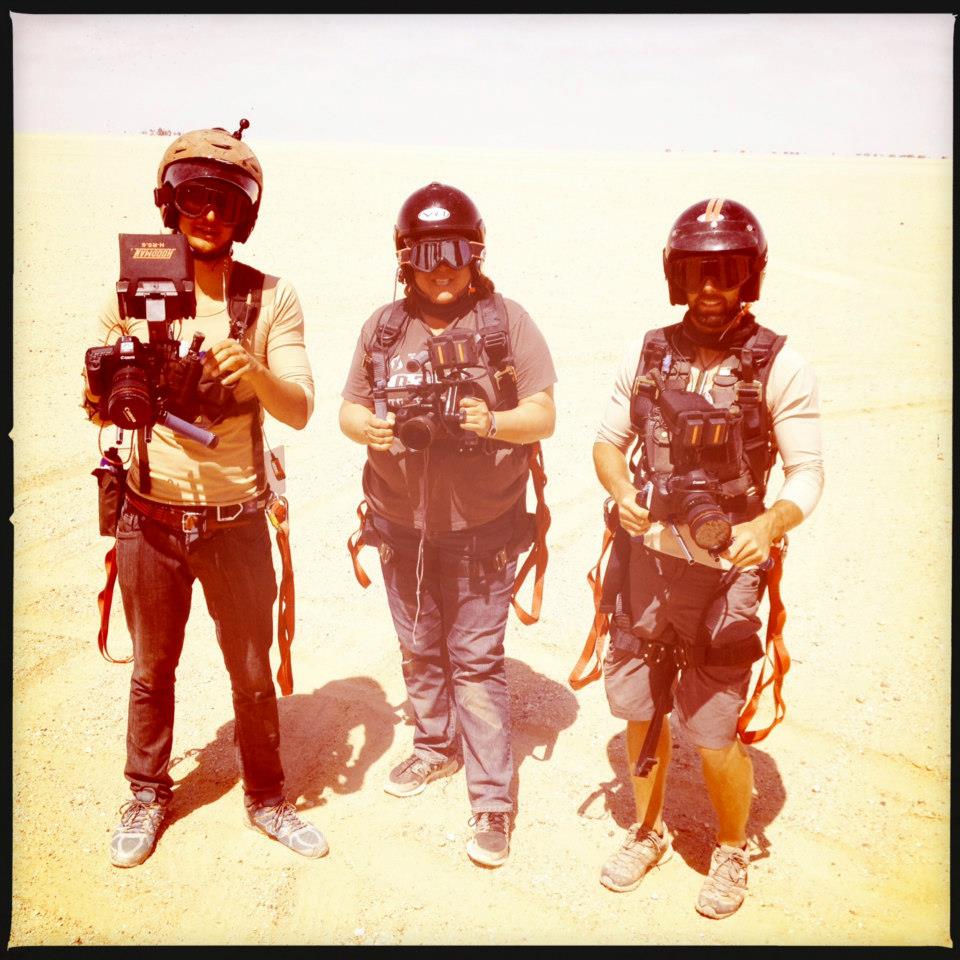 The old 5D Mark II has had an outing on the long-delayed new Mad Max movie as a "semi-disposable stunt camera". The DSLR was chosen as a proven work-horse crash-cam despite being released way back in 2008. Principal photography for the film completed in December 2012 but ended way over budget and recently underwent various re-shoots, pushing the release date from 2013 to May 2015.
The 5D Mark II is a very old model by 2014 standards but I'm actually not surprised it still gets some very nice work in the film industry. I'm working on updating my 5D Mark III raw shooter's guide with the intent to provide a version for 5D Mark II users and in the process discovered something very interesting about how the models compare… More on that in a moment.
Principal photography on Mad Max Fury Road is now complete. It involved a 6 months shoot in the Namibia desert, South Africa where the 5D Mark II and Olympus OM-D E-M5 were used. DPs were John Seale ACS ASC (main unit) and David Burr ACS (second unit). Both DPs worked on the original Mad Max in 1979.
The trailer below is looking visually absolutely spectacular but let's hope the actual script and story can hold their own in light of such brilliant execution:
According to the Australian Cinematography Society (ASC) website, the camera department consisted of ten Arri Alexas (6 Alexa Plus and 4 of the Alexa M), and an arsenal of Canon 5D Mark IIs and Olympus OM-D E-M5's. The crash cams provide extra cut-away POV angles during action sequences, the cutaways are short so you don't notice the shortcomings in image quality. The shoot did not have Magic Lantern raw at it's disposal in 2012. For the re-shoots – maybe!?
From the ASC newsletter about the original 2012 shoot:
In support, and led by A camera focus puller Ricky Schamburg and 2nd AC/Coordinator Michelle Pizanis, an international camera department numbering thirty seven was drawn from Australia, New Zealand, South Africa and the USA – a large camera department by any standards. Working in such close quarters for an extended period of time and in sometimes harsh conditions can obviously bring out the best and sometimes the worst in people but by all reports this camera crew worked well together from week one to week twenty three – a testament in part to the leadership qualities of both John and David.
5D Mark II easily a match for the 5D Mark III for raw video – yet far more affordable
While shooting with the 5D MK2 for my updated Magic Lantern guide I was amazed to find image quality indistinguishable between the old and new model below ISO 1600 in raw mode.
With the VAF 5D2 anti-aliasing filter installed I could not tell the difference between the cameras in daylight.
The 5D Mark III is cleaner above ISO 800 but in fact the 5D Mark II has the more pleasing film-like grain. Black and white shots at ISO 1600 in raw video mode look very nice indeed.
It also has some other strange x-factor I haven't managed to put my finger on yet.
Keep an eye out for the updated guides soon on EOSHD.
You can see more of the camera on Mad Max Fury Road below…