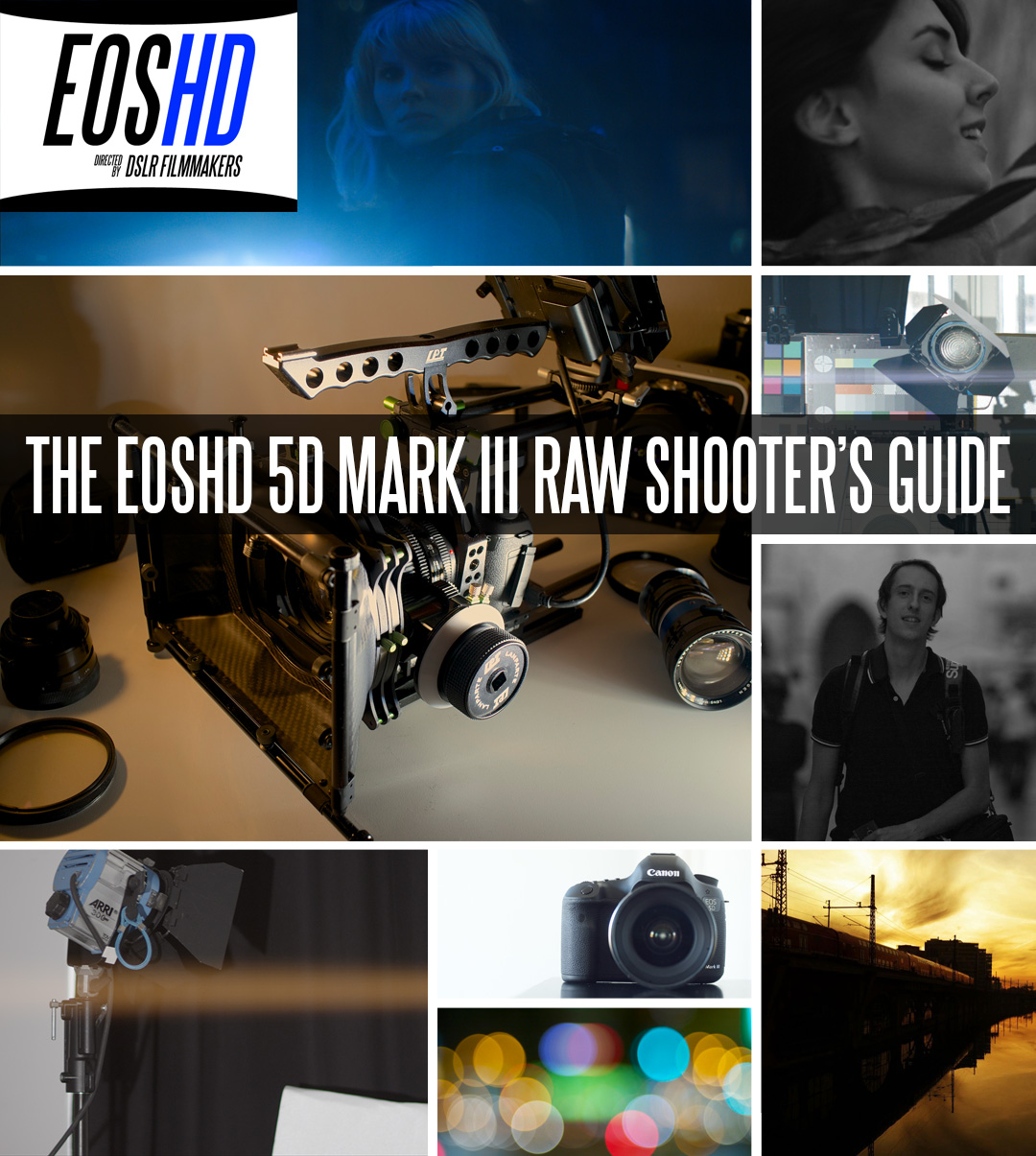 A guide to recording cinematic raw video on the 5D Mark III
Written entirely by Andrew Reid as if one-to-one consultation – absolutely no guest or ghost writing – the EOSHD 5D Mark III Raw Shooter's Guide is an indispensable book for filmmakers. In the book I guide you through the emerging world of raw video on the 5D Mark III.
Suitable for beginners through to advanced users.
Harness the power of raw with clear expert advice every step of the way through 12 chapters and 106 pages
A permanent reference and only the relevant info all in one place. No need to search a forum or Google for it.
E-book, instant delivery – a high resolution digital book with clear layout and interactive chapter navigation.
Immediately delivered – no need to wait for snail mail.
Professionally photographed and illustrated throughout.
In the book I also cover brand new workflows such as direct editing of Canon raw in Premiere and complete guides on how to use newly developed software such as RawMagic, Ginger, Rawanizer and GoPro CineForm converter, for both Mac and Windows users.
For highlights of the book, sample pages and full contents scroll down…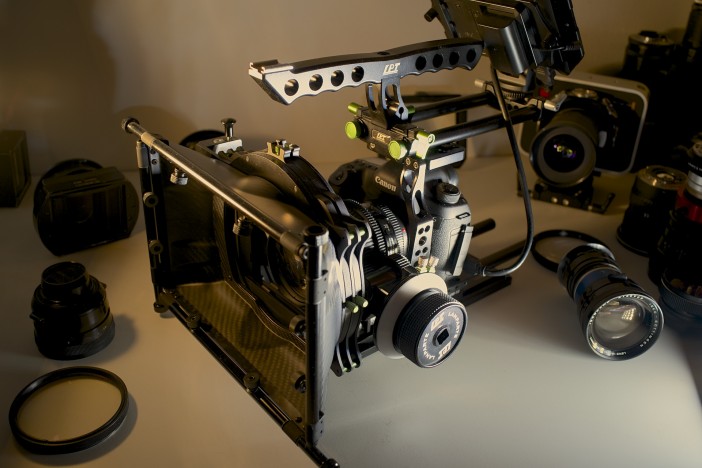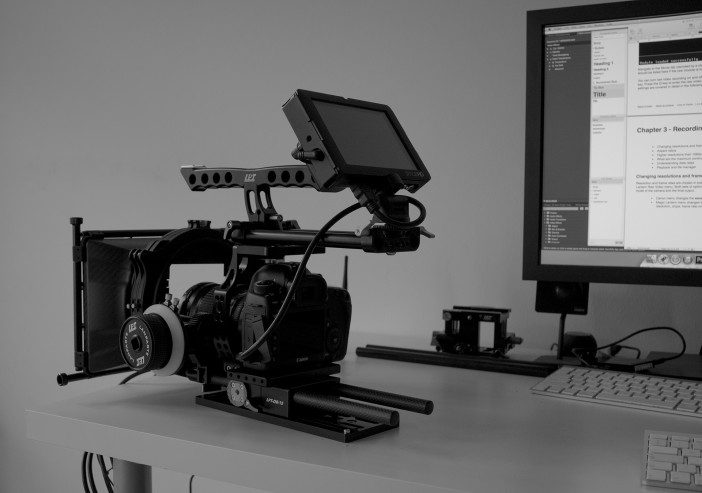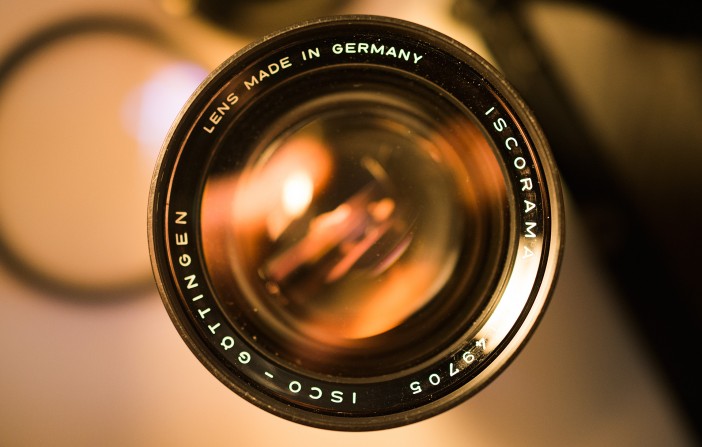 Highlights include
EOSHD's recommended settings for raw video
Completely new Magic Lantern installation guide for optimally enabling raw video on your 5D Mark III
Performance enhancements and tweaks
Editing 5D Mark III raw video directly in Adobe Premiere without transcoding
Anamorphic shooting advice and aspect ratio cheat-sheet
Kodak, Fuji and Alexa film looks for Resolve
Guide to 1:1 crop mode and continuous 3.5K raw timelapse recording in video mode (without mechanical shutter)
Overcrank 48p / 50p / 60p for beautiful raw slow-mo
Going beyond 1080p resolution at 24fps
A guide to recommended software and downloads

Comprehensive workflow guides including –

Cinema DNG uncompressed raw
CineForm compressed raw
Native Canon raw
ProRes
LOG conversion and grading
Applying LUTs in Resolve and more…

Creative advice including –

Advice on applying raw to your specific kind of filmmaking
Raw shooting and cinematography guides by Andrew Reid

Technical subjects expertly explained for readers of all experience levels –

Understanding data rates and a buyer's guide to Compact Flash cards
Technical glossary, trouble-shooting, sample videos and FAQ
Gain an understanding technical subjects with upmost clarity
Full content listing
Chapter 1 – Introduction
An introduction to the world of raw recording with Magic Lantern and the 5D Mark III.
Welcome to the book
New 5D Mark III specifications with raw enabled
Magic Lantern: liberators
Advantages of raw
Types of filmmaking suited to raw
Understanding raw
Chapter 2 – Enabling Raw Video
Practical advice so you can begin shooting raw video on the 5D Mark III immediately.
Preparing your 5D Mark III
Preparing your Compact Flash card for raw recording
Installing Magic Lantern – Step 1
Installing Magic Lantern – Step 2
Installing Magic Lantern – Step 3
Activating the raw recording module
Chapter 3 – Recording Raw Video
A guide to making use of raw video and exploiting the full extent of the feature.
Changing resolutions and frame rates
Aspect ratios
Higher resolutions than 1080p (2k to 3.5k)
What are the maximum continuous recording times?
Understanding data rates
What is crop mode?
Playback and file manager
Chapter 4 – Recommended settings
This chapter contains my most frequently used reliable and interesting settings for shooting raw video on the 5D Mark III.
Introduction
Recommended settings
Optimizing performance
Slow-motion 48p / 50p / 60p
1:1 crop mode
Anamorphic aspect ratios
Movie tweaks menu
Chapter 5 – Recommended software and editing codecs
Canon raw video files usually require converting to an editable raw format. Here's an introduction to which formats you can use to edit raw.
Summary of software requirements
List of recommended software
Standard DNG uncompressed raw
Cinema DNG uncompressed raw
CineForm compressed raw
Compatibility with editing software
Chapter 6 – CineForm raw workflow
CineForm saves huge amounts of storage space but maintains the advantages of a raw workflow. This chapter deals with how to use it.
Introduction / advantages
System and software requirements
Converting to CineForm
Chapter 7 – Uncompressed Cinema DNG raw workflow
For maximum image quality you can edit uncompressed raw in DaVinci Resolve and other applications (such as Adobe After Effects) which support Cinema DNG (but not Adobe Premiere).
Introduction / advantages
System and software requirements
Converting to Cinema DNG on a Mac
Converting to Cinema DNG on a PC
Getting started with Cinema DNG in DaVinci Resolve
Chapter 8 – ProRes / Ginger / After Effects
For alternative ways of processing your raw footage – conversion to ProRes does not allow grading of raw on-the-fly but maintains a high level of image quality and a codec which is compatible with almost any editing software. Ginger allows direct editing of 5D Mark III raw clips in Premiere via a plugin but it is in the early stages of development.
Convert to ProRes in After Effects
Ginger for native raw clip editing in Premiere and After Effects
Chapter 9 – Kodak, Fuji and Alexa film looks for Resolve
LUTs are common film industry tools for giving raw footage a certain look and feel. Along with a selection of carefully crafted cinematic looks, this chapter deals with how to use them in DaVinci Resolve.
What is a LUT?
Recommended software and format requirements
Kodak & Fuji film looks
Rec.709 to Canon LOG
Alexa film look
Applying a LUT in Resolve
Chapter 10 – Suitable Compact Flash cards
Raw recording on the 5D Mark III is extremely demanding on Compact Flash card performance and capacities. In this buyer's guide I look at which ones work, and which don't.
Benchmarking your card
Card buyer's guide
Chapter 11 – Raw shooting advice by Andrew Reid
With raw shooting the DSLR video rulebook has changed. Here I look at shooting techniques and how to shoot better looking raw footage.
Be economical with your footage and 'edit in camera' like John Ford
Prioritize shadow or highlight areas
Avoid too much highlight recovery in post
Ignore the native ISO
Shoot at these ISOs for best results…
Experiment with crop-mode framing before selecting another lens
Don't be shy about investing in Compact Flash cards and spare batteries
Stop down the lens when necessary
Try to avoid shooting handheld without a rig, avoid a complex rig
Chapter 12 – Cinematography advice by Andrew Reid
Drama in simplicity
Rule of thirds
Composition
Natural light
Tips from the Tree of Life cinematographer Emmanuel Lubezki, ASC, AMC
Dead space
Color
Focus and depth of field
Location – not just a backdrop
Appendix A – EOSHD articles and sample videos
An index of articles and videos relevant to raw video on the 5D Mark III
Appendix B – Technical glossary
Commonly used jargon explained
Appendix C – Troubleshooting and FAQ
Common questions answered and problems solved
Appendix D – Disclaimers
Legal disclaimers from EOSHD, Magic Lantern and Canon