Monday, 03 September, 2012 18:27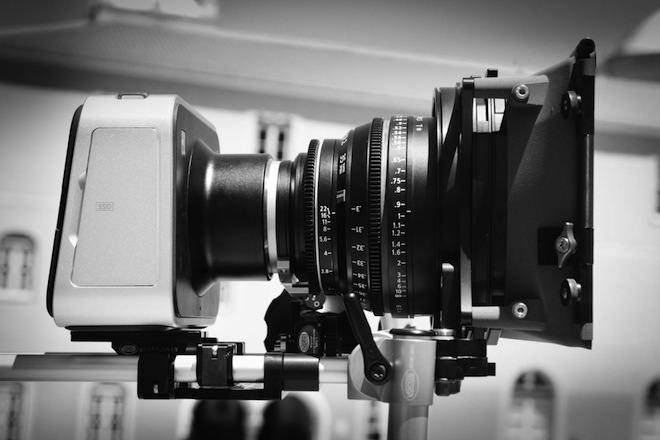 When Ozzy common sense meets innovation… And a Vocas matte box
Why is the Blackmagic Cinema Camera the way it is?
It's a long time since we saw such a creative camera with this much creative depth, rather than an another run of the mill industry tool that merely does a job.
Grant Petty, CEO at Blackmagic Design explains…
Grant Petty gave us some gems of info in these video interviews by Rick Young which you can watch here and he comes across really well. Now I always find it better to write this kind of stuff down when it comes to the blog. So I'm paraphrasing him here for sake of brevity and readability, he's what he had to say…
On the sensor
"We looked for a sensor that would give us the [large] contrast range. It's a sensor that has been used in astronomy and military stuff. If you get a sensor that is too big you start to get extreme [shallow] depth of field and some people don't like that, some people do. What we really wanted to do was to get that nice high contrast range. What we didn't want to do is a large sensor that drains power. Sensor size wasn't the priority, the image was."
"We might be introducing firmware updates for higher frame rates later."
Here's my speculation to which chip I believe the sensor is (BaE Systems) in a previous EOSHD article, it has a global shutter and 1080/60p but using those modes is not with consequences and difficulties
On Raw vs ProRes
"My feeling is that they're both there, so we're not in any one camp. On the half-terrabyte (480GB or 512GB) SSD disk you can get about 4-5 hours of ProRes and DNxHD. If you are doing a music video or film at the really high end then raw DNG might be better. But they're different."
"The ProRes file is video, it has been debayered, it is compressed, you can record LOG or video 709 type… But if doing CinemaDNG (raw) you're are getting folders full of still frames and you are getting a much wider contrast range so if you open them up (even in Photoshop) you can match it perfectly to what you want and the reason we have 12 bit is that you can do extreme grading and not get banding."
"When you [first] open up those raws in Photoshop you are looking at video range. The way Photoshop handles it is that it chops the bottom range and top range off. But once you adjust the exposure controls all that stuff comes back… You can decide whether you want to clip out a window or not… When you do clip it is very nice, nice rolloff."
"The auto-iris button on the sensor sets the camera [in raw mode] to just below the clipping point on the sensor, so you've got everything. Then everything below that is your contrast range all the way to black. But the other way you can shoot is that you can record in video range on the LCD but you will see film range when you bring it into DaVinci."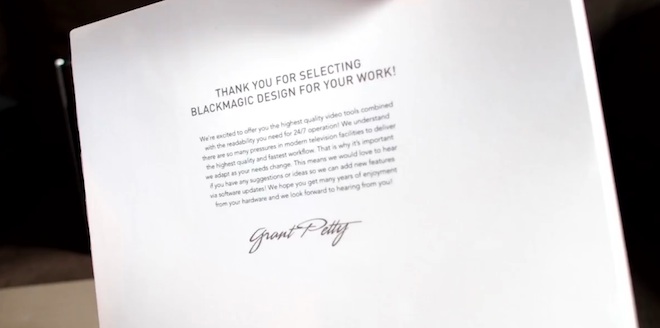 Inside the camera box is a personal message from the CEO Grant Petty (from vimeo)
What were the hard things in development?
"The real effort was to make something very compact, high precision and low power. The trick was getting cinematic quality yet small size. If we'd have put XLR inputs on it, would have been huge. So we went [1/4] jacks, because jack to XLR is as popular as XLR to XLR. Internal battery was a bonus, for when you want to just grab the camera and shoot small without anything hanging off it. The external power jack is of course the main way to power the camera on a shoot. But the internal battery can even be charged from car batteries off 30w power socket on the dash."
"The things which were hard, you'll be surprised, a lot of details. You've got to get the touch screen working beautiful, that is a lot of effort it is literally like doing an iPhone on the back of it. Things like scaling the output for the LCD cleanly so you can focus well, making sure the debayering and scaling to ProRes is good so you get great image quality in that format too."
"It is hard to do it well, easy to do it badly. I'm grading our own camera, on our own software and the results would have been impossible a few years ago at a high end processing lab. I can't believe we're actually doing this, it's pretty amazing"
What is cinematic?
"[On the camera side] if we really define what cinematic image quality is, it is resolution, it is the wide contrast ratio, and the post workflow to shape the look of the image even more. You are combining cultures – to get the workflow right and the camera culture to get that right. We had an equal balance."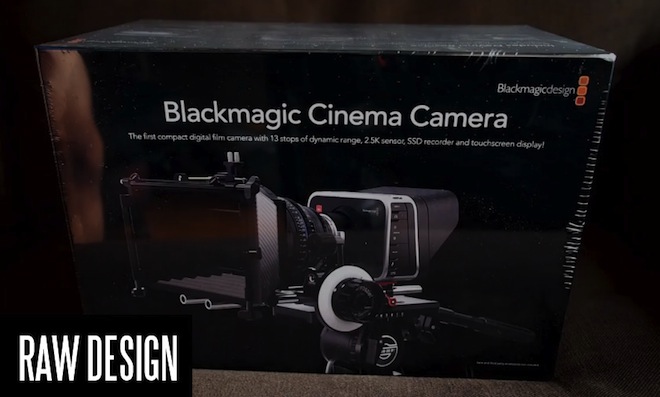 Singapore based Firewerkz films get their camera. Nice box.
EOSHD opinion:
Even if you don't include DaVinci Resolve there must be more intellectual property in the $3000 Blackmagic Cinema Camera box per dollar than any other camera product I can imagine.
I feel Blackmagic are doing for post here what Canon, Panasonic and Sony did for large sensors and interchangeable lenses. They are bringing that filmmaking post culture down to a much more accessible point and stripping away a lot of the hassle and complexity but maintaining that depth and creative control for those who need it.
You know, it really annoys me when people say that DSLRs or the BMCC are a hassle because of work-arounds. They are not, and I know it. I have done it. I have shot VERY minimally with great results. They are actually very simple picture making boxes. What adds complexity is people! I shot the video Zen on a tripod, standing by the camera pressing the record button. No NDs, no audio recording, no follow focus. Filmmaking is as hard or as simple as you make it.
Throwing out the video tent but keeping the DP is the future and it is what interests me. Putting that power in people's hands, literally in the case of a laptop running DaVinci and scopes via Thunderbolt on the BMCC – is incredible. Raw or ProRes for $3000 and all that dynamic range and flexibility to grade the image without it falling apart.
Added to the relatively large sensor (larger than Super 16mm) and interchangeable lens mount, you get something which is an authentic cinema camera from top to bottom and not a photographic camera with a live view mode that happens to shove it to the card when you hit the red button. Canon will be punished for their laziness, as will Nikon if they don't change their approach. Only Panasonic and Sony are putting the stuff we need into video cameras or hybrid cameras that build on the success of revolutionary DSLRs.
Even little things which aren't on a Canon DSLR such as peaking we already see on a Sony and we will see it on the GH3. It isn't so much innovation or creating a genre defining product like the Blackmagic Cinema Camera more simply a willingness to give us what we want in that type of product and not be lazy about it or reserve it for a $15,000 Cinema EOS which is meant for TV. But that is the old world of filmmaking gear.
This is the new.