Canon's renaissance in video has come at a time when rather than being frozen over, hell has come to planet Earth in the form of 2020. Only a year as perverted and warped as this could bring not one, not two but three Canon hybrid cameras. Which one should you consider adding to your filmmaking life (indeed what's left of it)?
Let's look at what we have here. Of the three Canon horses, little is known about the EOS R6, At first, the camera was being mooted as a 1D X Mark III in mirrorless form. Later, the rumours were all about it being the mid-range lower priced model with all the nice features of the other two stripped back.
Then we have the EOS R5 which I expect will be $3799. As earlier reported on EOSHD, Canon have released quite a lot of detail about the video features but not yet everything. The price is quite a bit more than a mid-range full frame mirrorless camera ($2000) but will be a mainstream choice by dint of sheer popularity. The internet has gone wild for it. 8K RAW!
Next we have the 1D X Mark III, basically a 1D C Mark II in all but name. It has a more sensible megapixel count in full frame 5K RAW and there's no denying the cinematic appeal of this for filmmakers who prioritise dynamic range, low light performance and minimal rolling shutter in their RAW files. Although on paper the camera looks inferior to the EOS R5, I think the 1D X Mark III has the upper-hand on the much hyped 8K RAW of the EOS R5. Likely less rolling shutter. Likely smaller file sizes. Likely better low light performance. Possibly even better dynamic range, and certainly a higher frame rate. The 5K RAW goes to 60p on the 1D X Mark III but maxes out at 30p in 8K RAW on the EOS R5.
I don't think there is any chance of the EOS R6 getting specs like that for so much less money. It will be better than a Sony A7 III and very popular, but if it were really exciting would undercut the EOS R5 in the eyes of videographers and hurt 1D X Mark III sales. Also in the region of $2000 there's a lot of choice. The Sigma Fp 4K RAW for one thing. The X-T4 if you just need a Super 35m sensor and very good looking 10bit 4K with nifty autofocus and IBIS, so I am not that excited for a hypothetical cut-back, cut-price EOS R6 which is rumoured to be a 6D Mark II replacement.
The EOS R5 reminds me of that big push Canon do when they introduce a new system. It's rare. After decades of Canon FD lenses, when Canon introduced EF lenses there was a huge push with headline grabbing apertures – 50mm F1.0, 85mm F1.2 and legendary first of a kind zooms (28-80mm F2.8-4) all legends of the late 1980's. Now again with mirrorless 30 years later there is a huge push to establish a strong footing again. 8K is a headline grabbing marketing tool like F1.0 on that original ill-fated 50mm. They don't tell us what the trade offs are and that has me wondering how it's compressed, what bit depth it is and how long it will record for in one take. Of more interest to me is how the 10bit 4K modes compare to the 1D X Mark III and how much I will end-up using the 5K RAW of the 1D X Mark III when it arrives at EOSHD tomorrow.
If the 5K RAW turns out to be something practical and special for me I will be keeping hold of the camera for a long time. If not, then I may as well sell it and get the EOS R5… But this depends on exactly what we're getting from the 4K 10bit LOG modes.
For a start, we don't actually know for sure if the 4K/60p on the EOS R5 is clean like it is on the 1D X Mark III. It could be heavily pixel binned. We also don't know if the 4K/24p will be clean. It might be oversampled from the 8K readout. It might not. The image quality of the best pixel binning 4K modes today is very acceptable and good up to around ISO 6400. The Sony A7R IV from 60 megapixel, the Leica SL2 and Panasonic S1R from 46 megapixel and the Fuji GFX 100 from 100 megapixel – these images stand-up brilliantly. The GFX 100 in particular is so clean and detailed in 4K.
However, to enable the 4K/120fps mode, Canon may have to resort to line-skipping. This will produce a very soft image even in 4K with plenty of moire. There is no way the Canon EOS R6 will output 8K at 120fps and downsample it cleanly to 4K. It's just not going to happen.
We already know that both the EOS R5 and 1D X Mark III have no-crop 4K recording from the entire width of the full frame sensor, so in that respect they're similar.
The difference is all in the handling.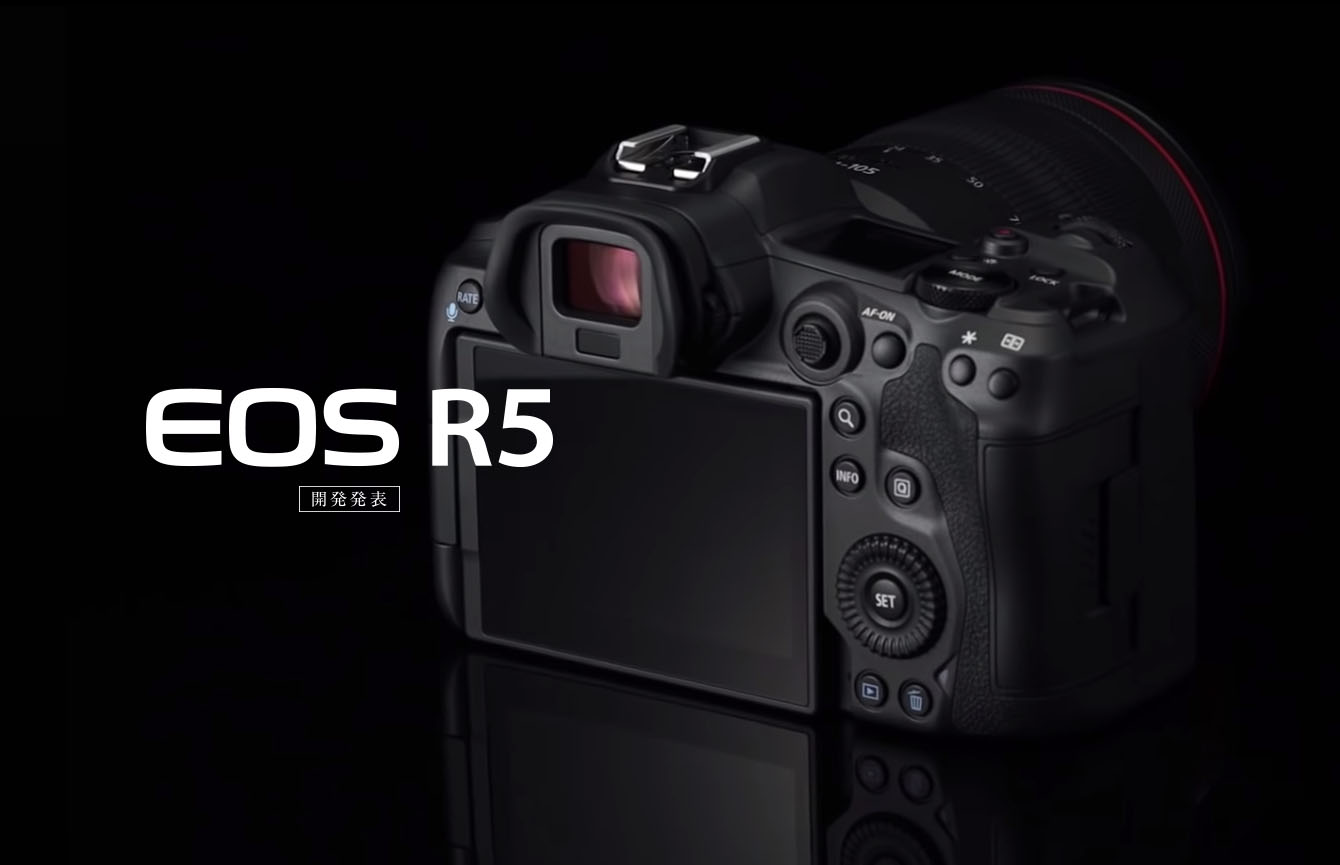 IBIS, articulated screen, smaller body, lower weight, EVF, more adaptable lens mount – these are the advantages of most mirrorless cameras over their obsolete DSLR equivalents.
And it's true here for the EOS R5 versus 1D X Mark III. Although I prefer the physical control layout, huge grip, size and shape of the 1D X Mark III body (and the wonderful OVF for stills), for video the heavier weight, lack of IBIS, lack of articulated screen and no EVF do take their strain on certain shoots.
However, the legacy DSLR form factor also makes it different to everything else I own, aside from the old faithful 1D C. Different in terms of having an optical viewfinder for stills. Quite unique in that it shoots internal Canon RAW and full frame 10bit 4K/60p in one body. Special in terms of the autofocus, which in both modes is exceptional even compared to Canon's other Dual Pixel AF cameras (and I expect the EOS R5 too). So there are perks to the 1D X Mark III that justify it in the face of what's lost in the DSLR body.
Finally here are the likely pros and cons of all three Canons and how they compare:
Best internal RAW: 1DX3 (5K/60p/12bit/good low light/file sizes equal to Sigma Fp 8bit DNG)
Best IBIS: EOS R5 (R6 is unknown and 1DX3 lacks it)
Best usability: EOS R5 (Mirrorless form factor with articulated screen and RF mount are all better suited for the modern video shooter than DSLRs)
Best low light: 1DX3
Best autofocus: 1DX3
Least rolling shutter: 1DX3
Lowest price: EOS R6 (rumoured)
Best slow-mo: EOS R5  (4K/120p… although 1DX3 has 5K/60p RAW)
Best build quality: 1DX3
Best physical control layout: 1DX3
Note… EOS R5 RAW is 30p max and likely to be 10bit instead of 12bit with high rolling shutter, maybe a short record time limit and certainly even bigger file sizes (at least 2600Mbit/s)
So totalling up those scores with 1 point for the win in each category, we have the EOS R5 on 3 points, the EOS R6 on 1 point and the 1D X Mark III coming out top on 6 points.
But here's a kicker…
The 1D X Mark III would have been across the board the better choice for filmmakers had it been in a mirrorless body rather than a DSLR.
If the EOS R6 is going to be lower-end, then Canon should be doing an EOS R7, identical to the 1D X III but mirrorless, and $4500.
As for the EOS R5, aside from 4K/120p (the quality of which is unknown) and the higher resolution of 8K (the practicality of which is probably a bust) the EOS R5 offers nothing over the core spec of the 1D X Mark III that appeals more to me.
In my opinion the "Canon 1D C Mark II" may yet be a keeper, even after the EOS R5 has proven itself as very capable when it comes out in July.