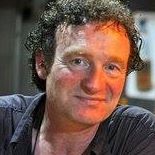 Posts

176

Joined

Last visited
About Hitfabryk

Hitfabryk's Achievements

Active member (3/5)
18
Reputation
Hitfabryk reacted to a post in a topic: Stuck at home and created this piece to hopefully inspire the best for the world

Hitfabryk reacted to a post in a topic: EOSHD in lockdown in Barcelona - photos from Coronavirus ghost town

I will visit Berlin next oktober with young students (around 20 years old) for two weeks and I am looking for tips for visiting, related to camera's, film history, film/clip/documentary making. Any input is welcome, thanks Siep

Hitfabryk reacted to a post in a topic: Samsung 108MP ISOCELL Bright HMX to add 6K video on mobile side by Xiaomi is coming... for a few hundred bucks

Woh, interesting.. and also the presentation I feel so much more connected to than the one from Sony (yesterday) I am in.

Love it because it's a interesting story and lovely images.

Ah ok, did not try that. Mostly using EOSHD color. Thanks.

Are you sure of that? Mine does not

Hello again, more than 1 month later I have to say that I am in the same ballpark with a few new players. I did not pull the trigger for buying the 1DC as mentioned. 2499,- from a respectfull shop with full year warrenty. I was tempted but not shure. One month later to my suprise the shop still has the cam. Yesterday I filmed with a friend at a club were to had a twenties style party and have to say both the A7s and the canon c100 mk1 did very well. I used the A7s for 50fps for some slomo and the c100 for 'normal' work. Colors of the c100 and also lowlight were that nice that it brought me back to rethinking the 1DC. But with the new sony a7iii as new kid on the block. Stabilizer, E mount, autofocus, slowmo options, relative low price, combination with my a7s and a7rii. Very interesting. But the1DC combined with my c100mk1 is also tempting. But can it if I use an external recorder record 1080p 60fps ? ( from down sampled 4k) What recorder would be great regarding battery live, brightscreen, lightweight? I am a little ashamed asking again but if you have some good arguments or idea's..thanks

Is it possible to have the 1DC in 4K (1.3) and not record to the 1DC internally but only to the Ninja in 1080p. Thanks for taking the time to answer my questions.

Could I use a Ninja Blade for that? Edit: It's a Atomos Ninja 2.

Thanks Andrew, Very good thoughts to consider. What about the HD 1080, I heard it it quite good, should that be a nice match for the C100? And occasionally use the 4K and off course the still capacity. (compared to my A7Rii?) Or is the 1DC than a 'overkill'? The Nikon is so interesting but regarding my sony's the A7Riii would be a better choice I think. I don't know, somehow I am tempted by the 'mojo' I suspect from the 1DC but maybe in the light what has come on the market lately that's partly a fairytale? Thanks

Is it still interesting?, I can buy it for 2499,- euro @ a respected foto/film shop with 1 year full support. I recently bought a C100M1 because I was curiuos and I like it. Colours, handling, ND filters, XLR audi, small files and so on. After being so entousiastic I came across this 1DC offer and thought about seeing that one as a 'bigger brother'. (I do own Sony cams: A7Smk1 A7Rii, 2 Rx10's and a RX100IV) What do you guys think about this GAS? What would you do? Or should I look more forward..C200, EVA ..that's a lot of money. For my studio I need a few cam's (music video registration) that's the place my sony's 'work' Any input would be fine.

Is someone using these cams in combination? I think of buying the 1DC and (amongst other use) combine the cams in my recording studio, for filming bands. Any thoughts?

I can use acceptable clips out of hand with 600mm..

I use the RX10iii and love it for the lens reach (24-600) and quality (zeiss) , stabilizer and auto focus. And it makes a good combination with my A7Rii and A7s. The slow option in 100fps (or 120) in 1080 is supernice. Good luck.

What do you not like about the Sony A7S (classic)?