As regular followers will know, I used to write for a respected authority on digital cameras, DPReview. One of the first sites I read for camera reviews back in 2001 when DSLRs were first coming onto the market. As a contributor for 3 years between 2012 and 2015, I wrote pages about video for some of their camera reviews starting with the Canon 5D Mark III.
"Canon has tweaked the video mode on the 5D Mark III. It is very small update. All the significant video improvements have been reserved for Canon's entry into the cinema and broadcast TV market with the Cinema EOS line."
You will find in this short line more truth than you'll find in any press release. You can read that 5D Mark III review page here.
At the time, DPReview wrote a disclaimer under the page: "The views and opinions expressed on this page are those of the author and do not necessarily reflect the views and opinions held by dpreview.com or any affiliated companies."
And I wondered why.
Now we're getting an idea of what these affiliated companies are. With this blatant sponsored content featuring the byline "Created by Canon" and tagged "sponsored", the advertising appears in the same page template as their editorial, the same RSS feed in my reader and the same format as their reviews in my web browser as you can see below.
I think DPReview have questions to answer on this. Will it be a regular thing? With this paying affiliation will they self-censor opinions about Canon gear?
Also we as viewers need to decide whether this is right ethically, not just for DPReview but for the internet as a whole, as a way forward.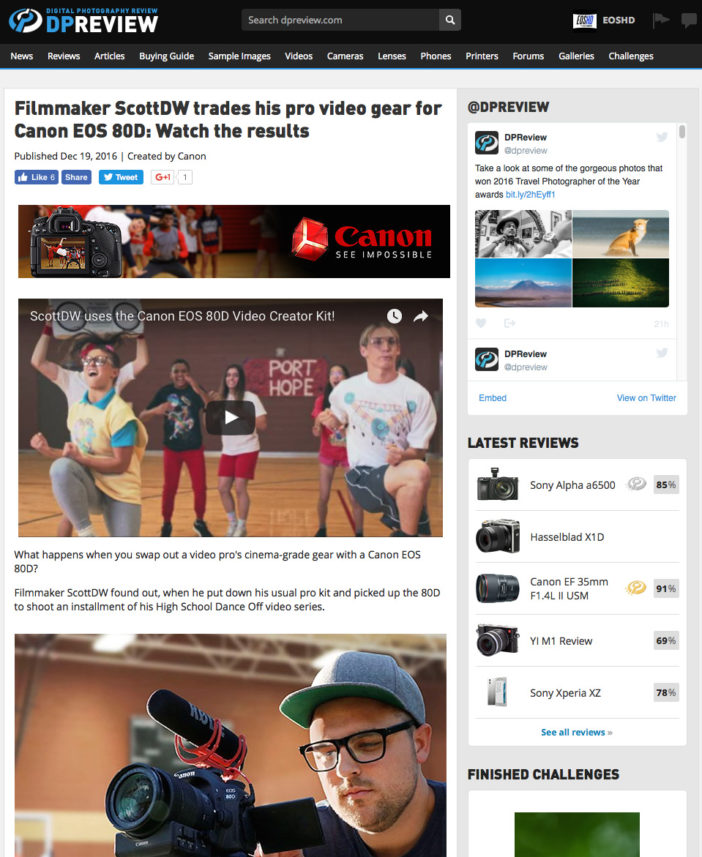 My opinion is clear. It's tacky. But worse, it completely destroys the already fragile trust I had in their editorial.
The separation of 'personal relationships with manufacturers' from editorial is of upmost importance when it comes protecting freedom of speech.
Suppose for a moment EOSHD had Canon as a major sponsor. Would I be tempted to soften my tone? Bury important shortcomings in amidst pages of gushing positivity? Yes I would. I have felt this in my gut myself after coming back from testing new cameras at manufacturer organised events.
However I didn't give in.
There's a reason the camera manufacturers are getting the best PR agencies in the world to organise field trips for photographers to Iceland so that every Olympus E-M1 II review you read shows you inspiring imagery shot on a choreographed trip, just after the writers have wined and dined personally with people from the manufacturer and made personal contact with business cards exchanged.
It isn't that the camera companies tell us what to write, rather the effect of this PR offensive is entirely self-censoring.
These very warm and very real personal relationships put a cap on any negativity. For me there needs to be a clearer separation of advertising and editorial. By this I don't mean tagging sponsored content with a "Sponsored by Canon" byline or putting a disclaimer at the top saying the camera was loaned by the manufacturer. I mean a change is needed entirely with the way the manufacturers interact with the internet press.
Almost all the reviews I read at the moment are a few sentences about the shortcomings of a camera in the midst of 20 pages gushing positivity about it and a big gold award at the end.
On EOSHD I have always been frankly honest when a camera manufacturer has not measured up in terms of product innovation or design. I have given Panasonic and Sony the same harsh feedback in technical engineering sessions. It benefits the product.
I've felt from personal experience that harsh words towards Canon in public on this blog cost me some opportunities. More shame to them I think. I DO NOT CARE as my filmmaking carries on. I am not a salesman and won't let it kill my creativity on EOSHD. Maybe DPReview could use my advice and go back to being highly critical expert camera reviewer.
"Retarded"
I think back oddly enough to South Park last year. PC Principal is angry over the word "retarded" being used in a school newspaper and brings the paper's editor Jimmy to his office. He demands to review future editions of the paper to check for offensive terms but Jimmy stands up for his rights as editor and refuses. PC Principal therefore decides the newspaper can no longer be distributed on campus, so Jimmy resorts to hand delivering the paper to homes in South Park instead, including the frat house where PC Principal lives with his bros. In the new hand delivered edition, Jimmy's editorial describes PC Principal's policy as "retarded", much to PC Principal's displeasure.
The other South Park residents says how refreshing it is simply to be able to read Jimmy's hand-delivered newspaper without having to deal with online newspapers filled with sponsored content and clickbate. Back at the school, PC Principal hauls in a disabled student who expresses mock offence at Jimmy's use of the word "retarded", but privately admits he believes all the changes in political correctness are happening as part of a coming "war". Meanwhile, at a Presidential debate Mr Garrison attacks Hillary Clinton. Later, an advertising representative from GEICO offers Jimmy $26 million to allow their sponsored content in the school newspaper, but Jimmy refuses, as he has always declined any ads in the school newspaper.
The man threatens to shoot Jimmy, but as he comments about the upcoming war, he is shot dead by Officer Barbrady, who removes Jimmy from the scene. A group led by a mysterious stranger takes Jimmy to a lab, on the way revealing online ads have become more intelligent and anticipate people's desires, turning from simple Amazon ads showing you the stuff you've previously looked at to full blown walking, talking people driven by artificial intelligence. Jimmy is tested and shown to have an unusual ability to distinguish actual news stories from online ads. Finally he's introduced to a schoolmate named Leslie. After speaking with Leslie, Jimmy identifies her as an advertisement. Finally, PC Principal is extremely shocked to see an online ad featuring himself and Leslie.
I would still describe Canon's policies as "retarded" when it comes to crippling DSLR video functionality. It's my right. When I took my frank style telling it like it is, albeit in a slightly toned down form to PC Principal Barney at DPReview, it didn't sit well.
From my point of view it seems DPReview's fear of upsetting advertisers and manufacturers far outweighed any fear of losing readers due to soft-pawing out watered down opinions.
Not only have they lost me as a writer, now they have lost me as a reader.