Above – worldwide trends – [COLOR="blue">Philip Bloom[/COLOR] and [COLOR="red">Filmmaking[/COLOR]
According to data released by search engine giant Google, filmmaking is declining in popularity and will be overtaken by Philip Bloom in mid 2011.
Philip Bloom is gaining on filmmaking for the world's attention because the British cinematographer sports a trendy hairstyle and enjoys a lot of self promotion! The trend of Bloom now has almost as many Google searches to his name than the industry itself.
Google Insights allows us to see what people have been searching for, and what the hot searches are all over the world between any two dates. The data goes back as far as 2004, and you can spot new trends or analyse old ones. When a camera is launched you can predict sales by seeing what impact it made in the minds of photographers everywhere. A spike appears in the graph when the camera is first introduced.
Slow-hand clap for Panasonic – the launch of the [COLOR="blue">7D[/COLOR], [COLOR="red">550D[/COLOR] and [COLOR="orange">GH1[/COLOR]

Congratulations Panasonic for marketing the GH1 with a hugely successful launch with plenty of units available in retail outlets across the world. As you can see it really captured people's imagination.
Cheeky [COLOR="blue">website[/COLOR] gaining on chief rivals
EOSHD.com launched in January and Google decided to start tracking in June, because until then the website wasn't very interesting. DVXUser has suffered a huge decline in 2010 off the left of the graph (not shown). Now it has even fallen into the clutches of little known website Cinema5D which is about train spotting.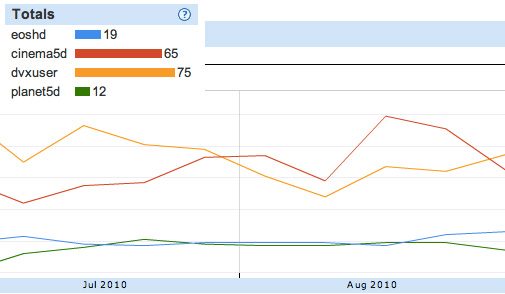 Incidentally…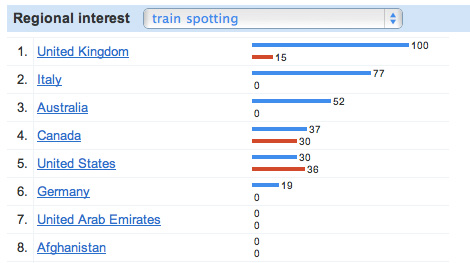 '[COLOR="blue">RED camera hire[/COLOR]' no longer in demand.
Jim Jannard doesn't like DSLRs and now you can see why. Google searches for 'RED camera hire' has declined almost 100% against general photo & video related searches in 2010, especially now people realise they can get the same results from a $900 DSLR at Best Buy.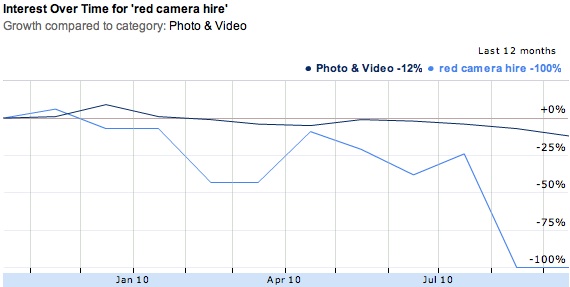 Average consumer clueless about [COLOR="red">DSLR video[/COLOR], enjoys Christmas shopping for [COLOR="blue">camcorders[/COLOR]
In the real world, DSLR video does not actually exist. It is a myth! DSLRs don't do video! You need a camcorder! Especially every Christmas.

Panasonic [COLOR="red">GH2[/COLOR] capturing majority's imagination. Panasonic [COLOR="blue">AF100[/COLOR] dead in the water?
Doesn't bode too well for AF100 sales does it!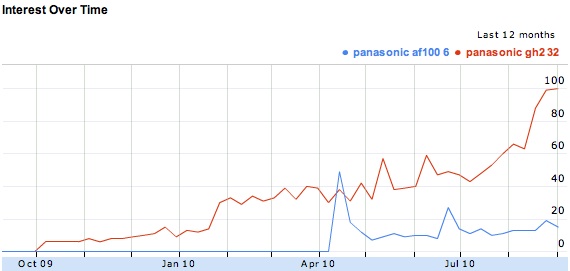 [COLOR="blue">Bloom[/COLOR] blooming as DSLR cheer leader!
Not just a good 2009, Bloom has clearly been self promoting as much in 2010 as he has done before! There are rumours Canon are considering naming Bloom as 'the face of Canon', with a large poster campaign on the New York subway starting for the Christmas sales period. Philip will sport a Santa hat with a Zacuto z-finder round his neck, whilst holding a Canon 7D.

Some perspective is needed. Do cameras and filmmaking really matter in life? This is the internet after all – [COLOR="red">'porn'[/COLOR] > [COLOR="blue">'cameras'[/COLOR]
Nobody is really interested in cameras.
Interest in porn globally
As you can see, certain countries are bigger w***ers than others. Interesting!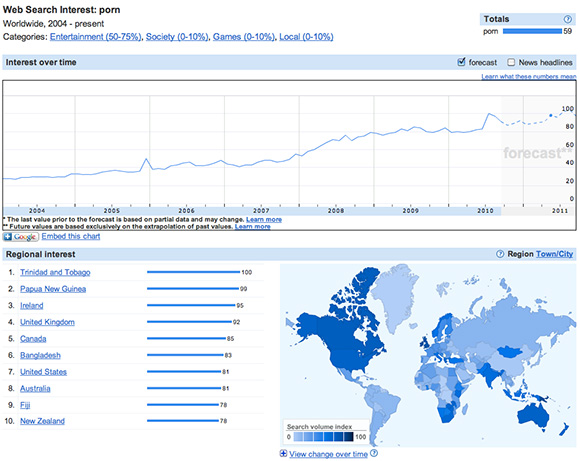 To try Insights out for yourself, head over to Google here – [url]http://www.google.com/insights/search