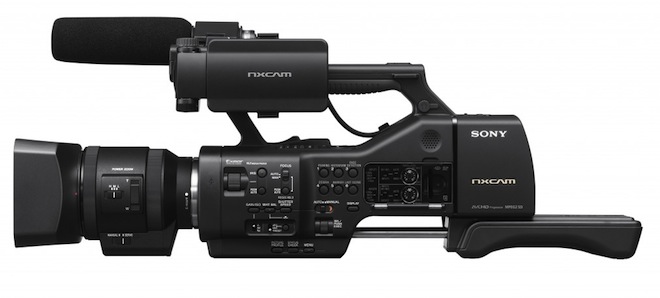 Sony just announced the NEX-EA50. It comes at a complete surprise, haven't seen any rumours about this camera
before. Which is surprising since everything Sony makes seems to be known months in advance.
16 megapixel APS-C (shoots raw pictures too)
E-Mount
New 18-200mm Power Zoom
1920x1080 in 50p/25p/50i or 60p/30p/24p/60i
AVCHD 4:2:0 at up to 28Mbps
Two-channel XLR audio
ECM-XM1 Shotgun microphone is included
Linear PCM audio; time code; user bit; and built-in GPS
Sony's HXR-FMU128 (128GB) flash memory unit can dock directly to the camcorder for simultaneous backup
No built in ND filters
And the best: Price 2740 GBP
Especially considering it comes included with a mic, monitor/viewfinder (can't find info on the resolution though) and a formfactor with shoulder mount etc so you don't have to spend much on a rig..
Available from October.
I'm pretty new in the video world, but this looks seriously awesome to me. What do you think?
http://www.sony.nl/p...ea50eh/overview