Download the video here (Vimeo Plus members only)
As well as having the coolest name for a camera ever conceived, this is a camera that kind of makes you wonder what the Japanese camera manufacturers have been up to all this time. Although the 720/120fps mode is shared by Panasonic, the GoPro team have smashed a number of barriers here in terms of 4K / 2.7K resolution and processing power in such a small camera, for a frankly unbelievable $400.
EOSHD takes a look at the new HERO3 camera.
Note: the price in Europe is considerably higher than in the US at €440 due to the higher camcorder import tax rule and VAT.
First I must point out the obvious, that this is an extreme sports camera with an almost fish-eye fixed focus lens. Does it have a place in narrative filmmaking, documentary and music video production? Absolutely – but it is not an outright replacement for a digital cinema camera just because it has 4K.
What I'd use this for is to do a Shane Hurlbut point of view camera and mount it on vehicles for action scenes, use it as a helmet camera, anything that involves a wide angle POV shot with a lot of fast action. DSLRs are heavier for this, with loads of rolling shutter.
Sports is the main use for GoPro's customers but filmmakers can use this in urban environments too, fast moving train sequences, motorbike chases, etc.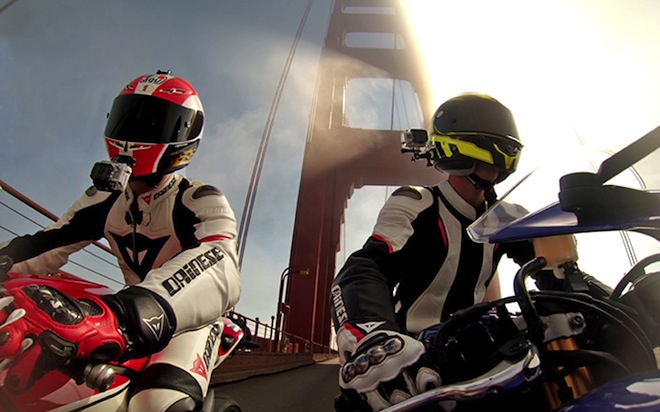 Like this!
In terms of music videos I'd like to make one filmed from the band's perspective, kit them out with the Hero 3 as a helmet camera during a performance for instance. So the creative uses go far further than sports with a POV camera.
Image quality
Though the headline grabbing 4K resolution and 120fps in 720p are a big deal at this price, the question mark is over image quality. What is it like?
Actually judging from the 1080p footage atop this page it mostly seems pretty good. When a shot comes off (which they frequently do with such incredible content and athletes) Hero 3 looks almost cinema standard. A big leap in production value from the older models.
Highlights do seem to clip easier than with a larger sensor but it seems like a huge step up from the Hero 2. Resolution is very sharp although it is not clear what shot is 1080p mode, and what is 2.7k or 4k. There's a 120p shot in there at 720p and that was a little blockier than 720p should be but it is still nice to have at $400 for slow-mo. Remember the Canon C300 doesn't even have 60p for $15,000!
In theory a small sensor optimised for video should not trouble a full frame DSLR for image quality but this actually seems pretty good. I am wondering if they are using a larger 1″ sensor from Aptina in there rather than a very small compact camera sized one like in the Hero 2.
Sensor size here can improve low light (which GoPro claims the Hero 3 does indeed do) and dynamic range (which in ProTune mode does seem pretty reasonable) but with the lens being an ultra-wide-angle at F2.8 the sensor size won't have much of an impact on depth of field, you won't get any real control over that. The lens is fixed on infinity which probably begins at only about 2 meters from the camera with such a wide angle. Maybe a close focus adapter can give you a macro shot but these are unusual in action sequences aren't they!?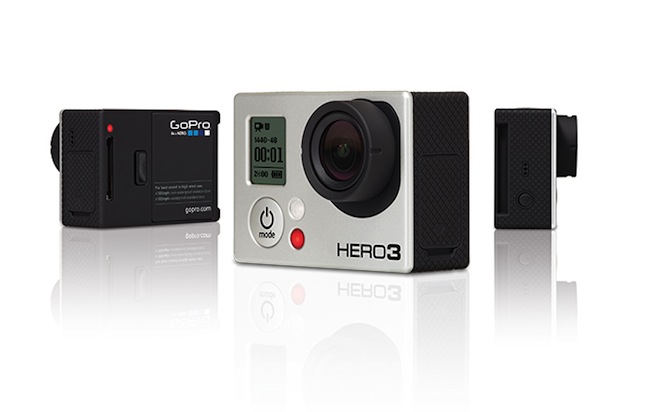 ProTune firmware

The ProTune firmware pack for this camera enables cinema 4K in 17:9 aspect ratio at 12fps and 3.8K in 16:9 at 15fps. These are really continuous shooting modes for you to extract stills, though you could screen cinema at 15p it would look very 1920's magic lantern.

Now it gets exciting at 30,25 and 24fps because you get a Blackmagic Cinema Camera rivalling 2.7k resolution for $400. ProTune also improves highlight roll-off and dynamic range as well as giving you a 35Mbit bitrate codec.

GoPro now own CineForm but of course there's no raw recording on the Hero 3. The codec is H.264 at 35Mbit in ProTune mode.

Conclusion

I think the Hero 3 is a dream POV camera for filmmakers. So my conclusion is that A) I am buying one and that B) it has as much value to filmmakers doing POV and / or action sequences as it does to extreme sports people diving off sheer cliff faces… Which is essentially a metaphor for how brave the Hero 3 is in terms of video specs. Well done to GoPro on this one. I still have no idea how they have done it for $400.

What I would like to see next is a GoCine which costs more but gives us an interchangeable lens mount and 4K at 24p. The sensor doesn't have to be huge – if the sensor is 1″ it would still be hugely popular as a high end POV camera for filmmakers.

[vimeo]http://vimeo.com/51618708[/vimeo]