Thanks mainly to the unexpected success of their NEX line of consumer mirrorless cameras, Sony are probably the only company to realise the truth about mirrorless and its future direction. Namely that it is the future, especially for video.
As a result they have invested in the right technologies at the right time. The NEX 7 has a better electronic viewfinder than the $16,000 Canon C300.
It is a 0.5″ panel (0.73x – as large as on a 1DS Mk 3), the same size as the C300's EVF, but has a higher resolution of 2.35 megapixel, compared to 1.55 megapixel on the C300. Sony's OLED technology with white organic EL layer gives it a very wide gamut – better colour accuracy and better contrast, with inky blacks and is optimised for video with no smearing. It is an absolute joy to shoot video through it.
Happily you can also connect an external EVF like the Zacuto EVF Flip and take all the text off the live view display and put them in a black bar at the side. Given that the camera also has adjustable peaking makes this is the best DSLR for manual focus and monitoring.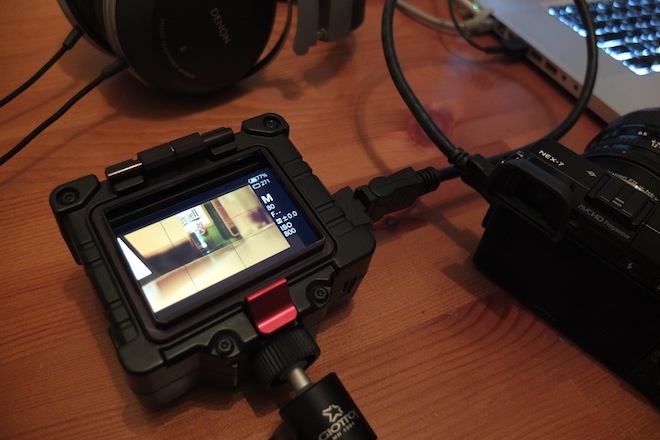 You get a live histogram and manual focus assist magnification in the EVF and over HDMI. When you hit record there is no interruption to HDMI but the histogram and magnification become unavailable on the camera (peaking carries on).
The NEX 7 has a Super 35mm (in cinema terms) sized sensor, a metal body, three dials, no less than 6 programmable buttons and 1080/60p. This is the polar opposite approach to a mirrorless camera than the Nikon J1. In PAL regions it has 50/25p which is good to see on a consumer camera.
Compared to the $600 NEX 5N, there's plenty on the video side that is new and worth the extra cost (which is double).
What's new over the NEX 5N?
Newer 24MP sensor. To my eye Sony's new sensor has better colour and a finer noise grain than the video from the 16MP NEX 5N. There were doubts about it in low light. We'll come to that later in the full review.
TruFinder OLED EVF – Sony are a leader in this technology and it shows. Unlike on DSLRs with a mirror, you can of course shoot video through the viewfinder on the NEX 7. I shot the video above entirely handheld through the EVF without a rig.
CineStyle-alike flat picture profile – The NEX 7 has an extremely useful picture profile called Neutral that offers the flattest image I have ever seen in a DSLR video mode. Fantastic for grading, and no other camera holds onto as much detail in the lows as the NEX 7 with this profile dialled down.
Beefier handling – To have shutter speed, aperture and ISO on dials rather than buttons is a real pleasure. Although I cannot seem to reassign the Tri Navi aperture control wheel for something else when the aperture control is on the lens which is a minor issue.
Unlike the A77 / A65, there is no 20% FOV crop in video mode (but no Steady Shot Inside unfortunately)
The controls and menus seem more responsive
A new live view display mode with no text overlays on the image
Standard 3.5mm mic socket and hotshoe (NEX 5N had neither)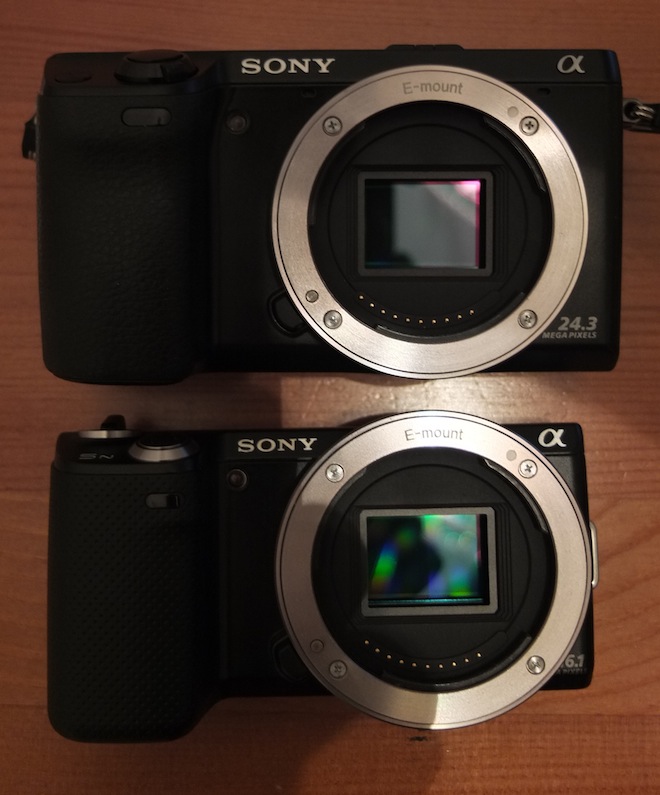 Above: the NEX 7 is more substantial and more masculine than the extremely compact and slim NEX 5N. But it feels better in the hand and has better manual controls.
Now video on DSLRS so far has been very hit and miss. Products like the GH2 have been astounding. Others very disappointing. The lack of exciting developments in Canon-land with DSLR video has nothing to do with putting clear water between the 5D Mark II and Canon C300. If there is a conspiracy (which I doubt there is) it is probably to do with protecting the consumer camcorder business. The C300 and 5D Mark II are aimed at two different markets. But in terms of what Canon started with the 5D Mark II – with large sensor video and interchangeable lenses – the C300 is exactly what I didn't want them to do – build our dream video DSLR but price it out of our hands.
But there is clearly a massive market in-between the $700 GH2 and $16,000 Canon C300 full of people like you and I who want a decent super 35mm video camera for more serious creative shooting than a camcorder can offer.
In the 1970's these were Super 8 people and there were 2 million of them.
Thankfully thing are very different to the hobbyist Super 8 days where amateurs were cutting home movies for the first time. Today the gap in capability between pro and consumer technology has never been smaller and the convenience, ease of use and speed that the technology has brought to shooting and editing is genuinely ground breaking. At its peak Super 8 was incredibly popular but almost all of these users gave up due to the difficulty of processing and editing film. This won't happen with DSLRs.
If you had given someone a NEX 7 in 1970 they would have changed the world with it. Today it has tougher competition…
Compared to Panasonic GH2
I ended up using the GH2 in preference to the 5N (and 5D Mark II) – however the NEX 7 is a much tougher challenge for my Lumix. The sensor is clearly better than the one in the GH2. In stills mode this is most apparent. In video mode the same strengths that the NEX 5N had over the GH2 are apparent but more so…. Colour is richer and more accurate, gradation and tonality are smoother, dynamic range is greater, latitude (especially in the lows) is increased and a flatter image profile helps to give more flexibility when grading the footage. In fact there are almost double the number of picture profiles than on the NEX 5N and GH2 including a new 'Night' profile which more accurately represents low contrast colours.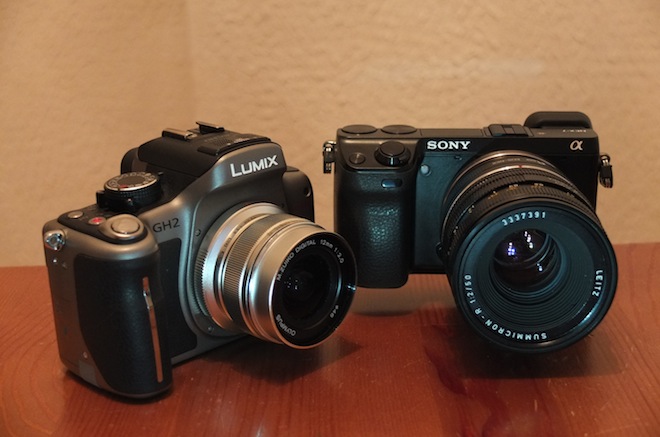 The EVF and LCD are also better than the GH2 and so is build quality.

However, I haven't yet used the NEX 7 enough to answer the big question – which is the best all-rounder?

In terms of resolution and detail they are close but the GH2 has less compression and cleaner edges to high contrast lines.

OLED EVF

Technical details at DPReview here

Since it isn't an optical viewfinder that produces the final image, it seems to make more sense to look through the sensor.

The digital generation easily come to terms with this, since they are so used to handling live view. Some of the optical generation and those who are used to, say, 16mm film, really dislike the idea. A cinematographer using a light meter, someone experience with exposing film and someone used to the realism of an optical viewfinder will find any EVF a step down and the same goes for many professional photographers. Their position is understandable, since it is not until now that EVF technology has been able to do justice to what the sensor really sees.

The OLED EVF in the Sony NEX 7 is the first to really do that.

Clarity, resolution, contrast and colour are the best I've ever seen on a digital display – better than the main LCD. However you do get a loss of sharpness at the edges if your eye is not dead-on to the viewfinder. I hadn't noticed that as much with the A65 but it's a minor issue.

The EVF has a diopter (rather awkwardly placed) that allows adjustment for individual eyesight requirements.

The Fuji X100 has a very interesting hybrid optical viewfinder and an EVF as well. I have to say I prefer the OLED EVF on the NEX 7.

As for my 5D Mark II, old style optical viewfinders are a thing of the past. They have no future role to play for me. They don't work in video mode. They are hopeless for focussing with on a DSLR and manual glass without a distracting focussing screen installed. They don't accurately represent the final exposure.

Stills

The sensor is extremely good and this is most evident for stills. Even though Sony crammed 24MP onto the APS-C sensor which is more than on the full frame 35mm 5D Mark II, RAW at ISO 1600 noise is organic looking and has a fine grain. The quality of stills on the NEX 7 are astonishing and at the 5D Mark II level. It is like an APS-C version of that camera image quality wise.

Compared to the sensor in the Canon G1 X, Panasonic G1X, Olympus EP-3 – some consumer rivals for stills – the NEX 7 is way ahead.

Full review coming soon

Since I've only had the camera 2 days I've not yet put it head-to-head with the GH2 and 5D Mark II, which are the best DSLRs for video at the moment. Whether I end up using the NEX 7 more than these will be an interesting question and I hope to give you the answer and a lot of shootout footage in the coming days.

[vimeo]http://vimeo.com/36117747[/vimeo]